Manipur government steps up to implement UGC 7th Pay regulation from July 1
Manipur Education Minister S Rajen Singh said that the outstanding salary from April 1, 2020 to June 30, 2021 will be given through cash payment.
---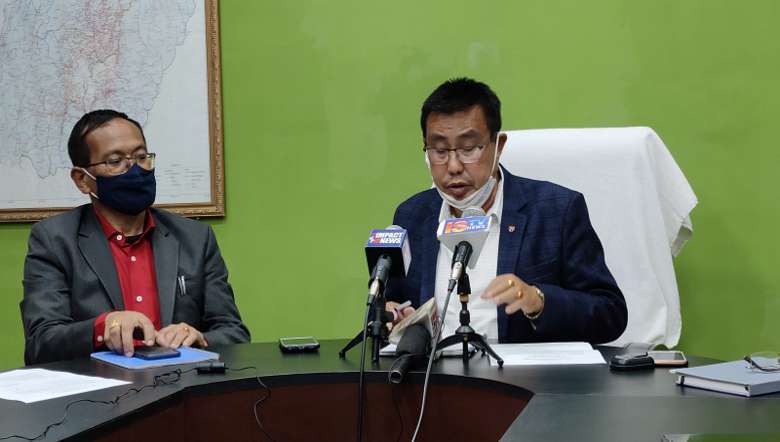 Manipur Education Minister S Rajen Singh (PHOTO: IFP)
---
Manipur Education Minister S Rajen Singh on Thursday announced that a notification for implementation of UGC 7th Pay structure and UGC Regulations from July 1 has been issued and appealed to college teachers to lift their ongoing strike and resume normal classes.
He was speaking at a press conference held at his office chamber, Old Secretariat on Thursday.
Rajen said that in pursuance of cabinet decision taken on August 6, 2020, the state government has decided to implement the pay structure of UGC 7th from July 1, 2021. The 7th pay has been implemented for employees of other departments except for teachers, he said.
To compensate for the outstanding salary which has not been given to the teachers since the implementation of 7th pay in the state, their payment will be given in a different form, he assured.
He said that the pending UGC 7th pay from January 1, 2016 to March 31, 2019 will be given notionally while the pending pay from April 1, 2019 to March 31, 2020 will be given in installment basis through GPF.
The outstanding salary from April 1, 2020 to June 30, 2021 will be given through cash payment, he further said while adding the UGC 7th pay structure will be systematically implemented from July 1, 2021.
The students' community has been hit hard by the prevailing pandemic, he said.  On top of this, not conducting classes because of the teachers' strike adds more burdens to the students' community, he added.  
The Manipur University has decided to begin examination from April.
Following the announcement made by the state government to implement the UGC 7th pay from July 1, 2021, the teachers also resumed their normal classes at the interest of students' community.
During the conference, he informed that the Education department has suspended 15 teachers for not attending schools. Of the total, nine are teachers of Maram High School while six are teachers of Henbung High School.
Since the reopening of schools, the department has been conducting a school inspection drive to check whether classes are being conducted or not by maintaining COVID-19 SoPs and check the school infrastructure as well, he added. He also said such inspection drives will continue and any teachers not attending schools will be suspended.
The department will also take action against those teachers who keep substitute teachers on their behalf at the hill district. The department will terminate those teachers from their service, he added.
He also appealed to primary, upper primary and junior high school teachers to attend schools. The department is going to begin enrolment for new admission as well, he said. The department will also punish those teachers who do not follow the appeal, he added.
ALSO READ: 
First Published:
Feb. 25, 2021, 8:38 p.m.