Demand for UGC 7th Pay: FEGOCTA intensifies agitations
FEGOCTA is compelled to take up different forms of agitations following the government's failure to address our years-long demand, N Somorendro said
---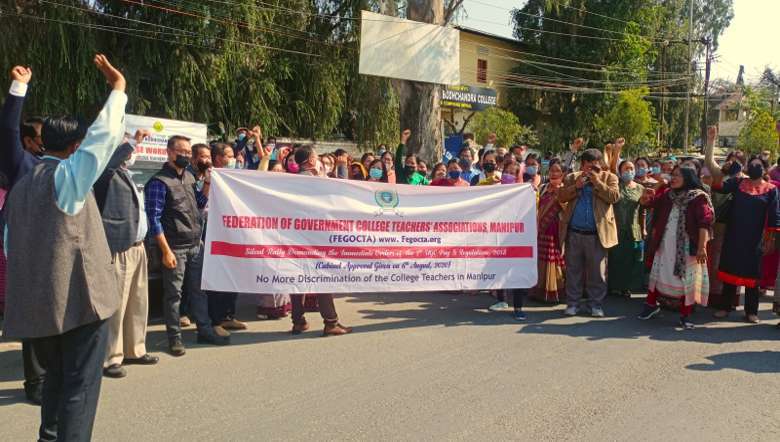 (PHOTO: IFP)
---
Manipur college teachers under the banner of FEGOCTA on Tuesday carried out a protest demonstration in front of the Maharaja Bodhchandra (MB) College, Imphal as a part of its intensive agitations, demanding the implementation of UGC 7th Pay and Regulation, 2018.
Imphal East district police foiled the protest and it lasted only for around five minutes. The teachers tried to take up a protest rally; however, police did not allow them to proceed.
Prior to the demonstration, the college teachers staged a sit-in protest inside the campus of the MB College.
As the college teachers are on a cease work strike since February 18, academic activities of almost all government colleges across the state remained non-functional till date.
If the state government was committed in implementing the UGC policy and fulfill the three written assurance given to FEGOCTA in 2019, the present unfortunate crises would have been avoided, general secretary of FEGOCTA N Somorendro said while speaking to the media.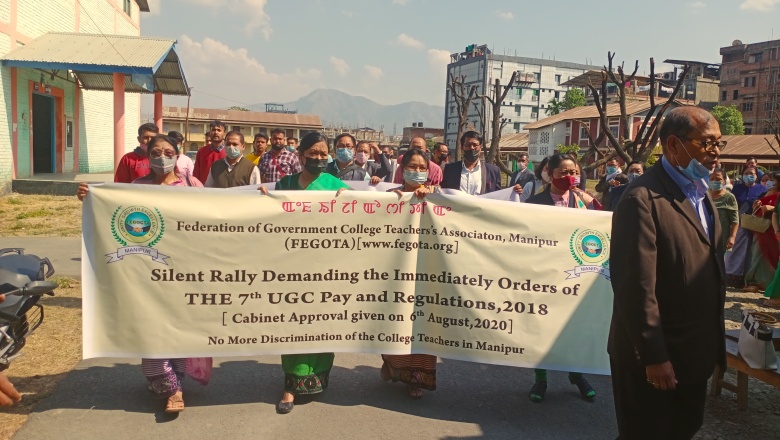 (PHOTO: IFP)
He said that FEGOCTA is compelled to take up different forms of agitations including the cease work strike as the last resort following the government's failure to address their years-long demand. "The government should stop blaming FEGOCTA for the disturbance in the academic activities of government colleges," Somorendro added.   
The general secretary said that the announcement of college students' union election during FEGOCTA cease work strike appears to be an attempt to create conflict between the teachers and students.
The agitation is not against the student's community; however, FEGOCTA will not take part in the election which is scheduled on March 6 as they are in cease work strike, he added.
He further said that FEGOCTA strongly condemned the police violence on the protesting students yesterday at DM College campus while they were demanding for resumption of the classes.
Asserting that restoring the academic activities remain in the hands of the state government, he said, "The only solution to end the agitation will be implementing the demanded pay scale." 
ALSO READ:
First Published:
Feb. 23, 2021, 9:56 p.m.