Hanjabam Radhe Devi – from selling tea and making potloi to achieving Padma Award
Defying old age, 88-year-old Radhe has been going strong with the art of making Potloi embedded with intricate designs and as Potloi Setpi (Bridal dresser).
---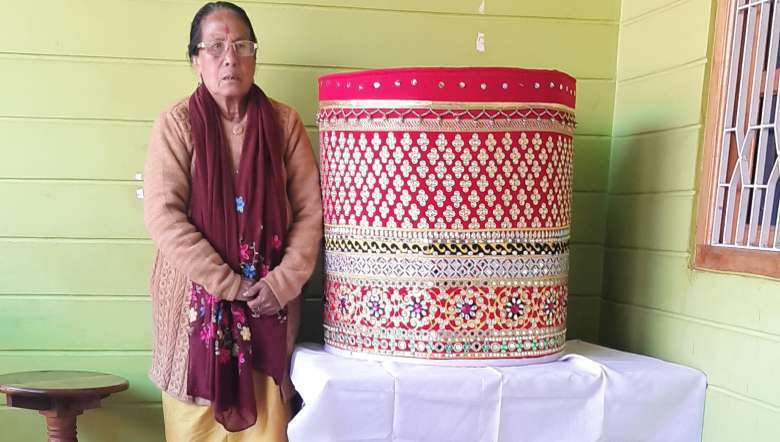 Hanjabam Ongbi Radhe Devi (PHOTO: IFP)
---
From selling tea and making Potloi to achieving the Padma Award – Hanjabam Ongbi Radhe Devi sprinkled water on her head and washed her face in disbelief when she was informed she would be conferred the Padma Shri Award.
"I was shocked and lost for a moment when my granddaughter informed me the news. I asked myself how am I conferred with the award? I had to sprinkle water in my head, wash my face and then I got back to my normal state again," Radhe said, standing tall by her beautiful creation - the Potloi, a traditional bridal costume of the Meitei community in Manipur, Northeast India, when this Imphal Free Press reporter came visiting her.
Defying old age, 88-year-old Radhe has been going strong with the art of making Potloi embedded with intricate designs and as Potloi Setpi (Bridal dresser). On January 26, 2021 – Republic Day – Radhe Devi from Wangjing in Thoubal district was honoured with Padma Shri Award in recognition of her contribution in conserving the art of making traditional costumes.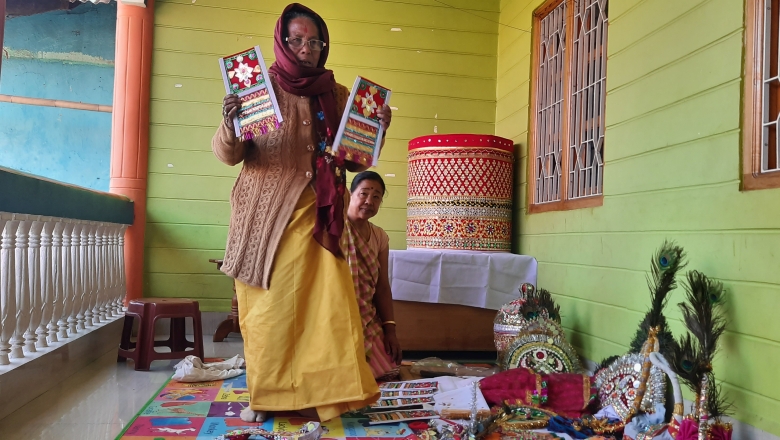 (PHOTO: IFP)
As told to the Imphal Free Press, the first person that came to her mind on hearing the news was her teacher, Longjam Ongbi Priyasakhi from the same locality who taught her the art of Potloi dressing.
Radhe said she used to run a tea stall at the market but there were times when she could not earn enough to support the family.
Seeing Radhe's hardships who have two sons and a daughter to look after, Priyasakhi persuaded Radhe to follow her for Potloi dressings so that she can earn better.
At the age of 28, she decided to learn Potloi dressing from her teacher. But it was not easy for Radhe as her husband was strongly against it, saying besides running the tea stall at the market, she had to do other chores at home. She, however, convinced her husband and she ventured into Potloi dressing and picked up the skill.
"I did not take much time to learn Potloi dressing as I was given a hands on training by my teacher wherever I followed her," Radhe said.
Even as a kid, Radhe was fascinated by the details and designs of Potloi. Gradually, she learned the art of making the bridal wear on her own apart from her usual work of Potloi dressing and she could complete a Potloi in four-five days
The expenditure for making one bridal wear was Rs 100-150 when she started the art, but the rate has soared to Rs 30,000-40,000 at present.
Narrating an incident when she initially began her new venture, Radhe said one day there was no rice at home but she had to rush for a Potloi dressing. She requested a neighbour to give rice to her children, assuring that she will pay back when she returns.
But the neighbour forgot about it and the children had slept before their mother returned. "I woke up my children, gave them a few eatables which I brought along and then I had to cook food again," Radhe said.
The income she earned from Potloi making and dressing has enabled her to manage her family and support her children's education.
Now, Radhe is 88 years old. But she still manages to go for Potloi dressing with the help from her family members. Besides making the bridal wear, she also makes dolls and costumes for Lai Haraoba, a festival of the Meitei community, and sells them. 
Radhe said, "People may think that I am living a better life. However, my mind is not at peace thinking about my family. I have had a long past but my future is short now".
However, the situation is much better now when compared to the past, she added. Radhe made an appeal to the present and future Potloi makers to maintain its originality.
Manipur Chief Minister N Biren Singh in his Facebook post, congratulated Radhe Devi for receiving the award.
"The award being conferred to Ima Radhe is an acknowledgement for her profound contribution in conserving the art of making our traditional costumes," Biren posted. 
ALSO READ:
First Published:
Jan. 29, 2021, 9:27 p.m.