Strong need to interpret folk culture in a way to attract young generations: Padma Shri Rewben Mashangva
On Republic Day, Guru Rewben who is also known as the 'King of Naga Folk Blues' was conferred with the Padma Shri Award, 2021.
---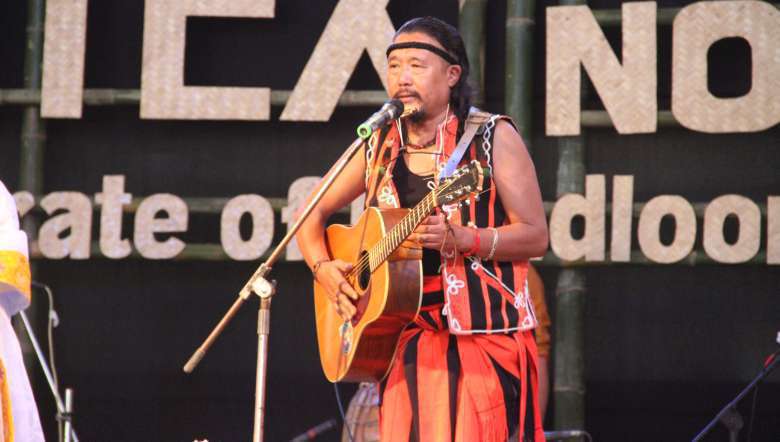 Guru Rewben Mashangva (PHOTO: IFP)
---
"I feel that my dedication and effort to uplift the Naga folk music is recognised at the highest national level," folk musician from Manipur, Guru Rewben Mashangva, told the Imphal Free Press in an exclusive interview, on being conferred the Padma Award.
The Guru of Naga folk music, who is also known as the "King of Naga Folk Blues", was conferred with the Padma Shri Award for his distinguished services in the field of Arts, along with Radhe Devi, on Republic Day celebration in Imphal on January 26, 2021.
Padma Shri Rewben Mashangva, born on June 21, 1961 at Choithar, a remote village in Ukhrul district of Manipur, has indeed come a long way since he started finetuning his world of folk music way back in early nineties.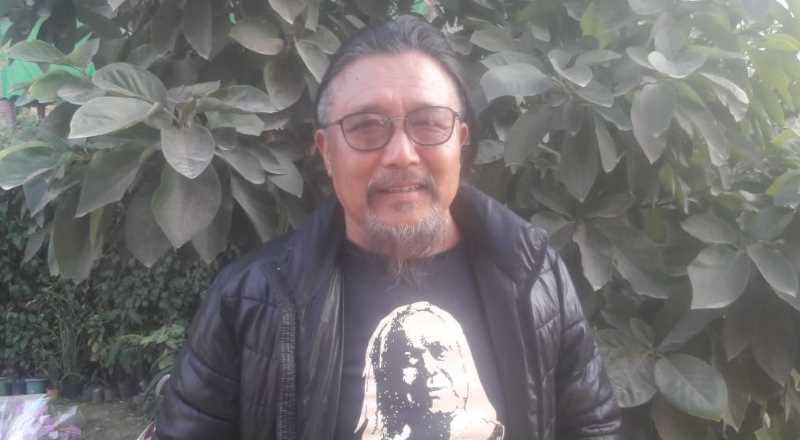 Inspired by village elders who used to sing folk songs during small village gatherings and festivals and drawn to the unique sound of traditions and culture of the tribe, Rewben stepped into the world of folk music at a young age.
Rewben's musical journey began to take shape as he began to realise the value of folk songs and the need to preserve them.
"As I began to realise the value of the folk songs and the need to preserve them, I started a musical journey by adding guitar to folk songs from 1991-92 and got positive feedback from listeners," Rewben told IFP.
His innovative folk fusion music is based on traditional folk themes and concepts in the effort to promote and preserve legendary folk music of the tribe.
Entertaining the public across the country with his unique style of playing the guitar and other traditional instruments and delivering high-energy performances, Rewben, who belongs to the Tangkhul Naga tribe, has won millions of hearts, young and old.
According to Rewben, Chonkhom Philava - Princess of Mountain, was the most outstanding song among his compositions and the one most liked by the listeners. The song depicts the cultural life of the community, especially the women in their cultural attire, he said. It was first recorded in 1989 and re-mastered in 1999, he added.
Sharing the many struggles he faced in the initial days, the Padma Shri said that trying to deliver the perfect sound effect during a stage performance was the biggest challenge he faced.
Playing and singing in a small room gives the perfect and expected sound, he said, adding, however, trying to produce the same while playing in open air or in a large auditorium is a big struggle.
When asked about his success as a performer and the key to it, Rewben said, "To take arts as a workmanship seriously, consulting with gurus and experts, maintaining good discipline, regular practice, work with dedication, taking up research works and having patience are the simple keys to become a performer".
There is a strong need to interpret and adapt folk culture in a way to attract young generations as they play a big role in preserving folk culture which is gradually vanishing, he said.
In the effort to preserve and promote Naga folk songs, Rewben said he is planning to refine and polish his old folk tracks to attract modern listeners and the younger generations.
Guru Rewben was conferred the title 'Guru' under Guru Shishya Parampara Scheme with sponsorship of North East Zone Cultural Centre and as an approved artist All India Radio (AIR).
He also received the National Tribal Award 2011-2012 for his contribution to development of Tribal music by the Ministry of Tribal Affairs in the field of Tribal Art and Culture.
In 2009, he was awarded the North East Excellence Award by Indian Chamber of Commerce in recognition of his innate musical mastery and knowledge of Naga folk music.
He was also the Manipur State Kala Akademi Awardee 2005 for Tribal folk music and was also featured in the first season of 'The Dewarists' along with The Raghu Dixit Project in 2011.
Apart from composing, producing and performing Naga folk songs, Guru Rewben is also a folk music researcher of music in Northeast India and a producer of folk musical instruments of the Naga tribe.
At present, Guru Rewben lives at Nagaram, Imphal with his wife and children.
ALSO READ:
First Published:
Jan. 28, 2021, 12:04 a.m.