Six autonomous district councils get new ambulances; more to arrive on June 25
Manipur Chief Minister N Biren handed to the six ADCs the ambulances procured with the funding from the department of Tribal Affairs and Hills.
---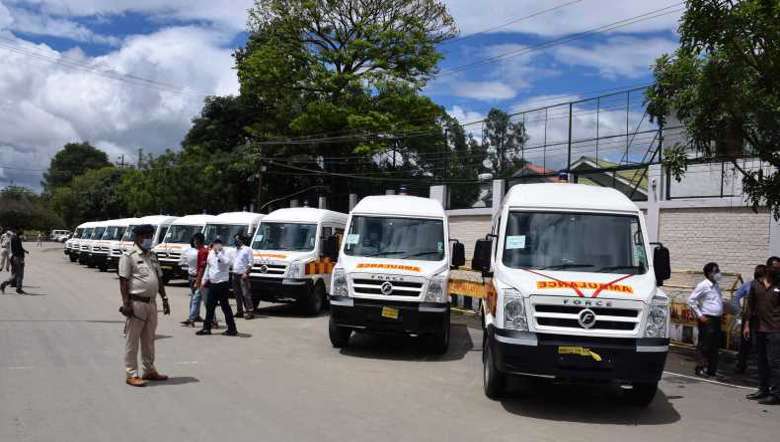 (Photo: DIPR)
---
As a part of the government's initiative to strengthen the state's health sector, Chief Minister N Biren Singh on Wednesday handed over 10 Basic Life Support ambulances to six Autonomous District Councils (ADC) of the state. The distribution programme was held at the Western Gate of the Chief Minister's Secretariat.
Two ambulances each were provided to the ADCs of Churachandpur, Chandel, Kangpokpi and Ukhrul districts, while one ambulance each was handed over to the ADCs of Tamenglong and Senapati district. The ambulances were received by the chief executive officers of the respective ADCs.
The ambulances were procured with the funding from the department of Tribal Affairs and Hills, Manipur amid the fight against the COVID-19 pandemic, official sources said.
The department had earlier placed an order for 18 ambulances consisting of 12 Basic Life Support (BLS) and 6 Advanced Life Support (ALS).
Of the 18 ambulances ordered, 10 BLS which were distributed on Wednesday reached Imphal as 1st phase while another 2 BLS, one each for Tamenglong and Senapati ADCs and 6 ALS, one each for all the six ADCs are expected to arrive by June 25 as 2nd phase.
It may be mentioned that the ambulances were distributed to strengthen the infrastructure of the health sector at district level as well as block level under the initiative of the ADCs. The ambulances which were distributed today shall be jointly utilized and maintained by ADC and District Hospital concerned.
Taking serious note of the concerning situation with the onset of the second wave of the COVID-19 pandemic and stressing the need to strengthen the health sector, the Imphal Free Presshad drawn the government's attention in its editorial dated May 13, 2021: Strengthen the district hospitals.
The Imphal Free Press had also highlighted the problem of shortage of ambulances in the state in one of its exclusive stories published on May 11, 2021: Ambulance facilities run short as Covid positive cases, deaths soar in Manipur.
Tribal Affairs and Hills minister Vungzagin Valte, chairman, MANIREDA Ginsuanhau, deputy chairman, Manipur State Planning Board L Rameshwor, additional chief secretary Letkhogin Haokip and other government officials attended the programme.
First Published:
June 17, 2021, 11:51 a.m.