Covid safety guidelines thrown to the wind as buyers crowd vegetable vendors in Imphal
Buyers violate Covid safety guidelines in the rush to buy food as street vendors sell vegetables from 7 am to 10 am as per the government lockdown order in Imphal valley.
---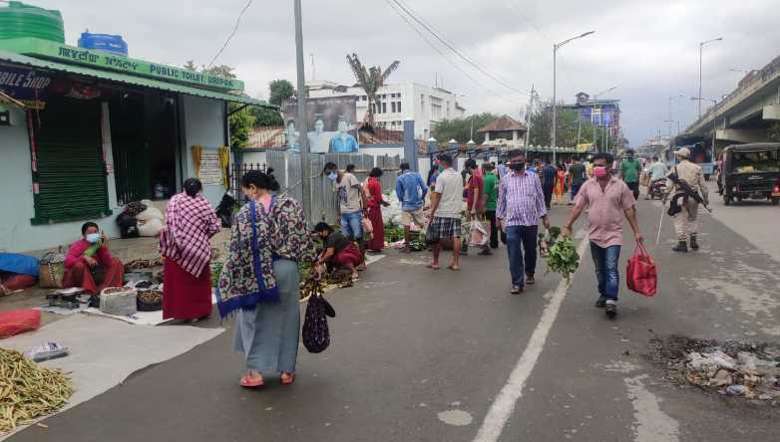 Vegetable market (Photo: IFP)
---
Violation of COVID-19 preventive measures is being witnessed on a large scale as buyers throng street vendors selling vegetables from 7 am to 10 am, particularly on the stretch before Cheirap Court, Uripok in Imphal West on Wednesday, following the orders of the state government issued on May 17.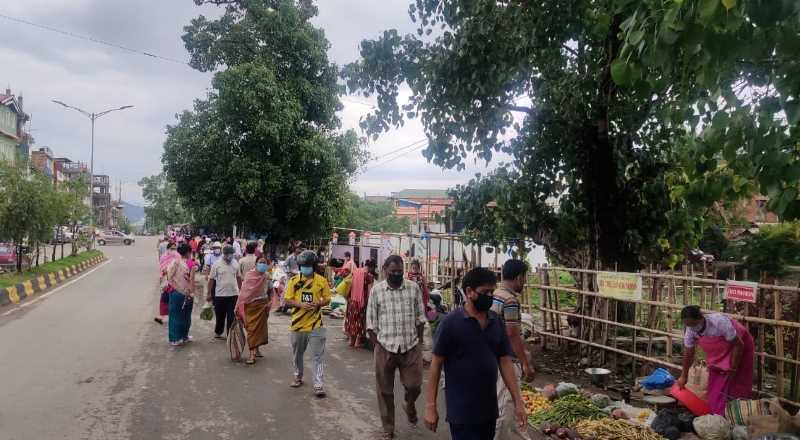 Uripok, Imphal West, Manipur (PHOTO: IFP)
The SOPs and guidelines issued by the state government to curb the alarming spread of the disease in the state were flouted as both vegetable vendors and customers threw all caution to the wind in the mad rush.     
Despite the various efforts given by the Police, including the use of loudspeakers to make the opening of the vegetable vendors go smoothly by enforcing the Covid guidelines, the crowd that gathered today appeared to have completely forgotten or deliberately ignored the mandatory rules of maintaining social distancing.      
Today's event has raised a big concern whether it would be possible at all to bring the spiralling cases of COVID-19 positive cases under control in Manipur which is being hit hard by the second wave of the pandemic.  
It may be mentioned that on May 17, the state Home department had issued orders allowing vegetable vendors, including grocery shops to conduct their businesses on May 20, 23 and 26 on a rotational basis.
However, prominent market areas in Imphal such as Khurai Lamlong, Andro Parking, Lambulane, Kongba, Pishum Thong, Kwakeikhel, Nagamapal, Singjamei Bazaar, Wahengbam Leikai along with the three Ima markets as well as the main markets in other districts remained closed as per the order issued by the state government. These market areas were seen to remain deserted as usual.
Meanwhile, Manipur's COVID-19 confirmed tally has crossed the 45000-mark to 45,451 with the highest single-day spike of 824 positive cases in a span of 24 hours, according to the latest update by the health department on Tuesday.
Imphal West has been reporting the highest number of COVID spike in a single day among all districts in the state. On Tuesday, the district reported 361 new COVID-19 positive cases. 
Also Read
First Published:
May 26, 2021, 12:55 p.m.