COVID-19 surge in 10 states pushes India's positive tally to 1,45,26,609
As per the latest update by the Union Health Ministry, the country's COVID-19 confirmed tally rose to 1,45,26,609 with 2,34,692 new cases and the death toll surged to 1,75,649 with the highest single-day death tally of 1,341 cases
---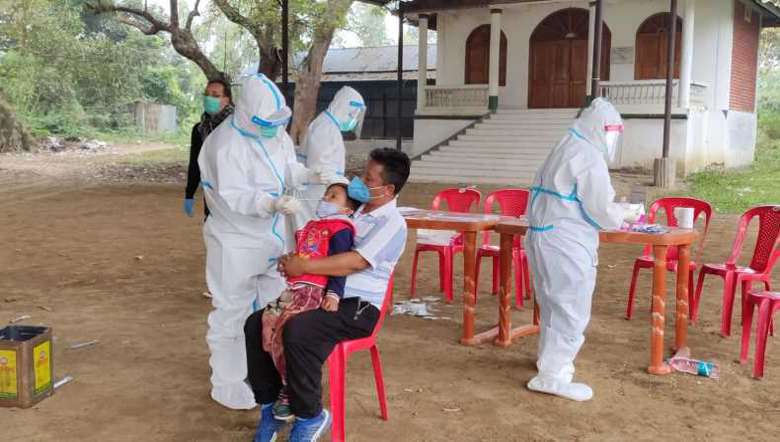 (Representational Image: IFP)
---
India has ramped up COVID-19 testing and is racing ahead with vaccination and has extended the Tika Utsav festival across the country, but the numbers of daily new positive cases and case fatalities are also growing by the day. As per the latest update by the Union Health Ministry, the country's COVID-19 confirmed tally rose to 1,45,26,609 with 2,34,692 new cases.
Of the new cases, 79.32 per cent are being reported from 10 states, including Maharashtra, Uttar Pradesh, Delhi, Chhattisgarh, Karnataka, Madhya Pradesh, Kerala, Gujarat, Tamil Nadu and Rajasthan, the ministry stated in a release.
Maharashtra has reported the highest daily new cases at 63,729, followed by Uttar Pradesh with 27,360 and Delhi with 19,486 new cases.
The country's death toll also surged to 1,75,649 with the highest single-day death tally of 1,341 cases reported early Saturday. Ten states account for 85.83 per cent of the new deaths. Maharashtra saw the maximum casualties at 398, followed by Delhi with 141 daily deaths.
However, nine states/UTs have not reported any COVID19 deaths in the last 24 hours. These are Ladakh (UT), Daman and Diu and D&N, Tripura, Sikkim, Mizoram, Manipur, Lakshadweep, Andaman and Nicobar Islands and Arunachal Pradesh.

The cumulative number of COVID-19 active cases surged to 16,79,740, while the recovery tally reached 1,26,71,220. The recovery rate dropped to 87.23 per cent on Saturday.
Five states, including Maharashtra, Chhattisgarh, Uttar Pradesh, Karnataka and Kerala, cumulatively account for 65.02 per cent of India's total Active Cases. Maharashtra alone accounts for 38.09 per cent of the total active caseload of the country.
Meanwhile, India's cumulative vaccination coverage nears 12 crores with over 30 lakh doses given in the last 24 hours, the Union Health Ministry updated.
According to the ministry, cumulatively, 11,99,37,641 vaccine doses have been administered through 17,37,539 sessions, as per the provisional report till 7 am today. These include 91,05,429 HCWs who have taken the 1st dose and 56,70,818 HCWs who have taken the 2nd dose, 1,11,44,069 FLWs (1stdose), 54,08,572 FLWs (2nddose), 4,49,35,011 1st dose beneficiaries and 34,88,257 2nd dose beneficiaries more than 60 years old and 3,92,23,975 (1st dose) and 9,61,510 (2nd dose) beneficiaries aged 45 to 60 years.
ALSO READ
First Published:
April 17, 2021, 2:09 p.m.