Indo-Myanmar border fencing: MDA team to undertake spot verification
Manipur Democratic Alliance chairman Bijoy Koijam said a team of MDA will be going for a spot verification of border pillar 81.
---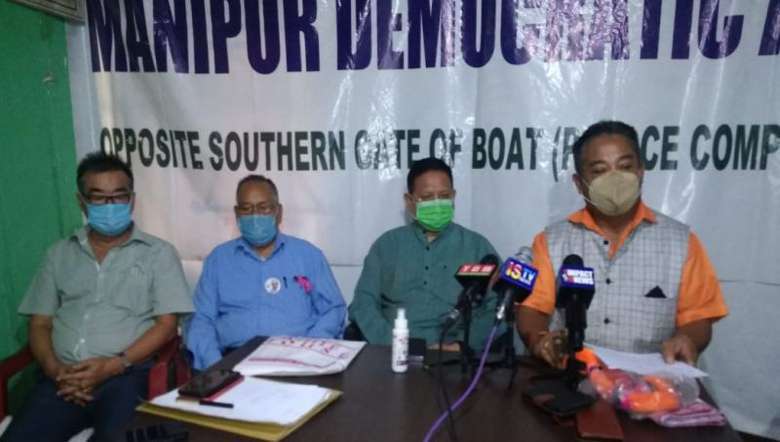 (PHOTO: IFP)
---
In an effort to assess the ground situation of Border Pillar 81 on Indo-Myanmar border fencing, which has been a contentious issue for the past many years, a team of Manipur Democratic Alliance (MDA) will be undertaking spot verification, MDA chairman Bijoy Koijam said.
The MDA chairman, addressing media persons at the head office of MDA at Babupara, Imphal on Saturday, said that the Border Security Force (BSF) was established to protect the international borders and they are experts on dealing with the issue in protection of international borders.
To control the insurgency and other anti-social activities, Assam Rifles or other security forces can be deployed at border areas but for protection of international borders only BSF must be engaged, he added.
Bijoy also pointed out that there is no proper citizen's rights in Manipur even after 75 years of India's independence as there is no designated place for people to express their voices like it is there in other states including at New Delhi.
ALSO READ: Halt Indo-Myanmar border fencing construction work immediately: UCM
He said that India is a democratic country and every citizen has the right to freedom of speech and expression. It is necessary to establish a place for Manipur either in Imphal East or Imphal West where people can put forward their desired concerns under the said fundamental right of Indian Constitution, he added.
Chief Minister N Biren Singh was also once a journalist and he is much aware of the ethics of being a journalist and MDA hoped he will take necessary steps to protect the right to freedom of speech and expression, said Bijoy.
For the coming state assembly election, MDA is planning to produce 30 to 40 intending candidates and will support the majority party to form the government for the next five years, he said.
He also opined that if the Imphal-Jiribam highway is upgraded to at least 6 lanes then extortion and looting in the highway could be reduced.
MDA convenor M Tombi said that MDA will not compromise the territorial boundary of Manipur in any condition. MDA welcomed the government for taking initiative in Indo-Myanmar border fencing, however, will press the Survey of India to continue the construction of the border fencing after proper survey is conducted.
Being an international border, various illegal activities, including smuggling of drugs, arms and ammunition frequently take place in Indo-Myanmar border areas and the border fencing would prevent such activities, he added.
Stating that people of the state are often suppressed in raising their voices, he appealed to the state government not to involve politics in the right to freedom of speech and expression.
First Published:
Aug. 28, 2021, 11:51 p.m.