Air monitoring stations in all districts soon: Manipur Pollution Control Board
Preparations are being made to install 12 stations by the Central Pollution Control Board and the Manipur Pollution Control Board as a part of the National Air Monitoring Programme, L Radhakishore said.
---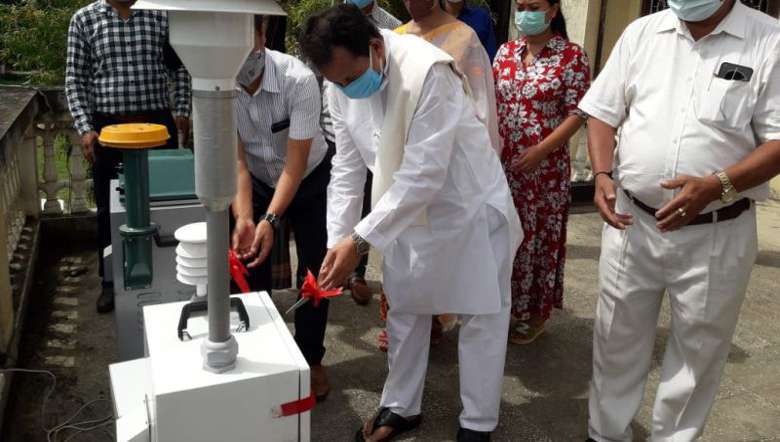 (PHOTO: IFP)
---
Manipur Pollution Control Board (MPCB) chairman and MLA Oinam assembly constituency L Radhakishore on Saturday announced that air monitoring stations will be installed in every district to keep a check on the air pollution level in the state.
Radhakishore was speaking at the ceremony for launching the ambient air quality monitoring station at the office of SDO Thoubal, Thoubal DC Complex on Saturday.  He said it is necessary that human beings breathe clean air and drink clean water to remain healthy.
It is a known fact that if people breathe polluted air for a long time, they will start suffering from many ailments, he said.
To prevent such happenings, measures are being undertaken under the supervision of Chief Minister N Biren Singh to install air quality monitoring stations in every district of Manipur, he added.   
ALSO READ: Manipur: Air Quality Monitoring System inaugurated at Churachandpur
Preparations are made to install 12 stations by Central Pollution Control Board, Delhi and Manipur Pollution Control Board as a part of the National Air Monitoring Programme, he said. Efforts will be taken soon to install more stations, he added.  
Senior environment engineer MPCB Kh Premkanta said that with the approval given by the Central pollution control board for Manipur, the locations to install 12 stations have been selected.
The 12 locations are at MPCB office (upgraded) of Imphal West; Lamsang SDO Office; Sekmai CHC; Office of Imphal East Directorate of Environment and Climate Change; Sawombung SDO office; Bishnupur DC office complex; Kangpokpi DC office Complex; Churachandpur DC Office complex; Thoubal DC office complex; Kakching DC office complex; forest guest house in Moreh and range forest office in Jiribam.
Above these 12 stations, continuous ambient air quality monitoring stations will be shortly installed at DM University Imphal and Manipur University Canchipur, he announced.  
Among these 12 stations, the ones at MPCB office, office of climate change directorate; DC office of Bishnupur, Churachandpur have been launched and they have started functioning while the station in Thoubal began functioning from today.   
The event was attended by DC Thoubal Rangnamei Rang Peter, social worker Th Jadumani along with staff of MPCB.
First Published:
Aug. 28, 2021, 9:02 p.m.