COVID-19 Immunisation Drive: 13,701 people vaccinated in Northeast India
Among the eight Northeast states, Assam recorded the highest number of COVID-19 vaccine beneficiaries till Tuesday.
---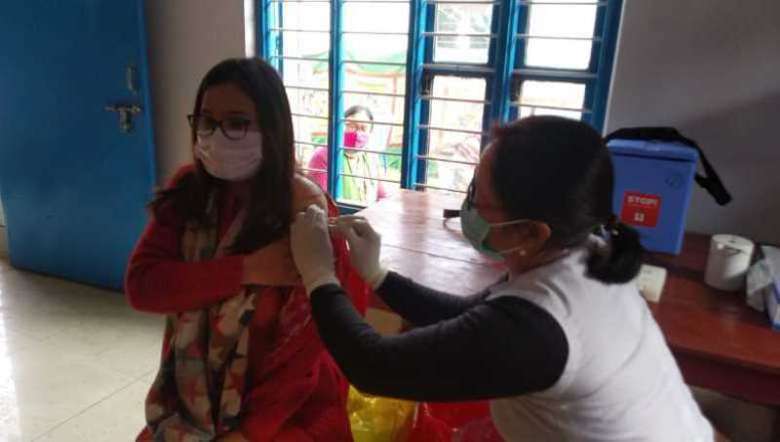 (PHOTO IFP)
---
As many as 13,701 people have been administered the first dose of COVID-19 vaccine in the eight Northeast states till day four of the launch of the nationwide vaccination drive, according to the latest updates by the Union Health and Family Welfare Ministry.
The nationwide vaccination drive was launch on January 16 in 3006 sites across all states and Union territories in the country.
Among the eight states, Assam, which has the highest number of COVID-19 confirmed caseload with over 2,17,000 cases till date, registered the highest number of COVID-19 beneficiaries with 5542 people getting inoculated with the first dose of COVID vaccine till date.
Assam is followed by Arunachal Pradesh with 2805 and Tripura with 1,736 COVID vaccine beneficiaries till Tuesday, the ministry said in a statement.
In Manipur, a total of 978 people have been vaccinated with COVID vaccine, while in Nagaland 1,436 people have been inoculated.
On Monday, Manipur Chief Minister N Biren said that the state government has been strictly monitoring the vaccination programme by following the various criteria to be taken before vaccination. The programme was launched on Saturday and the vaccination programme has been continuing at 130 dedicated centres, he said.
A total of 530 and 554 people have been administered the COVID vaccine in Meghalaya and Mizoram respectively, while at least 120 people have been vaccinated in Sikkim.
So far, no complaint of side effects from people who have been vaccinated against Covid-19 in Meghalaya have been reported, state Health Minister A L Hek said on Monday.
The cumulative number of 2,23,669people have been vaccinated across the country in the last 24 hours across 3,930 sessions, taking the cumulative total of people vaccinated to 4,54,049 (across 7,860 sessions conducted so far), the ministry stated.
Meanwhile, the country recorded a new low in daily new COVID-19 positive cases at 10,064 in last seven months.
ALSO READ
First Published:
Jan. 19, 2021, 3:21 p.m.