Manipur By-elections: Voting underway in four Assembly seats
High voters turnout rate in reported from every polling booth. Voters were seen strictly adhering to COVID-19 protocol during the polling that will end at 5 pm Saturday.
---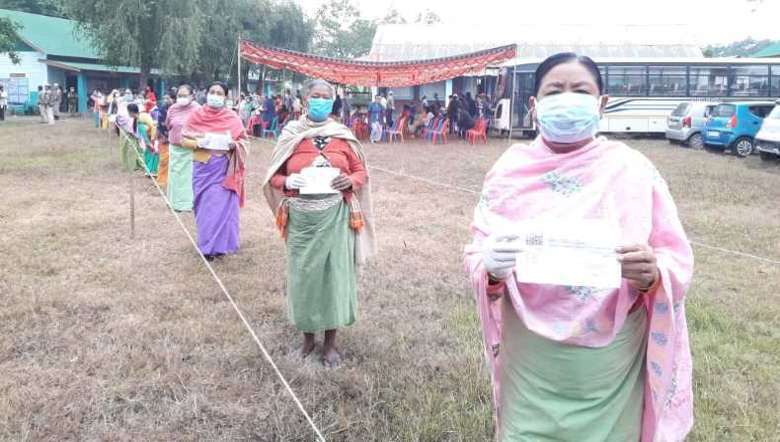 Voters lining up at 34/16 Wangjing High School polling booth (PHOTO IFP)
---
Polling in 203 polling stations in four Assembly constituencies of Manipur began 7 am Saturday with strict adherence to the COVID-19 protocol issued by the Election Commission, amid tight security arrangement. Voters were seen quening up to exercise thier franchise by maintaining physical distancing and wearing hand gloves and masks.
Voters turnout rate in every polling booth is reported high. To all the voters who had come to cast their votes, essential items such as face masks, hand sanitizers and hand gloves were distributed in every polling booth by the ASHA and Anganwadi workers as a precautionary measure to prevent spread of COVID-19 during elections.
As many as 1,35,212 electorates, including 66,807 males and 68,400 females, are expected to cast their votes for the 11 candidates in fray for the by-elections to Lilong and Wangjing-Tentha seats in Thoubal district, Wangoi in Imphal West and Saitu in Kangpokpi. Of the 11 candidates, four are INC, three BJP, three independents and one NPP.
There are a total of 1,685 voters above the age of 80 years and 639 persons with disabilities. The CEO Manipur office had earlier announced that options will be given for postal ballot for elderly persons above 80 years, persons with disabilities and for quarantined persons.
For the first time, the state has introduced 'mark-III' electronic voting machine (EVM) and voter-verified paper audit trail (VVPAT) that are procured from Assam and Mizoram and manufactured by ECI limited.
Around 2,294 polling personnel, including security, are being stationed in the 203 polling stations spread across the four constituencies for the voting  which will conclude at 5 pm Saturday.
Lilong has 32,398 voters (15,877 males, 16,518 females) and 49 polling stations. In all, 833 polling parties, including police personnel are stationed in Lilong. Three candidates including one INC and two Independents candidates are in fray. They are Md Abdul Nasir of the Independnet, Y Antas Khan of the Independent and Me Azizul Haque Khan of the INC
Wangjing Tentha has 31,213 voters (15,053 males, 16,160 females) and 43 polling stations out of which two polling stations 34/4 and 34/5 are sensitive. 34/14 and 34/15 polling stations will be manned by woman polling personnel only. Three candidates including BJP, INC and Independent are in fray. They are Paonam Brojen of the BJP, Moirangthem Hemanta Singh of the INC and Sarangthem Manaobi of the Independent. In all ,731 polling parties, including police personnel are stationed in Wangjing Tentha.
Wangoi has a total number of 205 polling personnel, including security will be used in 41 polling stations and 28828 voters will cast their votes to seal the fate of three candidates, BJP, NPP and INC. The candidates are Onaim Lukhoi Singh of the BJP, Khuraijam Loken Singh of the NPP and Salam Joy Singh of the INC
Saitu bypolls will be a straight fight between arch rival BJP and INC. Veteran politician and BJP candidate, Ngamthang Haokip will be up against a new face Lamtinthang Haokip of INC.
Around 525 polling personnel and security are stationed in 70 polling stations. There are 40,257 eligible voters in Saitu out of which 19,755 are male voters and 20,498 are female voters apart from four other voters. Of the 70 polling stations, 17 polling stations are identified as critical and seven polling stations are identified as vulnerable while the remaining 46 polling stations are identified as normal.
The ECI had scheduled for by-polls in five constituencies namely Saitu, Singhat, Lilong, Wanjing Tentha and Wangoi. However, BJP candidate Shri Ginsuanhau Zou @ GS Haupu was elected unopposed from Singhat AC (ST) after Independent candidate Chinlunthang withdrew his nomination.
The counting of votes will be conducted on November 10.
First Published:
Nov. 7, 2020, 7:48 a.m.