In pursuit of social acceptance, transgender community struggles for normal life
Discriminated and ostracised, many transgender in Manipur struggle to earn their living amid the pandemic.
---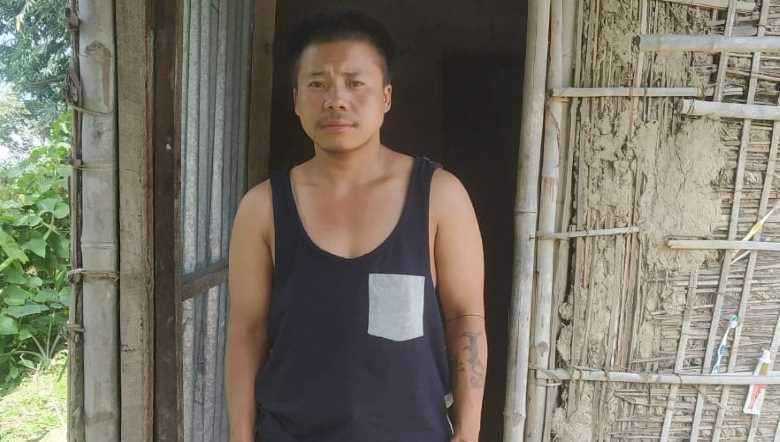 Trans man Sopin Lasishram from Manipur (Photo: IFP)
---
In the past few years, he tried his hands at different types of profession such as a teacher, bank employee, salesman and even mechanic as he, like any other individual, aspire to learn and experience different things of a normal life, and have the opportunity to grow. However, the pursuit of social acceptance has not been a smooth ride for Sopin Laishram, a 28-year-old trans man from Moirang Purel in Imphal East, Manipur.
"I have been living in a temporary shed next to my parents' home for the last few months because my family members could not accept me being a trans-man," Sopin said, speaking exclusively to Imphal Free Press.
Sopin said that as a transgender, he often face humiliation and the stuggle to be accepted continues even to this day.
"Many have asked me why I would not simply stay and act like any other 'normal' woman. Many address me as 'ibungo-ibema' (mister-miss) and would make fun of me. I consider such comments and remarks as a humiliation not only to me but to the whole transgender community," Sopin said, adding, "However, I do feel happy and accepted when people address me as a masculine gender without any mockery".
Asserting that his mindset is literally that of male person living in a biological female body, Sopin said that he had even taken up hormone therapy as he wanted his physical structure to be of a male. The result of the therapy has been positive. His vocal tone has changed and he has started growing some beard and his menstrual cycle has even stopped, he said.
When it comes to using a public toilet, Sopin claimed that maximum transgender people are totally confused on which gender toilet they have to enter. If a transgender enter any toilet (male and female) the public give them disapproving and uncomfortable gestures, he added.
Sopin also works as the general secretary of All Trans man Association, Manipur. He was earning his livelihood by working as a Zumba instructor. His average earning used to be around Rs 7,000 per month. But due to the ongoing lockdown imposed as a preventive measure to fight the COVID-19 pandemic, he could not even generate a monthly earning of Rs 3,000 as his current livelihood is run by selling of fish which were brought from Moirang, Bishnupur by one of his friends.
On behalf of the All Trans man Association, Manipur and other transgender people of the state, Sopin appealed to the government to make the public more aware and educate them on 'transgender' through the media by means of advertisement. He also expressed that it would be of great help if special job reservations are given for the transgender.
As for trans women, in a state like Manipur, most of them find work in the beauty industry as makeup artistes or performers in the traditional Shumang Leela (Courtyard Plays) of the Manipuris where trans-women are given a place as artistes.
However, 50-year-old trans-woman L Ningol from Kongpal, Imphal East is struggling to make ends meet by working as a farmer. To make a living, sometimes she has to work in a sand mining factory during other days where there is no work in the paddy field. She manages to earn around a sum of Rs 9,000 monthly.
In her young age, she was employed as Shumang Leela artiste in a group called, 'North Eastern', she said. "During those days when I was young, there were no beauty parlours, saloons or training centres for make-up artistes though there are many now. So, I have zero experience in the field of beauty unlike other young trans-women," said Ningol, speaking to the Imphal Free Press.
"As people cannot survive without an income, I have been working as a tenant farmer and sometimes my friends help me financially," she said.
Apart from the problem of finding work, the transgender face social discrimination by the society. Ningol said that during her teenage years, her parents and brothers used to physically abuse him for wearing women's dresses. Her family would cut his hair frequently when it becomes long. "After realising that they cannot change my nature, they stopped harassing me, Ningol said.
Although many among the transgender community suffer from social stigma and struggle for acceptance, some have inspiring stories to tell. A 27-year-old trans-woman Beoncy Laishram from Kakwa Leiphrakpam Leikai, Imphal West has become the first transgender doctor not only in Manipur but in the entire Northeast states.
Beoncy passed his MBBS from the Regional Institute of Medical Sciences (RIMS), Imphal in 2017 and is currently serving as a resident medical officer at Shija Hospital and Research Institute, Langol, Imphal.
"I have faced discrimination since my childhood but I continue to fight it and in the meantime, I keep focus on my aims," Beoncy told the Imphal Free Press.
Beoncy said that before she became a doctor people would consider him as worthless, judging by her looks and her feminine behaviour. "However, my college mates and professors were very supportive to me while pursuing my MBBS degree," Beoncy added.
Read More
Lockdown period logs maximum number of forest fires in Manipur
Being tested positive for COVID-19 does not mean end of world: COVID-19 survivors
Manipur's meritorious students likely to miss out Ishan Uday (NER)-UGC scholarship
First Published:
Aug. 30, 2020, 5:42 p.m.