'Beliefs, ideologies of Hijam Irawat still alive'
A cultural programme was showcased on the 70th death anniversary of Lamyanba Hijam Irawat.
---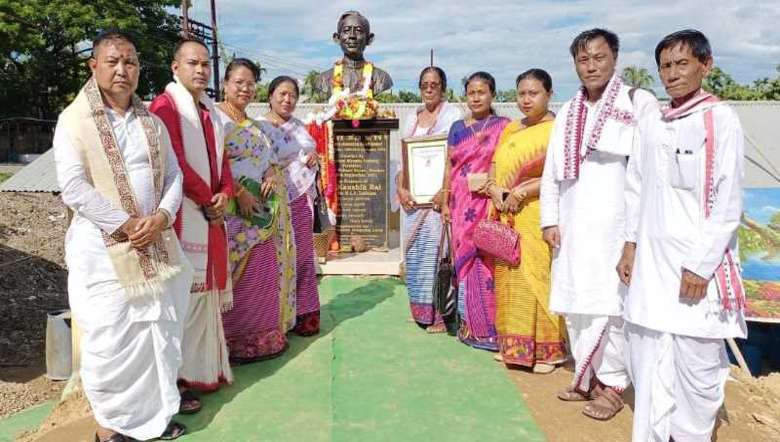 (Photo: IFP)
---
Commemorating the 70th death anniversary of Lamyanba Hijam Irawat on Sunday, Patriotic Writers Forum Manipur (PAWF) president Naorem Khamba Luwang and MLA of Lakhipur assembly constituency, Assam, Kausik Rai together unveiled a statue of Hijam Irawat at Cachar's Pallarband, Assam, donated by PAWF as a mark of respect to Lamyanba Hijam Irawat.
Hijam Irawat Ningshing Lup and Rural Development Association, Pallarband jointly organised the observance. As a part of the occasion, a cultural programme was showcased.
During the programme, Lamyanba Irawat Lifetime Achievement Award 2021 was also given by PAWF was handed over to renowned writer of Cachar, Maisnam Bhubon, followed by Pacha Meetei Literary Award 2021 to author, Lamabam Birendra and Dr Saroj Nalini Arambam Parratt Literary Award 2021 to author, Ng Bijoya Keisham. The awards were donated by Khangembam Priyojit and Konjengbam Dilip.
PAWF president, N Khamba, Hijam Irawat Ningshing Lup president, Khaidem Gourahari, Lakhipur AC MLA, Kausik Rai were the dais members of the programme.
The programme was also attended by PAWF general secretary, Rakesh Naore; Khapri Industries Pvt Ltd chairman and managing director, Khangembam Priyojit; PAWF patron member, Konjengbam Dilip; Irawat Ningshing Lup, Pallarband, advisor, Khaide Kanta; MDC Assam chairperson, Mutum Rina Singha; Manipuri Short Story Society, India president, Ingudam Binod and social worker Chongtham Goura.
Speaking on the central theme of the occasion, Rakesh Naorem stressed that Patriotic Writers Forum Manipur has donated the statue to cultivate the ideologies and principles of Irawat to the younger generation of Pallarband. He said that Irawat took refuge in Assam's Cachar from 1943 to 1946 and the years he spent in Cachar cannot not be forgotten. A statue of Irawat is already erected at Lalshingmura of Tripura in 2013.
Chief guest of the observance, Naoroibam Khamba Luwang in his speech said that though Irawat is no more, his beliefs and ideologies are still alive among the people.
MLA Kausik Rai said that he will work for the welfare of the Meetei community in Cachar. The statue donated by PAWF Manipur will help in enlightening the residents of Pallarband on the ideologies of Lamyanba Hijam Irawat.
Priyojit underlined the Meetei community to stand united to solve all the issues and stressed on preserving the culture and tradition, besides, following the Irawat's ideologies.
First Published:
Sept. 27, 2021, 8:34 a.m.