Lack of action and awareness about PUCC causing rise in air pollution in Imphal valley
"The large number of unfit vehicles is one of the main reasons for air pollution in Manipur," said Manipur Pollution Control Board official Jhashankar.
---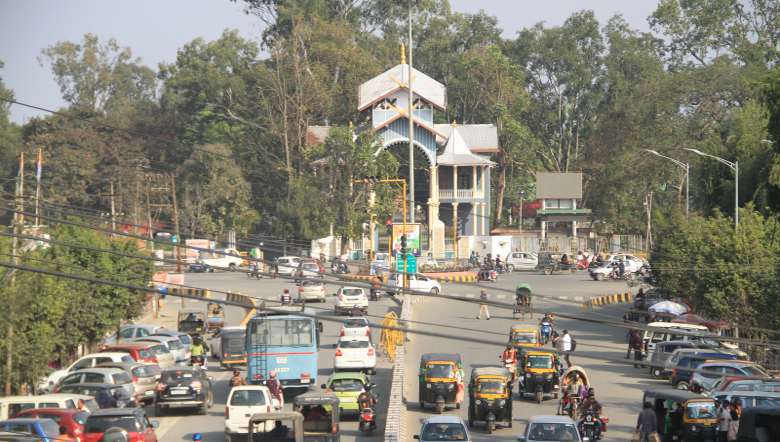 Imphal, Manipur (PHOTO: IFP)
---
With the lack of awareness among vehicle owners or drivers about the Pollution Under Control Certificate (PUCC), which is mandatory for every private and public vehicle plying on roads, and lack of police action, smoke emission from unfit vehicles is causing a rise in air pollution in Imphal city. Most people, however, tend to ignore taking the PUCC, said assistant environment engineer, Manipur Pollution Control Board Jhashankar Thokchom.
PUCC is a fitness certificate for a vehicle given after testing the smoke emission levels which is mandatory for drivers as per the Central Motor Vehicle Act, 1989. It states that the vehicle is safe to be driven on Indian roads and does not contribute to the rising pollution.
Jhashankar told Imphal Free Press, most of the vehicle owners come to get PUC Certificate with the purpose of going outside the state. As per record, from May 5, 2020 to September 10, 2021, a total of 457 vehicle owners took PUCC mainly for travelling or transportation outside the state. During the period from May 5, 2020 to September 10, 2021, of the total 457 vehicles, 81 were heavy vehicles; 172 light motor vehicles with diesel engine; 162 light motor vehicles with petrol engine; 14 three-wheelers with diesel engine; three-wheeler with petrol engine; 15 two wheelers and 10 medium vehicle with diesel engine, he said.
Also Read: Government ban on plastic bags flouted rampantly in Manipur
Pointing out that in other states of the country, authority concerned strictly monitors the possession of PUCC of a vehicle, Jhashankar said, "If the driver does not possess PUCC for the vehicle, the driver could be penalised as per law and the penalty will be higher for repeated offences".
As per MV Act, the validity of a PUCC is six months, which is to be renewed after every six months.
Jhashankar said PUCC has several benefits starting from maintaining the fitness of a vehicle to protecting the environment from the harmful gases due to vehicular smoke emission. In other states of the country, the main reason for smoke pollution is due to the establishment of numerous big industries. However, in Manipur there is hardly any industry but there is smoke pollution. The pollution in Manipur is mainly caused by lack of awareness of PUCC by vehicle owners and drivers and lack of action taken by the authority concerned, he emphasized.
Chairman of Manipur Pollution Control Board (MPCB), L Radhakishore had expressed last year that the pollution level of Imphal city has crossed its permissible limit. He also warned the public that if the public failed to cooperate with the authority concerned to check unfit vehicles, the society could be victims of dreadful diseases.
Also Read: Gearing up for elections
Jhashankar further told the Imphal Free Press that due to the absence of action from the authority concerned, people do not bother to take PUCC and concerned officials are helpless to control vehicular smoke emission by only through testing. He said that the government is good in making policies and law, but often fails in implementing the policies.
When this reporter spoke to some of the commercial drivers regarding the PUCC, most of them were unaware of it. Almost all private vehicle drivers are unaware that PUCC is mandatory for all vehicles to ply on the road.
One Maisnam James, who is a passenger diesel auto driver, said that he does not know what PUCC is and that it is mandatory for each driver to possess. He said during verification by concerned police officials mostly they verify only the registration card, permit for commercial service along the route where the service is being conducted and licence card. But they do not ask for PUCC. And we do not feel the need to carry such cards as nobody asks for the card, he added.
A private car owner identified as one Thoudam Kiran of Singjamei said he heard of PUCC as he bought his vehicle from outside the state as a used car. His car model is of 2006 model and he bought the car at a lesser price as compared with the used car available here in Imphal. When he bought the car, he took PUCC from the authority concerned of the respective state and on the way back to Imphal, concerned officials checked for the said card and other related documents for the vehicle and set free. However, till date he has not met any such checking in the state, he added.
Also Read: RIMS Imphal: 50 years on, still neglected
One official of the state transport department told the Imphal Free Press that the department lacks manpower so it is not able to take necessary steps against unfit vehicles. To seize and dispose of unfit vehicles, a scrapping centre is mandatory. The official said after an unfit vehicle is disposed of at a scrapping centre, a certificate will be issued and after showing the certificate from the vehicle dealer they will give a subsidy amount equivalent to the scrapped vehicle.
There are many factors that prevent necessary action against drivers or owners of unfit vehicles in the state, including the financial condition of the state, the official added.
The official further said that setting up of an authorised PUCC provider for government and private sector is on the pipeline. If such centres are established in the state then the vehicles can be checked for fitness. The PUCC providers would be made available at fuel stations and other interested firms with qualified manpower, he added.
The officials also pointed out that due to lack of manpower seizing of unfit vehicles cannot be done at one time and if all the unfit vehicles are seized under law then people living in Imphal city will find it difficult to get fresh vegetables and other essential items mostly brought from rural areas in the state.
First Published:
Sept. 20, 2021, 5:50 p.m.