Goongoon Devi, Lhingpinent Joshi grab top positions in MOA's Online Essay Competition
The Online Essay Competition 2021 was organised by the Manipur Olympic Association to mark the 32nd Olympic Games of Modern Era.
---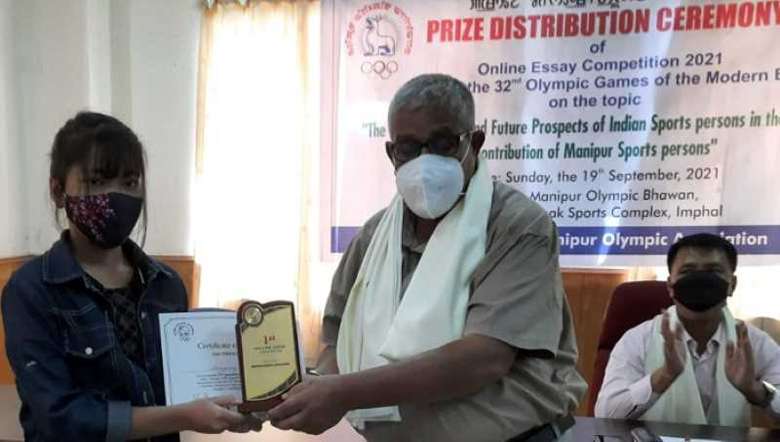 (Photo: IFP)
---
Kshetrimayum Goongoon Devi of Comet School and Lhingpineng Joshi of Manipur Technical University grabbed the top positions in school and graduate level category of Online Essay Competition 2021, organised by Manipur Olympic Association to mark the 32nd Olympic Games of Modern Era.
The theme of the essay competition was on 'The Past, Present and Future Prospects of Indian Sportspersons in the Olympics: Contribution of Manipur Sportspersons'.
The Manipur Olympic Association (MOA) has picked top eight position holders in each category of School and Graduate level. The essay competition was held during the recently concluded Tokyo Olympic 2020 and prizes were distributed on Sunday at Olympic Bhavan, Khuman Lampak Sports Complex.  
The eight prize winners in School (Category-A) are Ksh Goongon Devi, N Kamala Devi, M Deshdemona Devi, Neha Oinam, Ch Mangibhushan Singh, N Chanchan Devi, Dibiyarani Potshangbam and Gauri Tyagi.
As for the Graduate level (Category-B), the winners are Lhingpineng Joshi, Gita Elangbam, Angie Zingsol, Margaret H, Mrinal Joshi, T Navyson Singh, Ambika Chanu Potshangbam and Ch Mangikumari Devi.
MOA president, Th Radheshyam and its senior vice-president, GA Ibopishak Sharma distributed the prizes to the participants.
First Published:
Sept. 19, 2021, 10:11 p.m.