'300 million people in India consume tobacco products, highest in the world'
More than 500 people took part in the campaign.
---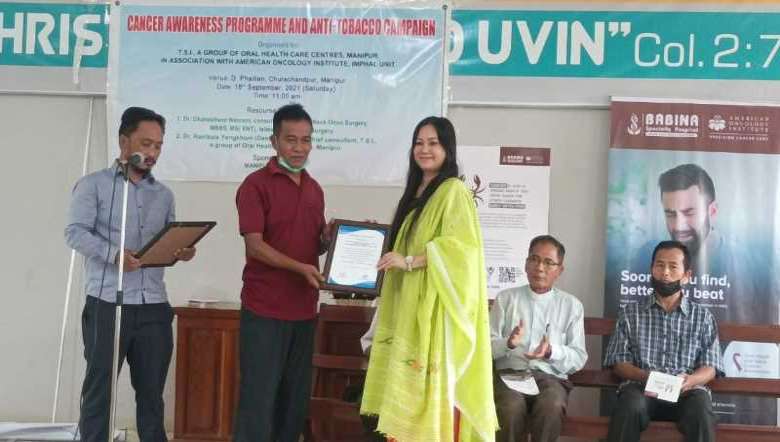 (Photo: IFP)
---
A cancer awareness programme and anti-tobacco campaign was held at D Phailian, Churachandpur on Saturday.
The programme was organised by TSI, a group of oral healthcare centres in Manipur in association with American Oncology Institute, Imphal unit and in collaboration with Phailian Welfare Committee.
More than 500 people took part in the campaign attended by consultant head and Neck Onco surgery, Dr Dhaneshwar Naorem; TSI  group of Oral Care Centre chief consultant and dental surgeon, Dr Ranibala Yenkhom; and AOI marketing manager, Kallul Chetia.
During the campaign, Dr Dhaneshwar said that people panicked when doctors mentioned cancer for the patients. He said that 75 per cent of cancer is curable and it is a common name for many ailments which come from genetics and maximum. Sixty per cent are caused by tobacco consumption and others.
The resource person also said that cancer and tobacco go hand in hand, including alcohol consumption and an unbalanced diet. Early detection through awareness will be much helpful. 
Dr Ranibala said that anyone can visit her on tobacco-related health issues at her clinic at Thanzam road. She said that tobacco consumption is the root cause of cancer that kills many people and so the state government should enact a law banning tobacco in the state.
"Consumption of tobacco either by smoking or chewing is very common in the state since many years ago, which included school students and even pregnant women. As many as 300 million people in India are consuming tobacco products, the highest in the world," said Ranibala.
She assured that free dental treatment will be provided at her clinic and would serve the people of Churachandpur by staying in the district as long as she can.
First Published:
Sept. 18, 2021, 10:59 p.m.