Two women among three arrested; huge quantity liquor seized
Around 1033 litres of DIC liquor were seized and disposed of at Sangaithel bazaar.
---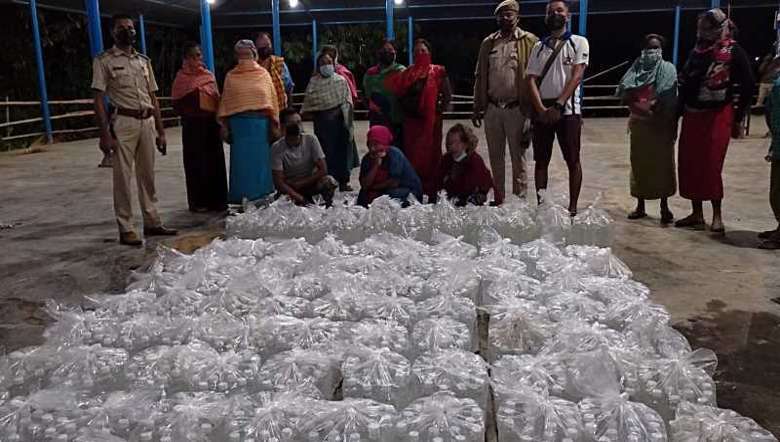 Three people were arrested and a huge quantity of distilled indigenous country (DIC) liquor seized from their possession by a police team of Sangaithel outpost at Sangaithel Lamkhai on Friday, sources said.
The seized DIC liquors included 1,520 bottles (half-litre each) i.e. 760 litres and 273 bottles of (one litre each) i.e. 1033 litres, police sources said.
The seizure took place at around 8:30 pm when the police team led by SI  Lakpa (in-charge) assisted by ASI Ng Jhalajit together with the representatives of local Meira Paibis of Sangaithel intercepted a Bolero campers bearing registration number MN02G0774 proceeding towards Koireng road at Sangaithel Lamkhai, the police sources said.
According to the police, the DIC liquors were found concealed in the back trunk of the vehicle in which were seated two women and the driver of the vehicle. They were identified as Namdijinle Newme, 38, wife of Rikangbui Newme of Greenland, Tamenglong, Minah Gangmei, 36, wife of Jimrei Gangmei of Sangrung village, Khongsang, Tamenglong and driver Adam Barjamtak, 29, son of Achou Barjamtak of Puichi village Tamenglong.
The three were apprehended and handed over to Patsoi Police Station along with the vehicle for further necessary action.
The liquors were disposed of at Sangaithel bazaar at around 11:30 pm in presence of local meira paibis of Sangaithel, a team of Patsoi Police and Excise station, Keithelmanbi, said.
First Published:
Sept. 18, 2021, 8:38 p.m.