Indo-Myanmar Border Fencing Row: UCM submits memorandum to CM, Union minister
The United Committee Manipur demanded to halt the construction of Indo-Myanmar border fencing works immediately.
---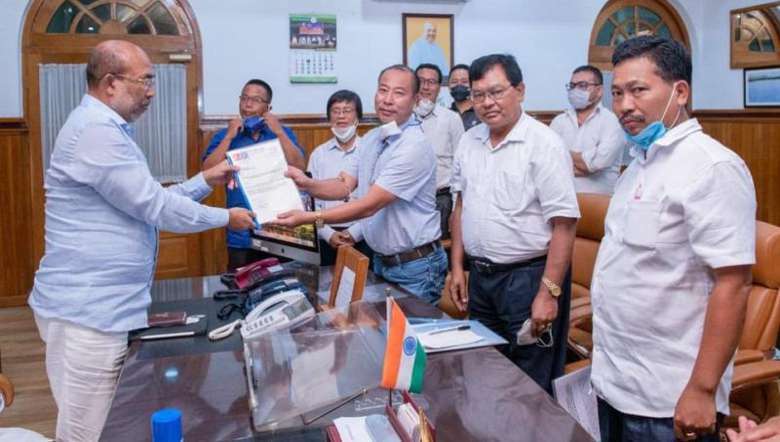 (PHOTO: Twitter)
---
Condemning the Indo-Myanmar border fencing works being carried out by the Border Road Task Force (BRTF), the United Committee Manipur (UCM) has submitted a memorandum to Chief Minister N Biren Singh and Union Minister of State for External Affairs RK Ranjan to intervene and stop the construction work in the disputed areas.

In a press conference held at its office, Lamphelpat, Imphal, UCM president Joychandra Konthoujam said that after getting information from the locals about ongoing construction work being taken up between the disputed border pillar 80 and border pillar 81, the committee inspected the site recently on August 26 and August 27.
The committee witnessed digging of fresh potholes in the subsidiary pillar 40 by losing a distance of around 100 m towards India.
UCM has been working to settle the disputed pillar as the state loses land by shifting the said pillar towards the state. Amid this situation, the construction of border fencing is going on and to show condemnation, the committee has urged to stop the construction work immediately, he added.
Konthoujam continued that the committee had filled up the potholes which were dug to construct border fencing. However, BRTF continued the construction works even after that. The committee would not tolerate such action of BRTF and as such, various forms of agitation would be launched if they continue the works.
Recalling some intervention made by the central government, Joychandra said that the Surveyor General of India on July 24 and July 25, 2018 accepted the claim made by people of the state of shifting border pillar 80, 81 and 82 causing loss of areas towards India's side.
Konthoujam even assured to settle the issue within three months and also promised to maintain the status quo by both countries. But without informing the state, the construction work of border fencing was started, he added.
He further said that UCM will never accept the ongoing construction of border fencing until and unless the boundary is demarcated based on an agreement signed between the government of India and government of Burma at Yangoon on March 10, 1967.
Along with this, the state government should urge the Centre to produce white paper on the current state boundary where the fencing and construction of subsidiary pillars are taking place, the UCM president added.
 
First Published:
Sept. 16, 2021, 8:51 p.m.