Azadi ka Amrit Mahotsav: 1.4 lakh medical plants saplings distributed in Manipur
The saplings were distributed to households and farmers under 'Ayush Aapke Dwar' as a part of Azadi ka Amrit Mahotsav.
---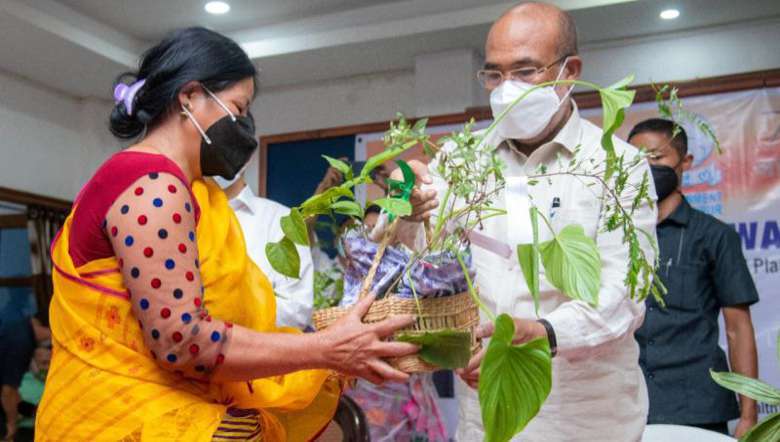 (PHOTO: Facebook)
---
To increase the production of traditional medicinal plants and help boost the state economy, a total of 1.4 lakh medical plant saplings of 16 different species were distributed to households and farmers under 'Ayush Aapke Dwar' as a part of Azadi ka Amrit Mahotsav in a function held at conference hall of Chief Minister's secretariat located at Babupara on Friday.
Speaking at the occasion, Chief Minister N Biren Singh highlighted the properties of AYUSH medicines in curing diseases and maintaining health. In the last few years, use of AYUSH medicine has been increasing gradually and they are even used for treatments during the pandemic, he added.
He said many different varieties of traditional medicinal plants were available and people have been using them as traditional medicine since time immemorial.
CM Biren appreciated the initiatives and roles of the AYUSH department during the pandemic, and informed that AYUSH-64 tablets were distributed to Covid patients who are under home isolation, he added.
Biren said the agricultural products of Manipur are in high demand outside the state due to their unique tastes and higher nutritional values. Taking advantage, the state has been exporting various agricultural products to other states of the country with the help of Mission Organic Manipur Agency (MOMA), he added.
Although the state has much potential for production of medicinal plants, the farmers are unaware of the value of these plants due to lack of marketing, he said. The government will take necessary steps to bring development in marketing for medicinal plants, he added.
He also appreciated the support extended by the people of the state to the government in the last four-and-half years.
Biren further said that Churachandpur Medical College would be functional soon as the construction of a temporary campus is nearing its completion. He also informed that a 30-bedded hospital at Singhat is ready for inauguration.
He said he had personally requested the Prime Minister Narendra Modi and union minister for education for the up-gradation of the Indira Gandhi National Tribal University (Regional Campus Manipur) to a full-fledged central university.
The chief minister appealed to the media fraternity to understand their roles, responsibilities and maintain the ethics of journalism while reporting and publishing any sensitive issues which could hurt the sentiments of any community or group.
Recalling the days when he was the President of All Manipur Working Journalists' Union (AMWJU), he said he had to deal with the sensitive issues responsibly in the larger interest of the public and state, he added.
First Published:
Sept. 3, 2021, 11:25 p.m.