ATSUM asks CM to defuse claims for recognition of ST status to Meitei/Meetei
Having religion or separate culture does not necessarily constitute the prime reason to include a particular community to be in the list of ST, ATSUM stated.
---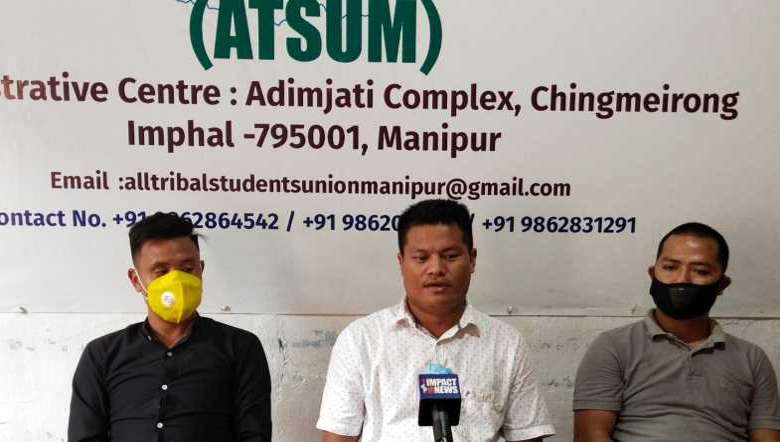 ATSUM representatives (File Photo: IFP)
---
The All Tribal Students Union Manipur (ATSUM) has asked the chief minister of Manipur N Biren Singh to defuse the claim of the Schedule Tribe Demand Committee Manipur (STDCM) for recognition of Schedule Tribe (ST) status to the Meitei/Meetei people.
ATSUM submitted a memorandum to Biren Singh on August 30 and stated that "the illogical claim" that the Meetei/ Meitei fulfils all the criterion to become an ST on the basis of race and prevalence of distinctive religion and culture is irrational on the ground that any community big or small, practices some form of religion and possesses a unique culture of their own.
Having religion or separate culture does not necessarily constitute the prime reason to include a particular community to be in the list of ST, it added. ATSUM stated that certain criteria are followed for specification of a community as a scheduled tribe.
The criteria are indication of primitive traits, distinctive culture, geographical isolation, shyness of contact with community at large and backwardness, the memorandum added.
It is obvious that the plain people Meeteis/Meitei were included in the general category of the people by the Centre due to the simple fact that they have superseded the component characteristic of a tribe, it added. ATSUM claimed that in the course of a continuous process of civilization for over a period of 2000 years dating back from 33 AD, the Meeteis have abandoned/discarded their primitive culture traits from being tribal to general, from rural or urbanization, economic backwardness to economically advance people in the valley of the golden kingdom (Sana Kunung), it stated.
Therefore, the points of arguments and the modalities for deciding claims for inclusion of the Meeties in the ST category involves rational philosophy to ascertain that the proposals are based on the broad criterion such as way of living, social custom and religious practices, dialect and educational and economic status.
The criterion of backwardness does remain as the main criterion, it further stated, while adding that the relative backwardness of a community as compared to the society at large and other communities in the areas has therefore to be judged.
Such data should be inter-alia; include the data on the representation of the community in the government/public sectors services, political institutions like parliament, state assemblies and local bodies, it added. Therefore, the Meetei/ Meitei people do not deserve to be categorised as ST under any circumstances, ATSUM claimed.  The Meeteis have been living at par with the rest of the privileged section of societies in all spheres of lives for the past 74 years of independence, it added
First Published:
Sept. 1, 2021, 10:57 p.m.