Miscreants set ablaze Lilong SDO office
Office properties worth around Rs 90 lakh reduced into cinders.
---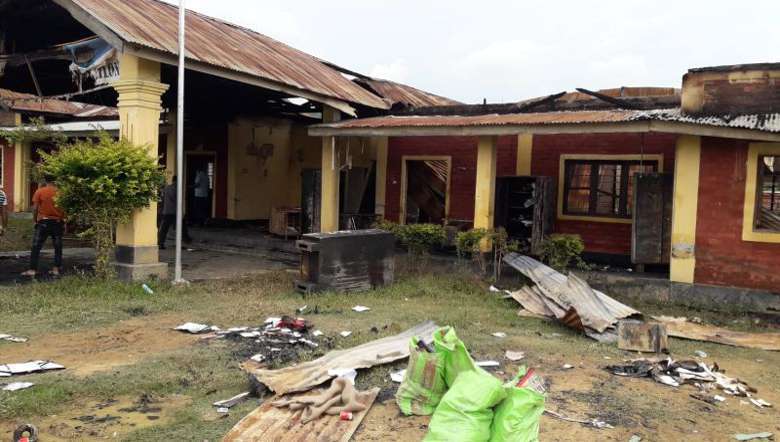 (PHOTO: IFP)
---
In a suspected case of arson, a massive fire broke out at the office building of sub divisional officer, Lilong at Lilong Hangamthabi under Lilong police station in Thoubal district during the intervening night of Tuesday and Wednesday, reducing office properties worth around Rs 90 lakh into cinders.
In the fire, the office blocks of sub deputy collector, Lilong; block development officer, Lilong CD block; assistant registrar co-operative society Lilong as well rooms of staff, election staff; account section and land record computerisation located inside the office building were all gutted by the fire. The computers, printers and other machinery as well as almirahs, furniture, important files etc., were destroyed. It is learnt that office properties worth approximately around Rs 90 lakh were destroyed by the fire.     
Although the cause of the fire is yet to be ascertained, it is suspected that miscreants might have torched the office building. SDO Lilong Md Daulat khan has lodged a written complaint to the police station concerned in connection with the case, and appealed to give appropriate legal punishments to those involved in the suspected arson.    
As per sources, the residents from the nearby locality came across the fire around midnight. Upon receiving information, a team of Fire Service, Thoubal rushed to the spot immediately and attempted to douse the flames. The fire was doused around 1.30 am, the sources said.        
Speaking to the media, SDO Lilong Md Daulat Khan ruled out the possibility of a short circuit as the cause of the fire and expressed his suspicion that the office building was torched by miscreants. If the fire was caused by an electric short circuit, it would have spread to all the office blocks since they are connected, he said. "Instead, there are signs of the fire breaking out at three different spots. Therefore, an arson attack by miscreants is suspected," he added. Mentioning that the fire caused losses not only for the office but for the public, he appealed not to repeat such acts in the future
(More details awated)
Click Here to Watch Video
 
First Published:
Sept. 1, 2021, 1:16 p.m.