Breaking stereotypes, Churachandpur woman cobbler has been mending shoes for decades
After her husband passed away, the 62-year-old woman has been working alone till date, earning Rs 500-1000 in a day and supporting her family.
---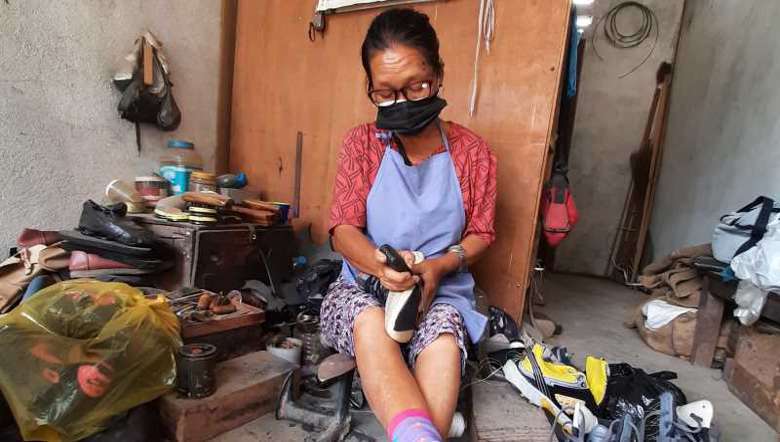 (PHOTO: IFP)
---
The job of a cobbler has long been viewed only for men. In Northeast India, it is also considered the job of non-locals. A local mending shoes is still a rare sight. Most of the cobblers in Manipur are migrants from other states in India. Over the years, a few locals have picked up the skill from non-locals and local cobblers can be seen repairing and mending shoes near BT Park in Manipur's capital city, Imphal. However, breaking all stereotypes, a 62-year-old woman Khawlzaning from Pearsonmum village in Churachandpur district of Manipur has been working as a cobbler, mending shoes for decades at a rented room at Hebron Veng, Churachandpur town.
Wearing an apron and a mask, Khawlzaning repairs broken shoes and sandals at her shop, which opens in the morning. Around 8 in the morning, she received her first customer for the day, who came holding a pair of branded sneakers which needed to be repaired.
The customer, who identified himself as Muanlal is a regular customer for Ning for over 10 years. Speaking to this reporter, Muanlal said, "I have been a regular customer for Nu Ning, (Nu means mother) for many years. I am happyw with her work".
The woman cobbler has been polishing, stitching, mending holes and repairing shoes alone after her husband cobbler passed away around 10 years ago. She has to reach the shop as early as 6-7 am so that she can cater to the demands of office goers who need shoe polishing or other work before they hit the road for the day.
Speaking to Imphal Free Press, Ning said she used to run a grocery store.  But she joined her husband in mending shoes after he insisted she lend a hand in the shoe repairing works.
"During the initial stage, my husband taight me the work skill. But I think I was made to be a cobbler since I learned it in a short time," Ning said. She has been running her family with her daily wage of Rs 500-1000.
Ning told the IFP that most people, including her relatives, find it strange to see a lady cobbler, that too from the tribal community. That made her shy at the initial stage of working as a cobbler. But today she has overcomed all shyness and has been winning customers' love and support.
There are other cobblers emerging around her shop. But the number of her customers has not decreased, Ning said.
"My customers still come to my shop. Some go to the extent of visiting me in my house when I close the shop. I believe it is because people love me and my work," she said.
Most customers would choose to get their shoes repaired from her even when she is busy. They kept on waiting for their turn until she completed other works, said the cobbler.
Even non-locals prefer to come to her shop instead of going to other cobblers, she said.
Ning also said that she has not received any complaints from her customers over her work till date. She has a desire to continue her job as a cobbler as long as her body can endure, she said. However, she is worried that she may no longer be able to work for many more years.
Her daughters too have been supportive of her work, she said.
"My daughters have been very supportive of my work. They are not ashamed of my profession because they know it is a means of livelihood, Besides, I am following the footsteps of their father," she said.
When asked whether she would allow her daughters to work as cobblers, Ning said she would not force her daughter to work as a cobbler since she may have other interests.
Today, highly skilled in the job today and highly motivated by customers' satisfaction, Khawlzaning is contented with her life as a cobbler.
First Published:
Aug. 26, 2021, 9:22 p.m.