Union minister RK Ranjan calls for development in state by converging energies in right direction
The minister called upon people to help develop the education sector in India just like the glorious status of Nalanda University around 3500 years ago.
---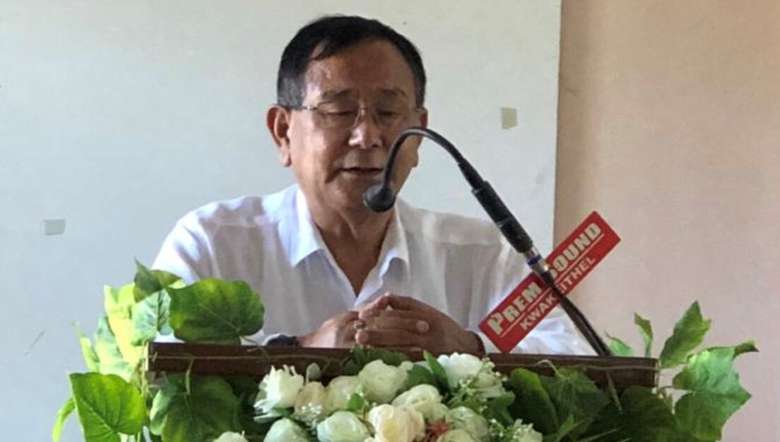 Minister of State for External Affairs and Education Rajkumar Ranjan Singh
---
Minister of State for External Affairs and Education Rajkumar Ranjan Singh called upon the people of Manipur to take the state to a higher level of development with the spirit of Atmanirbhar Bharat. He was delivering a welcome address as part of the ongoing 'Azadi ka Amrit Mohatsav' celebrations on Sunday at Classic Grande, Chingmeirong, Imphal to mark the 75th year of India's Independence. The main agenda of the function was to discuss different issues of development in Manipur like education, external affairs, trade and commerce, law and order , art and culture  and sports with the Cabinet Ministers and MLAs of Manipur.
Recalling India's glorious history, culture and scientific and technological advancements over the last 75 years, he stressed on transforming India to a knowledge nation by 2047 under Prime Minister Narendra Modi's inspiration. He called upon people to participate to develop the education sector in India just like the glorious status of Nalanda University around 3500 years ago.
Ranjan also highlighted that the present National Education Policy(NEP) 2020 is a critically, structurally new revolution with special focus on new innovative techniques of education like MCQs, more flexibility, availability of different subjects etc. which give upcoming students the tools to compete at the global level. Educational format like academic credit bank, online digital platform in place of the traditional physical education, problem-solving skills and Samagra Right to Education(RTE)  are also introduced that educate students in a better way in this modern, developed world, he also added.
Speaking at the occasion, Chief Minister N Biren Singh remarked that during the last seven years under Prime Minister Narendra Modi, law and order situation, insurgency cases and road condition improved tremendously in the Northeast states. The government sucessfully brought broadways, ghar-ghar water scheme and bridge hill-valley divide, he also stated.
Drawing attention of Minister Ranjan, N Biren Singh also put forward proposal to take up steps to materialise the Act East Policy that was earlier known as the Look East Policy in terms of landscape and uplifting living standards of the people. Appreciating minister Ranjan for his well-experienced background and field expertise, he said that there is a need for fencing at least 100 km along the border areas after negotiating the dispute areas.
On education, the chief minister suggested developing the Indira Gandhi National Tribal University (IGNTU) to an autonomous independent institution without affiliating to another university. He also proposed establishing a national coaching centre at Imphal that can be run with collaborative funding from both the Centre and the state. This step will be a boon to the young talents of Manipur that will help them prepare better for competitive exams and come out successful, he also stated.
Biren also suggested Minister Ranjan to upgrade the National highways along  the Singhat-Behiang route so that there is good prospect to make Behiang a second Moreh market location.
IFS-Joint Secretary (Economic Division) Ministry of External Affairs Noor Rahman Seikh made a presentation on Act East Policy and other trade development prospects of Manipur during the function that focus on connectivity, trilateral highways and multi-lateral development banks.
The five Tokyo Olympians 2020 were also felicitated during the programme.
A short video clipping on the history and journey of India's independence was also presented during the function followed by state song "Sanaleibak Manipur." A documentary on Mekong Ganga was also played as part of the Azadi ka Amrit Mohatsav' celebration held today. Cabinet Ministers, MLAs of Manipur and other concerned officials were also present at the function.
First Published:
Aug. 23, 2021, 8:41 a.m.