Manipur Olympians' Park to be inaugurated by November, says CM Biren
Biren said that initiative to construct the Manipur Olympians' Park has been taken to honour and respect the Olympians of the state
---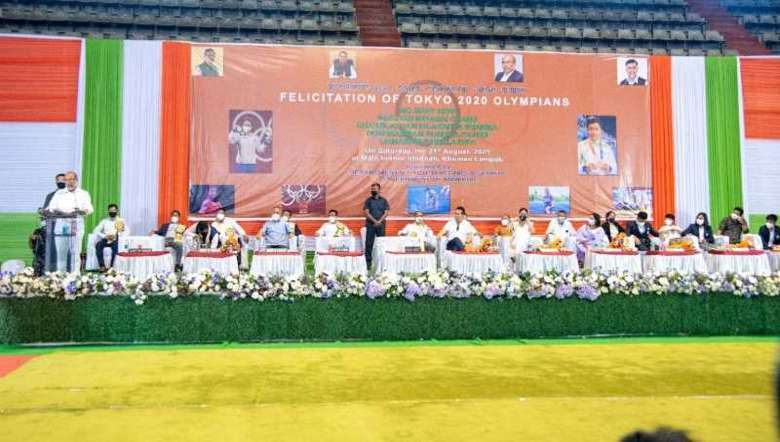 (Photo: Twitter)
---
Manipur Chief Minister N Biren announced that Manipur Olympians' Park, which will be built at Sangaithel as a mark of honour to all the Olympians for their dedication and sacrifices, will be inaugurated by November.
Biren made the announcement during the felicitation programme of the five Olympians who represented India in Tokyo Olympics 2020. The Olympians, who were felicitated, included MC Mary Kom, Saikhom Mirabai Chanu, Shanglakpam Nilakanta Sharma, Pukhrambam Sushila Chanu and Likmabam Sushila.
The programme was organised by the Department of Youth Affairs and Sports at Main Indoor Stadium, Khuman Lampak on Saturday.
Attending the function as chief guest, Biren said that initiative to construct the Manipur Olympians' Park has been taken to honour and respect the Olympians of the state which will help to inspire many youngsters to join sports. At the park, statues will be erected of all the 19 Olympians of the state so far.
The architectural view has already been approved and the construction work will complete soon so as to inaugurate it by November this year, he added.
Biren further said that the state does not have enough resources but considering the potential of the state in sports, the government is putting whatever possible resources to develop the infrastructure of sports. The government is also planning to construct astro-turfs for hockey in most of the districts and few football astro-turfs have been constructed.
Under Khelo India Programme, each district of the state is going to develop infrastructure of any sports discipline which is apt to the district, he informed.
Concerning coaches to guide or mentor future players, he said that the state government will review the available number of coaches in the state. Without them, the state cannot produce talented players who can reach the Olympics.
The government will try to accommodate the former Olympians who are staying outside the state in the newly created 18 posts for Olympians in the department of YAS so that they could contribute in shaping future players, he added and extended warm wishes to all the Olympians for their future endeavours.
Meanwhile, the CM also announced that the prices of petrol will be reduced to Rs 102 from Rs 106.36 and diesel to Rs 90.64 from Rs 94.61.
YAS minister, Letpao Haokip, who attended the function as president, said that the state has its own sports policy. The state government has created 18 new posts for sportspersons in the department of YAS. There are three posts of joint director, five posts for deputy director and 10 posts of assistant director. Besides this, there is five percent reservation for sports in recruitment of any job.
He further said that National Education Policy 2020 has made physical education mandatory. As such the state government will recruit one physical education teacher for every school and college in near future.
To develop grassroot level in sports with the main purpose to hunt talented sportsperson, a proposal that was sent to set up two playgrounds for each district was approved in-principle, he informed.
Stating about other plans, Letpao said that in collaboration with other northeastern states, the state is aiming to develop more sports infrastructure. He also suggested that the sports culture of the state would be enhanced if every department of state extended more support or financial assistance in promoting the sports.
While stating about Manipur's limited resources that led them to face many challenges in taking up any steps, he urged all the Olympians to accept the recognition given to them gracefully. He also assured to extend all possible effort in developing sports in the state.
As a part of the programme, a two minute silence was observed for former Asian Gold Medalist boxer, Ngangom Dingku who passed away during the pandemic.
"Untimely demise of Dingku is great loss for Manipur. As an honour to the departed soul, we should observe condolence together once again," said CM Biren.
The chief minister also handed over appointment letter to hockey bronze medallist Shanglakpam Nilakanta Sharma, who has been appointment as deputy director (sports promotion), department of YAS, and to women's hockey player, P Shusila Chanu, who has been appointed as assistant director (sports promotion), department of YAS.
A promotion letter was also handed over to Judoka, Likmabam Shusila Chanu, who has been promoted to sub-inspector from constable as a reward by the state government.
Cash reward of Rs 75 lakh was also given to Shanglakpam Nilakanta, and Rs 25 lakh each to P Shusila and Likmabam Shusila for participating in the Tokyo Olympics.
The programme was also attended by Union Minister of State for Jal Shakti and Food Processing, Prahlad Singh Patel; deputy chief minister, Y Joykumar Singh; Manipur Olympic Association president, Th Radheshyam as guests of honour.
Hockey India president Gyanendro Ningombam; Gymnastics Federation of India general secretary, S Shantikumar Singh and all former Olympians attended the programme as special guests.
First Published:
Aug. 21, 2021, 9:20 p.m.