Bus services between India, Myanmar soon: Union Minister RK Ranjan
Union Minister of State for External Affairs and Education RK Ranjan was given a warm reception during his visit to Moreh town in Tengnoupal district of Manipur.
---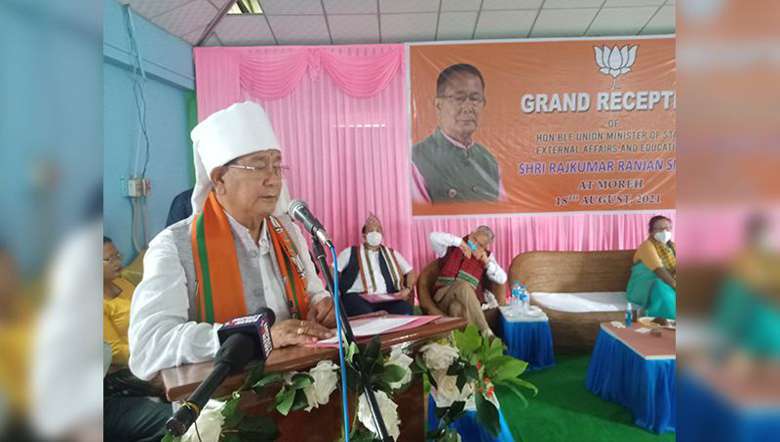 Union Minister RK Ranjan
---
Bus services between India and Myanmar will be introduced soon and a Passport Seva Kendra can be opened in every district, Union Minister RK Ranjan said in Moreh, Tengnoupal district on Wednesday.
The Union Minister of State for External Affairs and Education, speaking at a grand reception programme in Moreh, also said that the state government will implement water supply system with the vision 'Harr Ghar Jal' of PM Narendra Modi by the year 2022.
Ranjan was responding to a memorandum submitted to him during the reception programme given to him at the Hill Tribal Council (HTC) Conference Hall by the all communities of Moreh town on Wednesday. HTC president Jangmang Haokip submitted the memorandum on behalf of all communities of the town.
The minister was received by different civil body leaders, women organisations and student bodies at the HTC Conference Hall with a Kuki trumpet salute. Presentations were given to him by different organisations and representatives. Different leaders gave their opinions for the development of the Moreh town.

In the memorandum, CVO leaders demanded establishment of a JNV school in Moreh for Tengnoupal district, a good water supply scheme within Moreh town, black topping of all the IVR of Moreh town, visa facility at ICP Moreh, construction of Community Cultural Centre in Moreh and construction of a dam at Khujairok River, Moreh.
Several leaders also highlighted the needs of the town in the health sector, economy sector, education sector, development of infrastructure and preservation of environment etc.

The union minister in his speech mentioned that as per the vision of Prime Minister Narendra Modi, India cannot become a developed country unless Northeast states are developed. So, there is a special vision to develop the Northeast states, he said. Northeast states should be the gateway of India to the Southeast Asian countries. For this, a good relationship should be maintained with the neighbouring countries, he said, adding that Northeast states have lots of natural resources.
"To benefit from these natural resources, Modern science and technology and new education policy should be used to develop our states," he said.
Responding to the memorandum, he said that for the introduction of a JNV school in the town, the request is to be considered with the authorities concerned. He said that he will try to fulfil all the demands with the consideration of authorities and departments concerned. Passport Seva Kendra can be opened in every district, he further said, adding a water supply system will be implemented soon by the state government with the vision 'Harr Ghar Jal' of PM Narendra Modi by the year 2022. Bus services will be introduced soon between India and Myanmar, he added.
He further said that with the blessings and support from the public, he will work for the development of the state. For this, with the instruction from PM Narendra Modi, his 'Jan Ashirwad Yatra' has been undertaken since Tuesday.

Manipur BJP president A Sharda Devi in her speech, mentioned that Narendra Modi government has the vision to work for the people of Northeast in every field. During this pandemic, providing free vaccination to all the citizens of the country by Modi has been a great achievement of the NDA government, she said.

The reception programme also witnessed the presence of MLA Kakching M Rameshwor; former MP and former state president, BJP Manipur Ksh Bhabananda Singh; state general secretary BJP Manipur L Deben Singh; treasurer BJP Manipur Om Prakash Shekhawat; state secretary BJP Manipur K Inaocha Devi; state Secretary, BJP Manipur K Bikram Singh; state secretary, BJP Manipur M Priyo singh; spokesperson, BJP Manipur Benjamin Mate and president ST Morcha BJP Manipur Langel Mani Kamei.

Representatives of different civil bodies such as BJP Tengnoupal Mandal, Meetei Council Moreh, Hill Tribal Council, All Community Development Organisation Moreh, Tamil Sangam, Manipuri Muslim Council Moreh, Gorkha Samaj, Moreh, KSO Moreh Block, Moreh Youth Club, Kha Nongpok Apunba Nupi Lup, Nupi Khunai Chaokhat Lamjing Lup and Kuki women Union and Human Rights, Moreh attended the programme.
Read More News from Manipur
(The Imphal Free Press is on Facebook, Twitter, YouTube, Instagram, WhatsApp and Telegram. Join IFP News Update Group and stay updated with the latest news and impact stories)
First Published:
Aug. 18, 2021, 10:31 p.m.