Wangjing CHIC inmates get free lunch, breakfast
Khapris Industries Pvt Ltd and Tentha Zilla Parishad reached out to help COVID-19 patients staying at CHIC.
---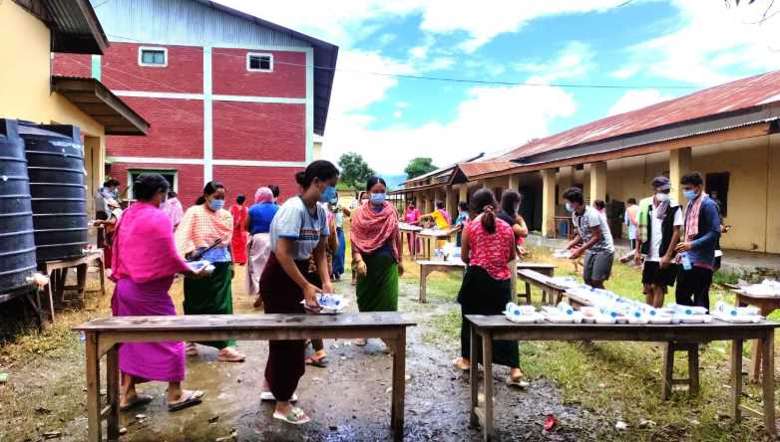 (Photo: IFP)
---
Around 120 inmates lodged at YK College Wangjing, which has been turned into a Community Home Isolation Center (CHIC) of Wangjing Tentha assembly constituency, were provided lunch by managing director of Khapris Industries Pvt Ltd Khangembam Priyojit and Tentha Zilla Parishad Member Khangembam ongbi Manisang Devi on Friday.  
At the occasion, Khangembam Priyojit said that one should not feel sad or depressed on getting Covid-19. If one is in low spirits due to Covid-19, the disease will become more powerful and it may make the condition even worse, he said.   
Priyojit further said that the people of Manipur must stay resolute and optimistic while fighting the pandemic which has affected the whole world. Everyone has a responsibility in helping one another while combating the disease and therefore one must stay prepared, he added.    
"By following all the Covid guidelines and SOPs set by the state government, we ought to assist all the inmates. May all of them get well soon and return home safely after they fully recover," he said. He also appreciated the staff that are looking after the inmates.  
In the meantime, under the supervision of MLA of Thoubal assembly constituency Okram Ibobi, breakfasts were provided to 80 inmates who are lodged at Waikhom Girls College, Community Isolation Centre by the Students Union of the college.
General secretary of the student union Oinam Thothoibi expressed that the breakfast was provided by upholding the ideal that one ought to help another during these difficult times rendered by the pandemic.
First Published:
Aug. 6, 2021, 7:41 p.m.