CM Biren meets Amit Shah, discuss pressing issues of Manipur
Defence Minister Rajnath Singh assures early decision on Koirengei Airfield
---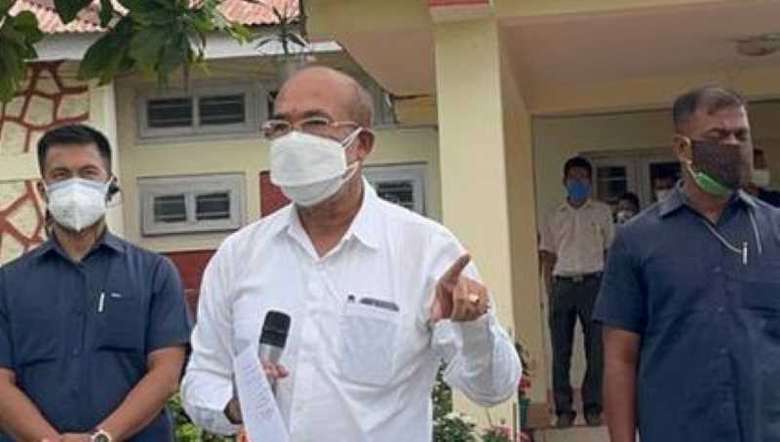 Manipur Chief Minister N Biren Singh (Photo: Twitter)
---
As a part of his brief tour of the National Capital to meet the central leaders, Manipur Chief Minister N Biren Singh on Tuesday met Union Home Minister Amit Shah to discuss various pressing issues of the state.
Biren stressed on the need to further strengthen border security along international boundaries in the state to effectively control anti-national activities such as the movement of insurgents, smuggling of drugs and arms, and illegal entry of foreigners in the region, stated a release. He was assured of complete support of Government of India towards further strengthening of the border security along the Indo-Myanmar border falling within the state of Manipur, it stated.  
The chief minister also met Union Defence Minister Rajnath Singh and impressed upon the need to expedite the release of Koirengei Old Airfield which is presently under defence establishment. The release stated that he promised an equivalent area of land in contiguity to the existing Army Headquarters at Leimakhong, Imphal. The defence minister assured of early decision in the matter, it added.  
It further stated that N Biren also met Union Finance Minister Nirmala Sitharaman and requested her to expedite the sanction of the project for Rejuvenation of Lamphelpat Waterbody to Alleviate Urban Flooding, providing sustainable water sources for Imphal City and promoting eco-tourism as an externally aided project. He further requested her to expedite the release of funds for the ongoing water supply project for Manipur State which will enable early achievement of the vision of taped water supply to all households under the 'Jal Jeevan Mission', it stated.
He also emphasised the need for early approval of the externally aided project with the assistance of Asian Development Bank for Manipur State road improvement programme which will ensure comprehensive review and development of the existing road infrastructure including new roads, it stated. Finance minister assured of full support of her Ministry on all the above matters, it added.  
The release mentioned that he also met tribal affairs minister Arjun Munda and impressed upon the need to expedite the release of funds towards development of tribal areas in Manipur at an early date. He assured him of early completion of pending works for the ongoing projects in the state and requested him to expedite the release of allocated funds for the Financial Year 2021-22 so that the ongoing projects could be further expedited, it stated.  
It further stated that he also requested for an additional allocation in the current year especially for skill development of tribal youths and their linkages with sustainable livelihood. The Minister of tribal affairs was very positive towards the request and assured full cooperation from the Ministry to resolve all pending issues and to expedite release of funds in the current year including additional allocation, it added. 
First Published:
Aug. 3, 2021, 10:51 p.m.