Man from Bihar arrested with suspected fake Remdesivir injections in Imphal East
As many as 411 packs of Remdesivir injections were detected from the possession of the man from Bihar arrested at New Checkon near Tribal market.
---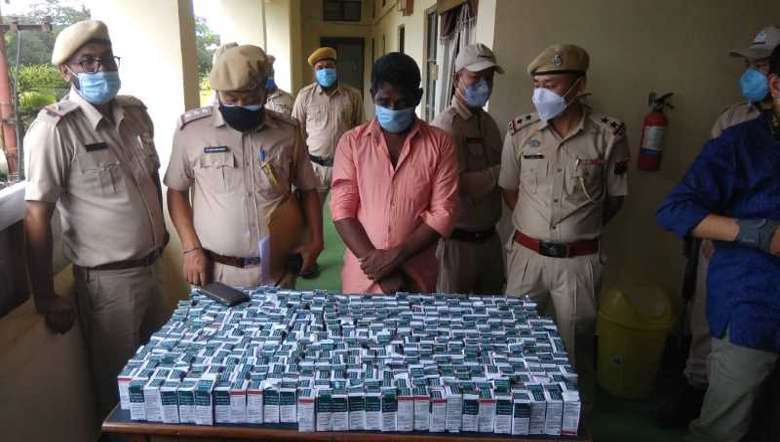 (Photo: IFP)
---
One person from Bihar was arrested by the police along with suspected fake Remdesivir injections from New Checkon near Tribal market in Imphal East at around 1 pm Monday.
The arrested person was identified as one Lalo Sah, 55, son of (Late) Bauku Sha of Sasam village, Samastipur district, Bihar under the jurisdiction of Hassanpur Police Station. He has been remanded to police custody for eight days, the Imphal East district police said.
The police team of Porompat Police Station detained the man while conducting frisking and checking in connection with the ongoing curfew and the pandemic at New Checkon. While checking his belongings of two luggage bags, 411 packs of Remdesivir injections were detected among his clothes.
On further examination and verification, he failed to produce relevant documents of the detected drugs, it added.
The State Drug Controller, Directorate of Health Services, Manipur said that after physical testing of the drug sample, the seized drugs were compared with genuine drugs sample of the same company maintained in the directorate. Based on various discrepancies, it has certified that the overall impression of the seized items seems to be a fake product and no private individual can procure the said drugs without any proper document from the concerned authority, he added.
Imphal East SP, N Herojit said that the seized 411 pieces of Remdesivir injections were DESREM branded 100mg/vial drugs, worth around Rs 14,99,400. A mobile phone with an AIRTEL SIM card bearing number +919546808036 and one boarding pass of Air Asia bearing PNR number E9E92R were also seized.
A case has been registered at Porompat Police Station for further investigation, he added.
Responding to the media, Herojit said that Lalo reached Imphal with another person from Guwahati at Bir Tikendrajit International Airport on Saturday last. He was told that one party will come to get the said seized drugs and told him to keep with him. He has been staying at a rented house located at Sangaiprou, Imphal West and the police team had conducted search of the rented house.
On examination and based on the disclosure of Lalo, the police team detected the location of the other person at Guwahati and two police personnel were engaged to nab the said person. However, the location of the person was again detected somewhere at Kolkata, so the operation has been kept on hold, he added.
There is high demand of Remdesivir injections at Myammar border and it is heard that the drugs are transported to Myanmar illegally, said the SP. The seized drugs are yet to be tested clinically in order to find out whether the drugs are fake, he said.
The arrested person was produced at Chief Judicial Magistrate, Imphal East through video conferencing and has been remanded to police custody for eight days.
(The Imphal Free Press is on Facebook, Twitter, YouTube, Instagram, WhatsApp and Telegram. Join IFP News Update Group and stay updated with the latest news and impact stories)
First Published:
Aug. 3, 2021, 8 p.m.