Betel leaves worth over Rs 5 lakh seized in Imphal West
Police said the drivers revealed that the consignment was lifted from an unknown godown in Keithelmanbi, Kangpokpi district
---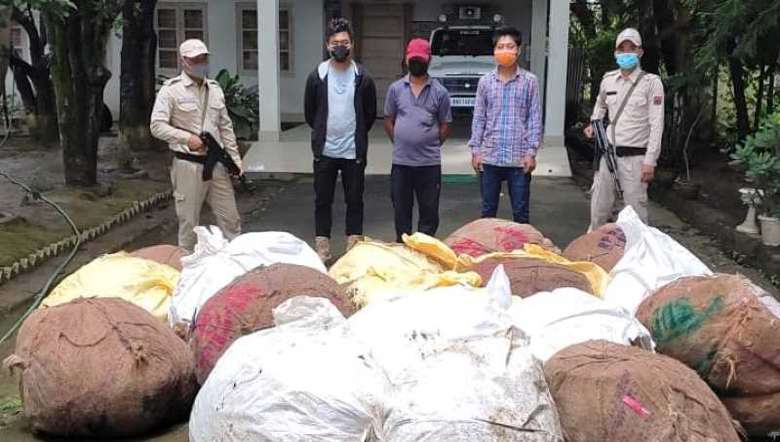 (Photo: IFP)
---
Three persons were arrested and a total of 18 baskets of betel leaves worth over Rs 5 lakh were confiscated by a team of Imphal West commando early Monday from Kanglatombi, Imphal West area, sources said.
Following inputs from a reliable source, the commando team led by inspector SR Shimray and jemadar Sadananda under the supervision of Imphal West SP S Ibomcha intercepted the consignment of betel leaves while being lifted in three different vehicles, police said.
Two Maruti Van (Regd. Nos. MN 01W-9120 and MN 01W-8725) and a Maruti WagonR (Regd. No. MN 03 A-2837) used in the consignment along with the drivers identified as one Chingakham Surchandra, 24, son of Ch Ningthouja of Tairenpokpi Awang leikai, one Wangkhem Sanjit, 27, son of W Sanaton of Changangei Awang leikai and one Khwairakpam Manglem, 34, son of Kh Ponam of Kangpokpi Bazar were apprehended by the team, the police said. 
Police said that the drivers revealed that the consignment was lifted from an unknown godown in Keithelmanbi, Kangpokpi district and is estimated to be worth around Rs. 5,40,000 and belongs to RS Transports.
The consignment that were being lifted in total violation of lockdown along with the drivers and the vehicles have been handed over to Sekmai police station for further necessary legal actions, the police added. 
First Published:
Aug. 2, 2021, 1:44 p.m.