Special Covid-19 Vaccination drive for LGBTQ, PLHIV: 200 vaccinated in Imphal East
Each vaccinated LGBTQ/PLHIV person was handed Rs 1,000 during the special vaccination drive conducted exclusively for people from LGBTQ and PLHIV communities in Imphal East.
---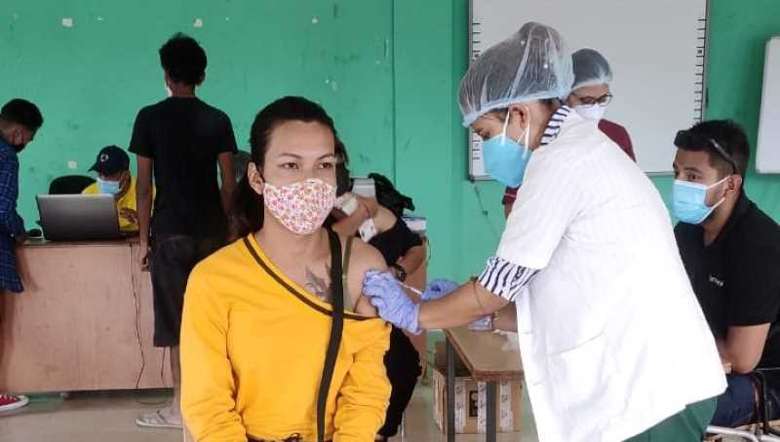 (Photo: IFP)
---
A total of 200 people from LGBTQ and People Living with HIV (PLHIV) communities in Imphal have been administered Covid vaccine as 100 more were inoculated with the first dose of the vaccine during a special vaccination drive held for the communities on Sunday.
The special vaccination drive for LGBTQ and PLHIV communities, organised by Ya_All in association with Imphal East DC and support from Youth LEAD, Bangkok, was conducted at SIRD complex, Porompat, Imphal East DC complex. It is the seco,nd phase of first doses and a total of 200 persons from LGBTQ and PLHIV have been vaccinated, the organisers said.
Speaking on the sideline of the vaccination drive, Bobby Laishram, aims a trans-woman, said that organising such vaccination drives exclusively for LGBTQ and PLHIV could make the communities feel safe while getting COVID-19 vaccination.
Most of the people among the communities hesitate to come out and get vaccinated, fearing social discrimination at the vaccination centre, she said, adding LGBTQ and PLHIV communities must avail the free vaccination organised by the state government for the entire population of the state,
One of the members of Ya_All, Lulu Mangang said that 100 of them were vaccinated in the first phase of the vaccination drive organised especially for LGBTQ and PLHIV communities. As medical experts have been giving awareness that the only solution to avoid severe impact from COVID-19 is to get early vaccination and to follow strict guidelines, the vaccination programme has been organised particularly for the communities of LGBTQ and PLHIV, he said.
Similar vaccination drive will be organised for other districts soon, and if people of LGBTQ and PLHIV communities want to get vaccinated, they may contact Ya_All in order to get the opportunity for the vaccination, he added.
Lulu also said that to encourage the people who came for vaccination from the two communities a sum of Rs 1,000 was handed over to each vaccinated person. The expenditures for transportation for the persons who came on hired vehicles were also taken care of by the NGO, he added.
He further appealed to the people of the two communities and others to get vaccinated at the earliest as it is the only solution to prevent the severe impact of COVID-19 infection. He also said LGBTQ and PLHIV communities should not stay behind in fear of social discrimination as they are also a part of the society and should take initiatives while fighting the pandemic.
(The Imphal Free Press is now on Telegram. Join IFP News Update Group and stay updated with the latest news and impact stories)
First Published:
July 19, 2021, 8:30 a.m.