Manipur government will continue its fight against illicit drug trafficking: CM Biren
Many voluntary organisations across the state, including both hill and valley regions had come out and given support to the War on Drugs campaign, CM Biren said.
---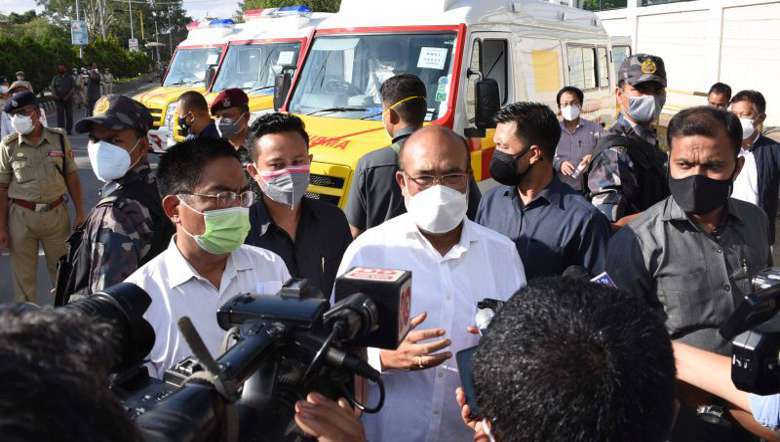 Accomplishing the state government's objective to provide three ambulances each to six Autonomous District Councils (ADCs) of the state, Manipur Chief Minister N Biren Singh on Saturday handed over remaining eight ambulances to the ADCs as second phase.
The provided ambulances consisted of one Advanced Life Support (ALS) each for all the six ADCs and one Basic Life Support (BLS) each for Senapati and Tamenglong ADCs.
The distribution programme which was organised by the department of Tribal Affairs and Hills (TA and Hills) was held at the western gate of the Chief Minister's Secretariat.
It may be mentioned that at first phase, the chief minister had earlier on June 16  handed over 10 ambulances including two BLS each to the ADCs for four districts namely Churachandpur, Chandel, Kangpokpi and Ukhrul while one BLS each to the ADCs of Tamenglong and Senapati district.
Speaking on the occasion, N Biren Singh said that June 26 is observed all over the world as International Day Against Drug Abuse and Illicit Trafficking and expressed his serious concern for the state as selling of drugs still continues even during this crucial hour of the COVID-19 pandemic.
However, he maintained that the state government had been putting in tireless effort to curb drug abuse and its trafficking since the commencement of its War on Drugs campaign and further appreciated the sincere effort on the part of the State police, Narcotic and Border Affairs (NAB) and the support of the public in the Government's fight to root out drug menace from the state.
He further said that many voluntary organisations across the state including both hill and valley regions had come out and given support to the War on Drugs campaign and this had been of great help in curbing illicit trafficking of drugs.
He also expressed his thankfulness to all the stakeholders for their positive response in destroying poppy plantations in many places and substituting it with other suitable plants. He maintained that the government would continue to take stringent action against drug traffickers and put all possible efforts to totally root out drug related activities from the State.
Regarding the second wave of COVID-19 pandemic, N Biren informed that the recovery rate had significantly increased with around 4,000 patients recovered the previous day and added that the active cases had almost come down to half of the earlier.
The death rate had also come down to single digit, he said. He further added that the state would start opening up offices and shops very soon and only those people who hold vaccination certificates would be allowed to come out and carry out buying and selling activities. Pointing out that mass vaccination is the most vital measure to fight the pandemic successfully, many mobile teams had also been formed to vaccinate as many people as possible, he added.
 Forest minister Awangbow Newmai, Tribal Affairs and Hills minister Vungzagin Valte, additional chief secretary (TA and Hills) Letkhogin Haokip, director, TA and Hills C Authur Worchuiyo and officials of ADCs and TA and Hills department also attended the programme.
First Published:
June 27, 2021, 12:19 a.m.