Manipur embraces Yoga in the lap of nature as it continues to battle COVID-19 second wave
As a part of the Fit India Movement, The Fit India Campaign Committee and the Fit India Club Manipur University, Canchipur organised the 'Seventh International Day of Yoga 2021' online under the theme 'Yoga at Home and Yoga with Family'.
---
(Photo: IFP)
---
The International Day of Yoga 2021 was observed across the plains and hills of Manipur by various sections and organisations, as the realisation of the importance of maintaining physical and mental health dawns on the people as it continues to battle with the second wave of COVID-19 pandemic.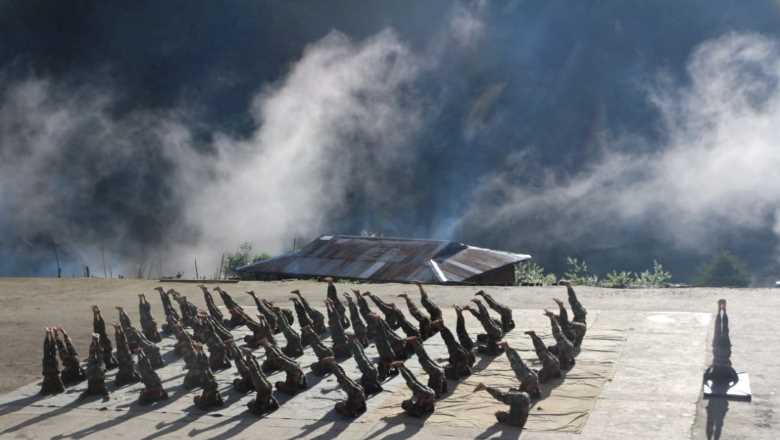 The Fit India Campaign Committee and the Fit India Club Manipur University, Canchipur organised the 'Seventh International Day of Yoga 2021' online under the theme 'Yoga at Home and Yoga with Family' as a part of Fit India Movement in association with the department of Yoga and NSS, Cell, from 8 am on Tuesday.
YAS Minister Letpao Haokip; registrar, Manipur University professor W Chandbabu Singh; dean, School of Education, Manipur University professor T Inaobi Singh  and MU vice-chancellor in-charge professor S Sanatombi Singha attended as chief guest, guest of honour and president respectively on the occasion, a release stated.
Minister Letpao Haokip expressed that Yoga, an ancient practice and meditation, has become increasingly popular in today's busy society. For many people, yoga provides a retreat from their chaotic and busy lives, he said. He further said that Yoga is one of oldest traditional disciplines in India and it is considered highly relevant and beneficial in the modern day since the practice comprehensively addresses a diverse range of physical, mental, social and spiritual aspects.
"It also helps in increasing flexibility, muscle strength and body tone. We need to practice yoga regularly. Yoga gives us physical strength and peace of mind," he added.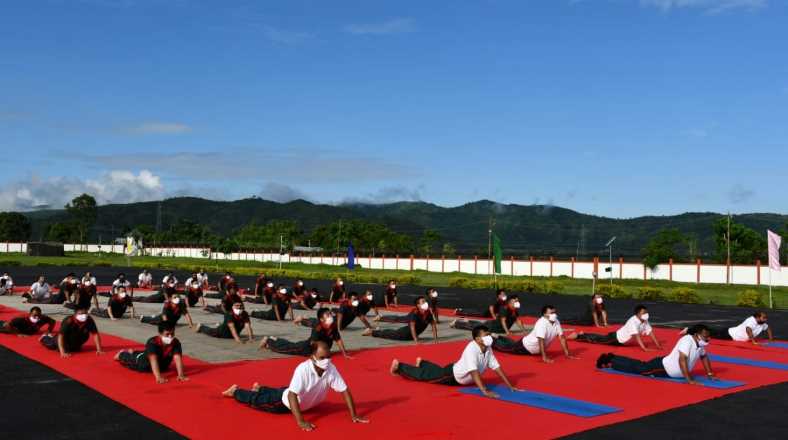 Demonstration of Common Yoga Protocol was performed by the expert head, department of Yoga Manipur University M Nodiyachand Singh, followed by all the participants.
At Regional Institute of Medical Sciences (RIMS), Imphal the day was observed in a programme inaugurated by medical superintendent, RIMS Hospital, professor H Priyoshakhi Devi, stated a release. She emphasised the importance of yoga in our daily life, it stated.  
She said that the theme of the International Yoga Day 'Yoga For Wellness' is very relevant in the current pandemic as we are all fighting the coronavirus pandemic.
Head of PMR department professor AK Joy Singh; deputy medical superintendent, professor Th Sachin Deba Singh; deputy director (Admin) Kaikam Doungel, physical Instructor, officials and staff attended the session. A yoga session was also held in the Jubilee Hall, RIMS, Imphal, it added.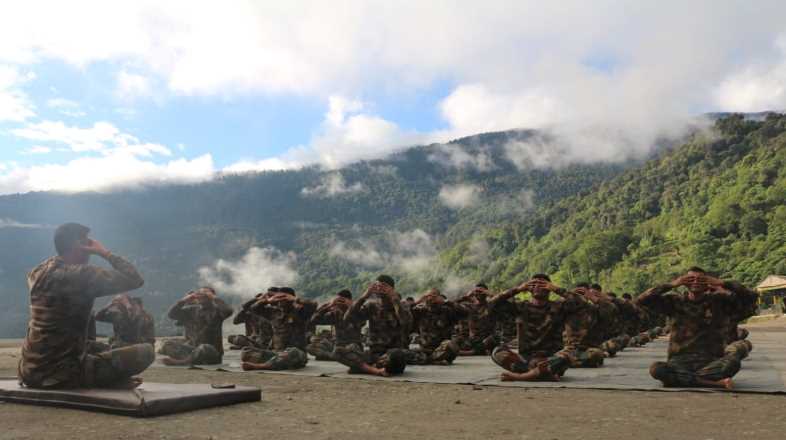 Border Security Force under SHQ BSF, CI (Ops) Manipur, Koirengei also observed the occasion under the theme 'Yoga for Well Being' with utmost fervour and enthusiasm at Koirengei campus led by DIG Sector HQ Manipur D S Rawat, stated BSF in a release
It stated that during the event, all officers and troops including family members of BSF Sector headquarter Manipur and 182 Bn BSF performed yoga under the guidance of yoga Instructors. Besides, all BSF units and establishments also observed the event at their respective locations, it added. 
In the run up of the event, numbers of banners and hoarding on the benefits of yoga were also displayed in selected places in the Koirengel campus and all other Cl posts, the release mentioned.
International Yoga Day is normally observed among the Security Forces to imbibe the countless benefits of yoga through meditation, asanas and also the importance of yoga for a healthy lifestyle, it added. 
Meanwhile, in Kangpokpi assembly constituency, MLA Nemcha Kipgen dedicated a Yoga Centre for Kangpokpi which will be fully functional within a month or two in the district headquarters.
The day was organised by BJP Kangpokpi Mandal at Multipurpose Hall, Sadar Hills Autonomous District Council Kangpokpi. It was attended by MLA Nemcha Kipgen, caretaker of ADC Sadar Hills Haokholal Hangshing, former MDCs, local body leaders, and BJP Kangpokpi Mandal leaders.
Kangpokpi Women Welfare Organisation president, Hekim Hangshing attended as an instructor.
All the participants including the local MLA Nemcha Kipgen and ADC Sadar Hills Caretaker Haokholal Hangshing also participated in the Yoga conducted for almost an hour.
After the Yoga session, Nemcha Kipgen said that Yoga is a way of living that aims towards a healthy mind in a healthy body while adding that yoga helps promote a balanced development of the physical, mental, and spiritual being.
The MLA further said that the COVID-19 plight was not just a physical crisis, it also left lasting impacts on mental health, with many left in psychological suffering, depression, and anxiety dealing with the pandemic while adding that Yoga can come to the help of people dealing with such crises.
Considering the importance of Yoga, the MLA dedicated a Yoga Centre for Kangpokpi while mentioning it will be able to start functioning with a proper instructor within a month or two.
She appealed to the people of Kangpokpi to register and take part in Yoga classes without hesitation, keeping in mind that the importance of life is health.
69 BN, CRPF also observed the Day at Battalion Hqr, Mantripukhri, Imphal Manipur, under supervision of Bajrang Lal, commandant-69BN, CRPF, in which all the unit officers, SO's and personnel took part, stated a release.  The commandant highlighted the importance of Yoga in daily life and asked all personnel to inculcate the habit in their daily life to observe Yoga and Pranayam activities to stay fit and healthy, it added.
The soldiers of the Spear Corps deployed on the Eastern most frontier of the country celebrated the 7th International Yoga Day with great fervour and enthusiasm, stated a release issued by PIB (Defence Wing).
"Welcoming the first rays of sunlight illuminating the national landscape, the soldiers displayed immaculate flexibility and balance during conduct of various asanas," it stated.
Without letting the Covid situation dampen their spirits, Yoga was practised in small groups with full adherence to Covid protocols in accordance with Common Yoga Protocol. The theme being 'Yoga for Wellness', meditation and breathing techniques were incorporated in the practise, it added.
In consonance with the initiative started by the Government of India, Headquarters IGAR South, Mantripukhri and all sectors under the aegis of IGAR (South) celebrated the 7th International Yoga Day, stated a release issued by IGAR (South).
The event was organised with an aim to encourage the troops and families to inculcate yoga in their lifestyles and promote health amidst the COVID-19 pandemic, it stated.
The event was conducted at Mantripukhri, Imphal, Ukhrul, Churachandpur, Kakching, Moreh, Pallel, Chandel, Sendra and various remote locations of Manipur. The event proceeded with creating awareness about COVID-19 preventive measures followed by various yoga asanas and lectures by medical officers on physical and mental health, it mentioned.
The international yoga day was celebrated by following all COVID protocols issued by Ayush Ministry, it added. 
First Published:
June 21, 2021, 10:55 p.m.