First Kuki MP from Manipur Paokai Haokip no more; condolences pour in
Paokai Haokip passed away at his residence at Saitu village in Kangpokpi district on Sunday evening after battling with cancer.
---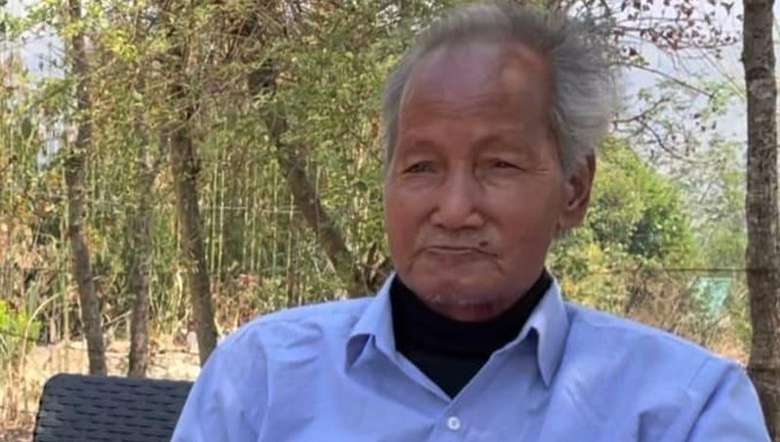 Paokai Haokip (PHOTO: Facebook)
---
The first Member of Parliament (MP) from the Kuki community in the state of Manipur Paokai Haokip passed away at his residence at Saitu village in Kangpokpi district on Sunday evening after battling with cancer.
He was 85 and survived by his son, daughter-in-law and grandson.
He passed his 10th class from St Anthony's High School, Shillong in 1960 and intermediate from DM College, Imphal in 1961. He completed his graduation at Cotton College, Guwahati in 1964 and studied LLB from Allahabad University but could not complete it as he entered into politics.
He was elected as an MP in 1967 as an Independent candidate and re-elected in 1972 as a Congress candidate.
As a parliamentarian, he was active in the attainment of statehood for Manipur in 1972. It is learnt that the then MP from Inner Manipur N Tombi and Paokai Haokip worked tirelessly together including fasting at rallies in New Delhi during the demand for statehood and Autonomous District Council.
He was also appointed as chairman of Manipur Public Service Commission (MPSC) in 2001.
Despite his status, he remained humble and lived his life by keeping a low profile.
"My wife will be waiting happily and greet me with love when I die, but if I marry again she will not welcome me with love and she will not be happy," responded the late MP when someone once suggested to him to get married again after wife's demise, and he remained devoted to his late wife.
The entire Kuki community mourned the demise of Paokai Haokip and condolences poured in from various organisations.
The Kuki Inpi Manipur (KIM) along with all its fraternal and frontal organisations noted with regret over the demise of the former MP.
In his decade-long life as a parliamentarian, Paokai Haokip took upon many issues concerning the people, it stated.
Paokai Haokip fought hard in the Parliament - Lok Sabha to achieve statehood of Manipur which was then a Union Territory. He was the architect behind the Manipur Hill Areas Autonomous Act of 1971. He was instrumental in the creation of Assembly Constituencies of 51 Saitu (Kangpokpi district) and 59 Saikot (Churachandpur district), and 50 Kangpokpi.
The various political, social and religious contributions he made during his tenure as an MP are the testament of his unwavering and dedication for what he stood for. He was a rare leader who earned the love and admiration of the people for his straightforwardness, sense of public service, innate simplicity and honesty, KIM added.
He was also a church leader. A prayer group called 'Deeper Spiritual Warrior' was also founded by him in 1991. This prayer fellowship conducted a whole night prayer once in every month unto this day, KIM stated. In the later part of his life, he served as the chairman of the MPSC (February 9, 2001 to June 30 2002).
"With profound sadness and anguish in our hearts, we offer our heartfelt sympathies and condolences to the bereaved family. We pray that the consolation and visitation of the Almighty be upon them," KIM stated.  
In his passing, the state has lost an illustrious son. May his memory always be a blessing and an inspiration to all, it added.
Manipur Pradesh Congress Committee (MPCC) also extended condolence over the demise of the late former MP.
President MPCC Govindas Konthoujam said that Paokai Haokip was a loyalist and a veteran Congress leader and also a tall political figure whose unwavering dedication is a testament of his principles.
His sudden demise is an irreparable loss not only for the Congress party but also the whole state of Manipur, he said, adding that as a mark of respect to the departed leader, the Congress flag remains half-mast.
The MPCC president on behalf of the party extended deepest condolences to the family members of the former MP and prayed for eternal peace at the heavenly abode.
Employment minister Th Satyabrata Singh also extended condolences on the sudden demise of former MP Paokai Haokip.
He was previously associated with the Kuki National Assembly and was also member of the Fourth Lok Sabha, 1967-70, Th Satyabrata stated in his condolence message.
He was also involved in social activities like organisation of schools and other institutions, it stated. "I sincerely appreciate his educational pursuits, philanthropic mindset and compassionate outlook towards the society as a political leader. I feel his notable works shall always be remembered and cherished in days to come. May his soul rest in peace," it added.  
The late former MP's burial ceremony was held on Monday, following strict Covid protocols at Saitu village. He was laid to rest by the side of his beloved wife.
First Published:
June 7, 2021, 11 p.m.