Manipur's finest cinematographer Irom Maipak loses Covid-19 battle
Irom Maipak was diagnosed with COVID-19 and admitted to Raj Medicity on May 3. He breathed his last after spending 16 days with critical support at the hospital late Wednesday. He was 52.
---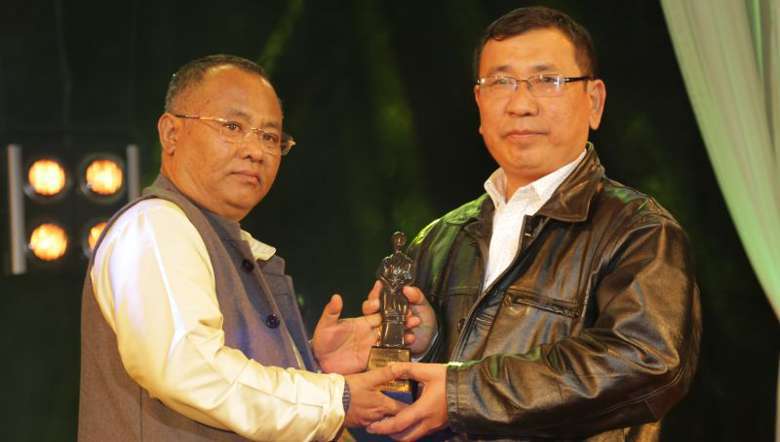 Irom Maipak (R)
---
Acclaimed cinematographer Irom Maipak, who had worked in some of the outstanding award winning films, died of COVID-19 complications late Wednesday (May 19) at Raj Medicity, Imphal.
He was diagnosed with COVID-19 and admitted to Raj Medicity on May 3. He breathed his last after spending 16 days with critical support at the hospital. He was 52.
Social media platforms were on Thursday flooded with condolences for the gentle cinematographer, especially from film circle of the state, including artists, technicians and directors who have worked with him.
Maipak is survived by his wife, son and daughter. He was the son of (Late) Irom Sanajaoba and (Late) Irom (O) Thambhalngoubi of Sagolband Salam Leikai, Imphal West.
Maipak brought laurel to the state by winning the national film award (Rajat Kamal) in Cinematography in 2002 for his work on 'The Monpas of Arunachal Pradesh'. He had been a highly respected cinematographer for his skills and professional commitments. He will be always remembered for his warm and jovial nature not only on the sets but also in the social circles.
Maipak mastered the craft from Fullbright scholar, Ernest Gusella and Tomiyo Sasaki and renowned filmmaker, Aribam Syam Sharma. He was a rare cinematographer who had the experience of working on a range of formats such as celluloid, video and digital films.
He had worked for more than 30 years as a cinematographer in the films and television circuit. He was also the founder president of the All Manipur Cinematographers Association.
His other awards in best cinematography included Maibi Award in the 13th Manipur State Film Festival 2020 for the film 'Nongphadok Lakpa Atithi', Maibi Award in the 7th Manipur State Film Festival 2010 for the documentary film 'Mr India', NETV People's Choice Award 2005 and Best Videographer Award in the All Manipur Video Film Festival 1993 for the Kuki feature film 'Kinepna Pacha'.
Maipak had also worked in 'Ima Sabitri' directed by Bobo Khuraijam that won the Silver Conch Award in the 15th Mumbai International Film Festival 2018; 'Phum-Shang' directed by Haobam Paban Kumar that won the Golden Conch in the 14th Mumbai International Film Festival2016 and national award in the 62nd National Film Award in 2014.  
His laudable cinematography ventures also include 'Leipaklei' directed by Aribam Syam Sharma that won the 60th National Film Award 2012; 'Nupishabi' (Women Impersonator) produced by Films Division, Mumbai 2010 that was presented in the Film Appreciation course at NFAI, Pune, 2011; 'The Zeliangrongs' directed by Haobam Ronel that won the Special Mention Award in the 58th National Film Award 2010.  
He had also cinematographed biographical film 'Guru Laimayum Thambalngoubi Devi' directed by Aribam Syam Sharma that was screened in the Indian Panorama Section of the 37th International Film Festival of India 2006, Goa; and 'Cheina' directed by Oken Amakcham that won the best feature film in the 5th Manipur Film Awards 2006.    
 
First Published:
May 20, 2021, 4:32 p.m.