Ensure all ATMs have sufficient cash: High Court tells Manipur government
IFP IMPACT: On May 12, the Imphal Free Press published a report on ATMs in Imphal running out of cash as banks stop services amid curfew order.
---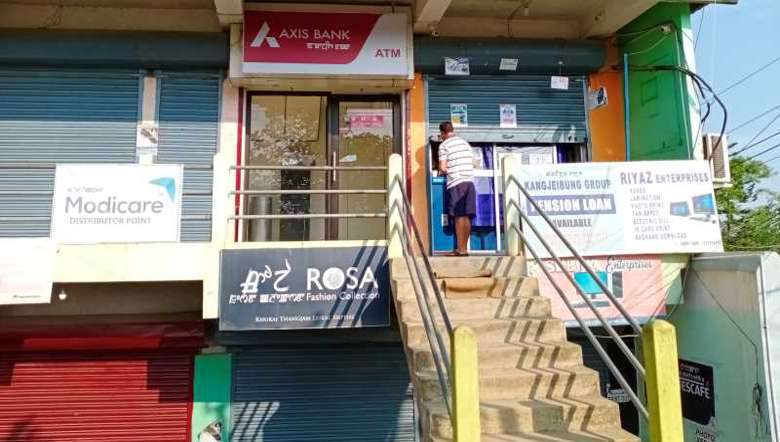 (PHOTO: IFP)
---
The High Court of Manipur has directed the state government to ensure that all the banks concerned keep in stock sufficient cash in their ATMs installed at different locations, so that people are not constrained to move from one ATM to another in search of cash.
Division bench of the high court comprising Chief Justice Sanjay Kumar and Justice Kh Nobin issued the directive on Thursday, following a PIL filed by advocate A Jankinath against the state government and others in connection with the violation of the fundamental rights of the general public by imposing curfew and restrictions orders.
It may be mentioned that on May 12, the Imphal Free Press published a report on ATMs in Imphal running out of cash as banks stopped functoning in view of the curfew order which failed to mention directives for the banks in the state, that left the bank staff confused.
The PIL prayed to direct the respondents to open bank transactions for all the banks in all the districts of Manipur by giving certain specified timing to the general public.
ALSO READ: ATMs in Imphal run dry as banks stop services amid curfew order
The PIL stated that ATM services, post office services should be made available for the general public with money transaction facilities, retail vegetable vendors, grocery vendors on a rotational basis by relaxing certain curfew during certain specified hours. The general public should be enabled to get minimum essential services during this lockdown period and also provide food facilities to the hospitals for the patients as well as attendants, it added.
After learning that persons who came out to buy medicine without doctor's prescription are being accosted by the police and subjected to harassment, the division bench has also directed the state government sensitise its ground-staff, including the police, and ensure that such people are not subjected to harassment when they go out to access pharmacies in their localities.
The court further asked the state government to ensure that pharmacies have adequate stocks and ensure that sufficient number of well-stocked shops are kept open in each and every market area, so that people from one area are not driven to access shops in another area due to shortage of vegetables, goods and food items during the four hours of operation per day.
The court also directed the respondents to file their counter affidavit by June 2 which is fixed as the next date of hearing.
First Published:
May 14, 2021, 1:01 a.m.