The case of the missing Water Minister
IFP Editorial: In spite of the water scarcity in Imphal city, PHED Minister Dikho has been missing from action and not once has he addressed the general public about the water scarcity and his plans to overcome it.
---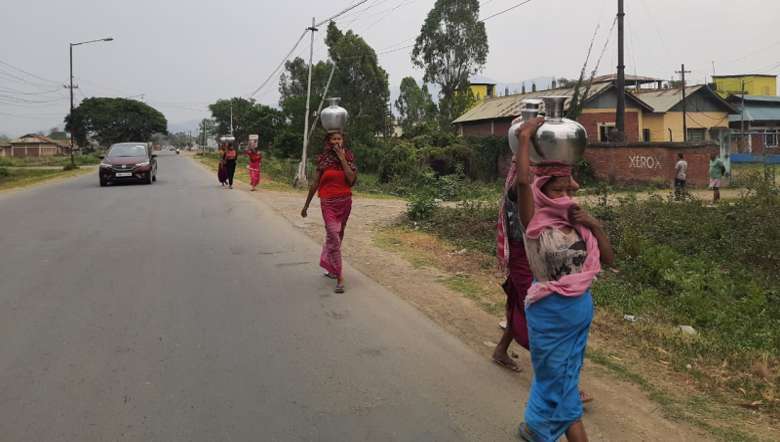 (PHOTO: IFP)
---
In the midst of this raging Covid-19 crisis, we do not know whether it is right or proper to bring up the issue of water scarcity in Imphal City to the attention of the authorities once again. Covid-19 has torn into our lives so much that everything has been rendered irrelevant except the count of daily infections and deaths. Even the news of Manipur being hailed as the top performing state in InvestIndia's website has gone to the inside pages. As of Tuesday, the total number of new infections stands at 592 and deaths at 20 while the number of active cases has surged to 4,981. This is simply devastating in a state of little less than 30 lakh population. Meanwhile, the total number of Covid-19 vaccines in stock has gone down to a few hundreds while the new vaccine consignment from the Centre is not forthcoming. Yet, the state BJP leadership continues to blindly hail the central leadership for its foresight and policies. While other states have announced complete lockdown due to the surge in positive cases, the state is still dithering on such an announcement. One remembers the PM in his last speech to the general public to use complete lockdown as a last resort. Perhaps, it is waiting for a green signal from the Prime Minister himself for announcing such a lockdown, without considering the fact that the PM may not be privy to the special situation developing in the state.
Meanwhile, Imphal city has been facing a drinking water crisis for the last 6/7 months or so. Water is not flowing in the PHED pipes anymore since the last 6/7 months and people are buying water from private water tankers at exorbitant rates and no one seems to bother. Major portions of Imphal city have been facing water scarcity and have had to depend on private water tankers. In fact, private water supply has become a booming business. It is rumoured that even a powerful minister in the present government is very much involved in the private water supply business, while on the other hand some enterprising people have started opening private water treatment plants near the rivers, even in the Chief Minister's own constituency. For those who could afford to buy 10,000 litre at Rs 7,000 and 1,700 litres at Rs 500, it is alright. But to the poor urban families, it has become a major burden with the MLAs turning a blind eye to the woes of the poor who cannot afford to buy water.
The VVIPs and VIPs, to whose homes and quarters water is delivered by government water tankers on a regular basis, might have been blind to the acute water scarcity facing Imphal city now.
The Prime Minister's slogan "Catch the rain, where it falls, when it falls" does not have much ice with the general public as preparations were necessary for such a plan to succeed. Ponds have to be dug and rainwater harvesting schemes had to be in place well ahead before such programmes are announced, however catchy it might be. Manipur experiences water scarcity due to lack of facilities to harvest rainwater and destruction of catchment areas, as per reports. Manipur has been receiving an annual rainfall of 1,467.5 mm, which is higher than the national average. There are also reports showing that 42 per cent of the natural springs in the hill areas of the state have vanished. But now, Imphal city is now facing acute scarcity of potable drinking water. Due to drastic reduction of water level at Singda Dam and drying up of Leimakhong River, which are main sources of raw water, the Public Health Engineering Department (PHED) has notified that normal supply of tap water to consumers will be highly affected. In spite of this water scarcity in Imphal city, the PHED minister Mr Dikho has been missing from action and not once has he addressed the general public about the water scarcity and his plans to overcome it. Neither does the chief minister remind him of his responsibilities as a PHED minister.
READ MORE:
First Published:
May 12, 2021, 1:22 a.m.