All shops, vendors in Moreh to open from 6 am to 4 pm
Movement of any type of vehicle is banned from 4 pm to 6am.
---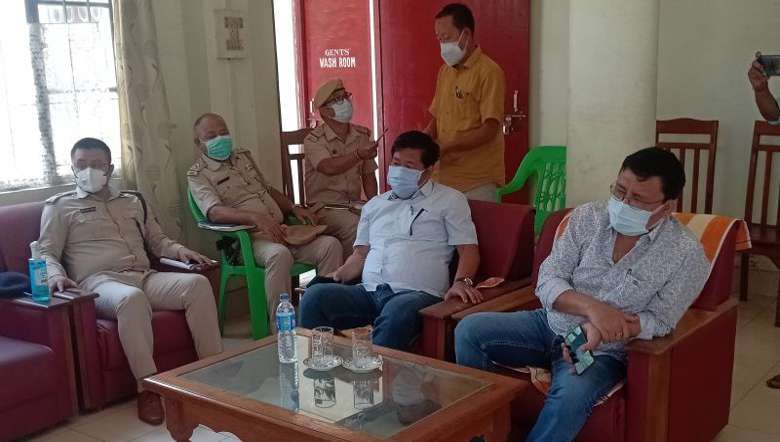 (PHOTO: IFP)
---
Under the initiative of DC Tengnoupal N Praveen Singh, a community level meeting in regard to the present COVID-19 situation was held at Police IB Moreh on Wednesday. 
Speaking at the event, N Praveen Singh said that the country is currently in a hard situation combating the second wave of the COVID-19 pandemic. As a part of the combat against the pandemic, the state government under the leadership of CM N Biren has taken up various measures with new guidelines and SOP being enforced in the whole state, and every citizen must follow them. "We should wear face masks, use sanitizers, regularly wash our hands and also maintain physical distancing in public places," he said.
As preventive measures, an order has been passed that all shops and vendors are to be open from 6 am to 4 pm, and only one shop out of three shops will be open on alternate days on a rotational basis. Every shopkeeper and buyer should maintain social distancing and wearing masks is compulsory. Movement of any type of vehicle is banned from 4 pm to 6am, while banks will be opened from 10 am to 2 pm, N Praveen stated.
During the meeting, the DC and leaders of the civil bodies also had a thorough discussion on the topic of 'mass vaccination' with the DC appealing the civil bodies for cooperation in tackling the pandemic.
It may be mentioned here that following the resolution taken at the meeting, Moreh police under ASP, M Amit Singh and OC Moreh Police, Kh Dilipkumar have taken up steps to ensure that people maintain social distancing and wear masks in public places. People at market places were forced to wear face masks, and shops were allowed to open only up to 4 pm.
The meeting witnessed the attendance of leaders from Hill Tribal Council, Meetei Council Moreh, Tamil Sangam, ACODOM, Gorkha Samaj, MMCM and KSO- Moreh block, along with government officials from Health, Civil Administration and Police departments including ADC Moreh N Gojendro Singh, SDO Moreh I Dinesh Kumar Singh, ASP Moreh (Ops) M Amit singh and OC Moreh police Kh Dilipkumar.
First Published:
May 7, 2021, 12:22 a.m.