Hundreds flout COVID-19 guidelines at Mt Koubru
On Wednesday, more than 300 persons have come down from Mt Koubru till late afternoon while many more were yet to scale down the peak.
---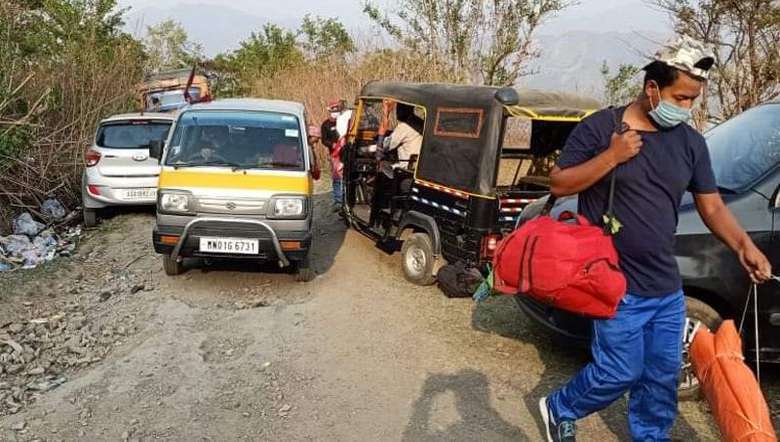 (PHOTO: IFP)
---
When cases of COVID-19 infection and fatalities in Manipur are rising at a disturbing rate, hundreds of people are seen everyday climbing Mt Koubru as if no COVID-19 SOPs or guidelines are enforced upon the trekkers.
Hundreds of pilgrims, mainly from Imphal, where infection and fatality rate of COVID-19 is much higher than other parts of the state continue to climb Mt Koubru since April 21 against the SOPs and guidelines of COVID but no appropriate action is initiated till date.
The state government had already regulated certain advisories in connection with the sudden surge of COVID-19 infection and fatalities in the state, including ban on all gatherings, closing of schools, stopping of all sports activities, among others.
Surprisingly, despite such advisories hundreds of pilgrims were seen flouting the SOPs and guidelines by climbing Mt Koubru everyday under the aegis of various civil bodies, and it has also been reported that many more are preparing to climb the peak in the days to come.
Earlier, Chief Minister N Biren Singh had also made a sincere appeal not to climb the mountain at this juncture, considering the sudden surge of COVID-19 infection in the state but it was in vain as almost thousands pilgrims trekked Mt Koubru the next day and continued till date.
The government advisories clearly stated that all social gatherings, except for unavoidable ones - funerals, marriage, time bound rituals/ceremonies are banned. The unavoidable gathering was also limited not to exceed 20 persons.
However, the number of pilgrims climbing Mt Koubru on daily basis is not less than hundred which generate apprehensiveness and restlessness among the local populace at this critical juncture of sudden surge of COVID-19 infection as they feel no COVID appropriate behaviours could be maintained among such huge pilgrims.
A village chief on anonymity, whose village is located along the road leading to Mt Koubru said that 60-70 at the minimum, including female pilgrims are climbing Mt Koubru daily.
He said they are aware of the recent Mt Koubru issue, and they remained mute spectators despite knowing that the crowding of such huge pilgrims can be risky for the health at this pandemic situation.
Another villager remarked that they are restless since much has been talked about the sudden surge of COVID-19 infection and fatalities in the state but they want no misunderstanding to occur at this apprehensive situation. He continued that no such ill manners or behaviours were seen on the part of the pilgrims; they were very nice and polite as well to the people.
President of Sadar Hills Chiefs' Association Paolal Haokip said, to make a comment on the pilgrims at this juncture is difficult as the situation can be easily twisted. "Otherwise, as a responsible person, for the well-being of the villagers I am compelled to make this sincere and polite appeal to all pilgrims and the state government to avoid climbing Mt Koubru for the time being, purely on humanitarian ground as COVID-19 known by everyone, is a dreaded pandemic which knows no faith, no tribe or no colour," he said.
SAHILCA president also appealed to the state government to look into the high possibilities of spreading the dreaded virus owing to huge crowding and enforce advisories of banning of all gatherings strictly through the district machineries before unwanted COVID-19 cases surface out of flouting the SOPs and guidelines.
He said that the District Administration Kangpokpi despite of issuing orders in connection with second wave of COVID-19 on April 17 and 19, was late in enforcing the SOPs and guidelines in the district when more than twenty new cases of COVID second wave were detected in the district, while its neighbouring district such as Senapati had already enforced the SOPs and guidelines of COVID in full swing since a week ago.
Schools were closed as instructed, sports activities were also discontinued but gatherings were seen yet to be strictly restricted till yesterday.
However, one latest order issued by district magistrate/DC Kangpokpi went viral on social media, stating that night curfew as announced earlier i.e. from 7 pm to 5 am everyday shall continue and shops in the markets of the district shall be allowed to open for 3 days a week on rotation basis.
It was also stated that adjacent shops shall be alternately opened and closed while CEO SH-ADC and SP Kangpokpi have been entrusted to mark the shops so that the adjacent shops are alternately opened and closed.
The order also stated that shops in the markets shall be closed by 5 pm every day.
It also banned all social gatherings except unavoidable gathering for funeral, marriage, time bound ritual/ceremonies while also stating that all gathering has to obtain prior permission from the district authorities and the number of persons shall be strictly restricted to 20 only.
The district magistrate/DC Kangpokpi order further stated that all persons should wear masks at public places at all times and maintain proper social distancing norms while fines will be imposed by police for violation of the orders.
Kangpokpi district police started enforcing the SOPs and guidelines since today, monitoring the movement of pilgrims at various locations.
Till late in the afternoon, more than 300 persons have come down from Mt Koubru while many more were yet to scale down the peak. The district police also permitted not more than 20 persons once at a time from Wednesday while strictly monitoring the pilgrims' movement according to the SOPs and Covid guidelines.
ALSO READ:
First Published:
April 28, 2021, 11:12 p.m.