MP Sanajaoba announces 10 pc MPLADS fund for person with differently abled
MP Sanajaoba launched "Divyang Mitra" and "Netra Khumbh, Manipur 2021-22" at Nupi Lal complex, Imphal on Saturday.
---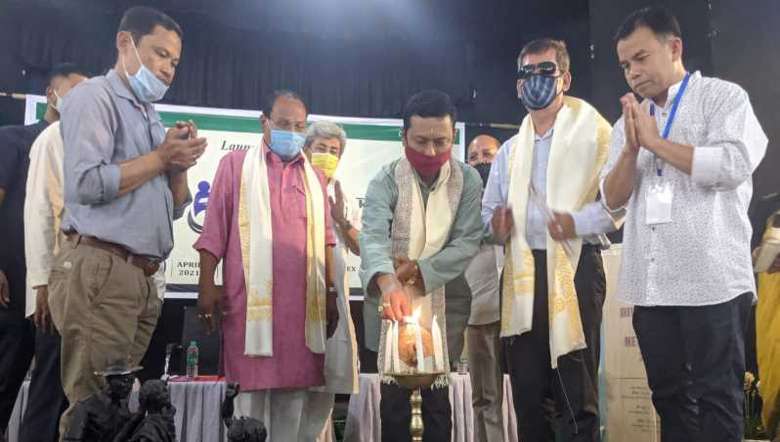 Manipur MP Sanajaoba (C) launching Divyang Mitra and Netra Kumbh in Imphal (Photo: IFP)
---
Rajya MP Leishamba Sanajaoba on Saturday announced that 10 per cent of the fund sanction from his allocated MP Local Area Development Scheme (MPLADS) will be used for the welfare works of persons with disabilities in the state.   
Sanajaoba made the announcement while speaking at the launching of "Divyang Mitra" and "Netra Khumbh, Manipur 2021-22" at Nupi Lal complex, Imphal on Saturday.
Asserting that most of the differently-abled persons have unique and special talent and skills, he said there is a need to uplift the specially-abled person and help them access the benefits of all the welfare schemes introduced by the Central and the state governments.
Helping the needy is the true form of worshipping God, he said, adding, "Serving the needy and taking up humanitarian services instead of offering valuable items to idols is the best way to please the almighty".
The MP also said that he will apprise the chief minister with a proposal for the restoration of the government Eye Hospital which was established during the period of the then Congress government and low reportedly lying defunct due to lack of infrastructure.
Netrakumbh is indeed the need of the hour and is a major step towards decreasing the burden of vision problems, he added.
The function was organised by Samadrishti, Kshamata Vikas Evam Anusandhan Mandal (SAKSHAM) and attended by SAKSHAM, Manipur president Sapam Jasobanta as function president; Manipur BJP president S Tikendra and member of Academic and Activities Council NSU Sapam Nishikanta as guests of honour.
As a part of the programme, free eye screening was carried out and free power spectacles were distributed to the needy persons. Similar programmes will be conducted throughout the year in different districts of the state.
ALSO READ
First Published:
April 10, 2021, 6:20 p.m.