He came, he saw and he left
IFP Editorial: Many would consider celebrating 50 years of Manipuri Cinema without Aribam Syam Sharma as a betrayal of the very spirit of Manipuri Cinema. The world renowned film maker came early to the function, but left in a huff.
---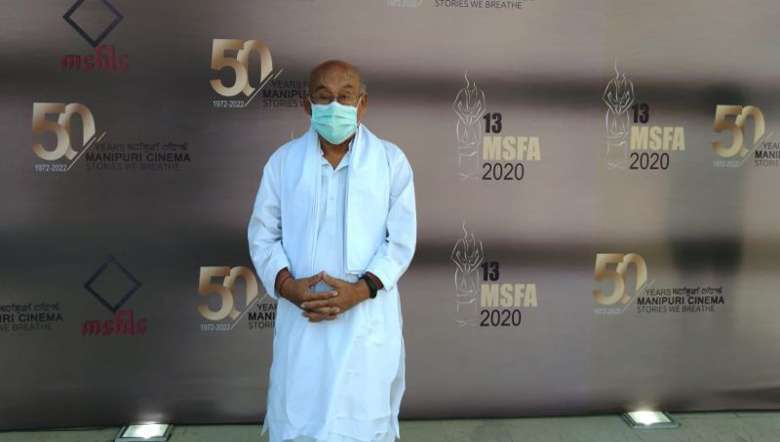 Aribam Shyam Sharma (PHOTO: Facebook)
---
Many would consider celebrating 50 years of Manipuri Cinema without A Syam Sharma as a betrayal of the very spirit of Manipuri Cinema. Yet, the Golden Jubilee function was launched on Friday. The world renowned film maker Shyam Sharma came early to the function, but left in a huff. And he was sorely missed. The state Chief Minister N Biren Singh mentioned it in his speech. For those who came late, Syam Sharma was the person who put Manipuri Cinema in the scope of world cinema. His film "Imagi Ningthem" (My son my precious) was the first Indian Film to receive the coveted Grand Prix (meaning best film) at the prestigious Nantes Film Festival in 1982. The film was acclaimed by the international community as a masterpiece. He was the fifth Indian film maker who received the top prize in a major international film festival. He is among a few Indian film makers who have received the top prize in the major festivals held in abroad, although many Indian film makers have received various consolation prizes in many major festivals. Some of his internationally-acclaimed films include Sangai: The Dancing Deer of Manipur, which was declared the 'Outstanding Film of the Year' by British Film Institute at London Film Festival, 1989. Another film Ishanou (The Chosen One) was officially selected for 'Un Certain Regard' section at Cannes Film Festival, 1991. In 2015, he was also conferred with the title "Jewel of Manipuri Cinema". So far he has directed 14 Manipuri feature films and 30 non-features. His films, though rooted in the socio-cultural milieu of Manipur, have found flavour globally due to the universal appeal of the subjects of his films. He earned six awards in his features and nine awards in his non-features in National Film Awards. In recognition of his contribution in the Indian documentary cinema, Government of India conferred on him the V Shantaram Lifetime Achievement Award in the 10th Mumbai International Film Festival, 2008 organised by the Films Division.
In its 50 year journey, Manipuri Cinema had its fair share of laurels despite its shortcomings and technical setbacks. Ten Manipuri feature films have received the National Film Awards. They are Debkumar Bose's Matamgi Manipur (1972); Aribam Syam Sharma's Saaphabee (1976), Olangthagee Wangmadasoo (1979), Imagi Ningthem (1982); MA Singh's Sanakeithel (1983); Aribam Syam Sharma's Ishanou (1991); K Ibohal Sharma's Sambal Wangma (1993); Oken Amakcham's Mayophygee Macha; Aribam Syam Sharma's Sanabi (1995); Makhonmani Mongsaba's Chatledo Eidi (2000) received the Rajat Kamal for the Best regional Film in the National Film Awards instituted by the Union Ministry of Information and Broadcasting. Even a film critic RK Bidur received the 'Best Film Critic Award' at the 56th National Film Awards, 2008.
In the inaugural function on Friday, the director of the first Manipuri feature film 'Matamgi Manipur' Debkumar Bose was feted. Yet, the producer of the film Karam Manmohon aka Amumacha did not find a worthy mention except in passing reference by Director Bose. Many notable film personalities were also absent in the inaugural function. There is no dearth of worthy Manipuri film makers in its 50 year long journey. Among the veterans, mention may be made of SN Chand, G Narayan Sharma, K Ibohal Singh, and MA Singh besides A Syam Sharma. Among the younger lot, the names of Oken Amakchan, Makhonmani Mongshaba, Ningthouja Lancha, Haobam Paban Kumar and Oinam Doren are worth mentioning. These are all serious players in the game. We should be celebrating this talented tradition of film makers who had overcome odds to achieve fame and accolades. Yet, something seems to be terribly wrong on Friday, which led to the extreme discomfort of the Chief Minister. So, the way the Golden Jubilee celebration of Manipuri Cinema is being managed and presented to the world needs a serious introspection, so that responsibilities could be fixed.
ALSO READ:
First Published:
April 10, 2021, 2:03 a.m.