Water crisis looms large over Imphal valley as Singda Dam water level falls to alarming stage
On normal days, a private water tanker with the capacity of 2,500 litres reportedly charge Rs 450 per trip. However, the charge has increased to Rs 900 per trip recently.
---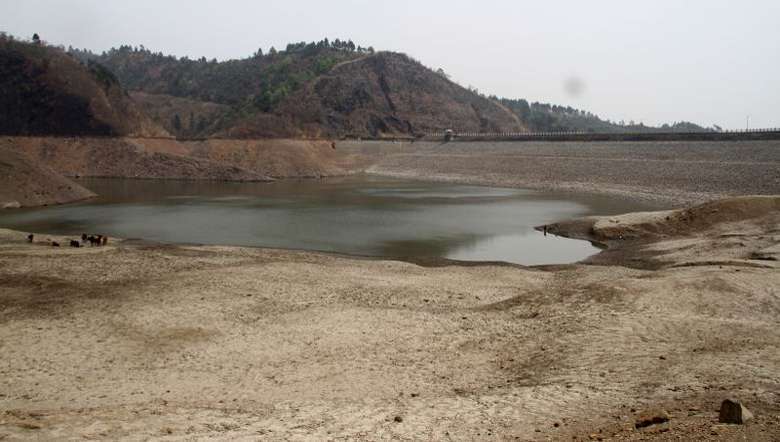 People in urban areas of Imphal valley may face drinking water crisis in the next one month if annual monsoon is delayed as water level in Singda Dam has reduced to an alarming stage, said Ksh Tombi, state executive engineer water supply project construction division, public health and engineering department.
Speaking exclusively to the Imphal Free Press, Tombi said the water level of Singda dam has fallen to 8.96 metres, which is an alarming stage.
Water level of Singda dam is divided into three level. Of the total dam level of 34 metres, the first level is marked at 10 metres from the top of the dam and another 10 metres at the second level and the last level is marked with 14 metres. If the water level is reduced below the second level, it is considered as alarming stage, Tombi explained.
Tombi also said that Singda dam supply drinking water mainly in urban areas. It usually supplies 18.16 MLD (million litres per day) but with the reduced water level of the dam, only 9.5 MLD is supplied, that also in roster system.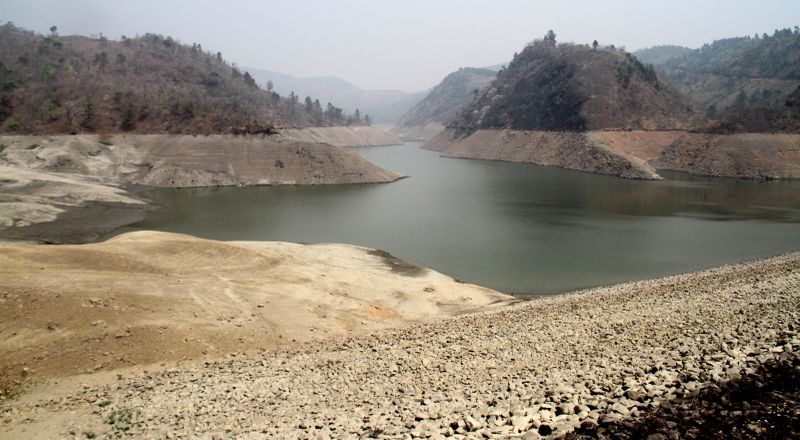 (PHOTO: IFP)
A joint press statement issued by the public health and engineering department recently mentioned that "due to the drastic reducing of water level at Singda dam and drying up of Leimakhong river, which are the main source of raw water, the treatment plants at Singda, Kangchup and Kangchup Extension (WTPs) are unable to produce optimum quantity of treated water.
Taking precautionary measures by the department concerned, the areas covered by these water supply projects namely Phayeng, Lamsang to Naoremthong, Langjing area, Uripok, Nagamapal, Lamphel, Langol area, Sagolband area, Tera Sayang, Nepra Menjor supply zone, Thiyam leikai supply zone, Sangaiprou supply zone, Irom Pukhri zone, Haobam Marak zone, Chingtham leikai zone, Babupara, Keishamthong, Keishampat zone and Paona bazaar area will be highly affected, it added.
Th Pika Singh, EE Maintenance division, said the three treatment plants normally supply around 23.6 million litres of drinking water on daily basis to the commercial hub. Of the total, Over 9 million litres water are supplied through Singda plants and over 14 million litres through Leimakhong extensions. However, with the Leimakhong river almost dried up around we are rationing just over 6 million litres of dringking water through Singda after three days gap, said Pika Singh.
In view of it, Tombi appealed to the people in urban areas to use water for domestic purpose cautiously and to conserve drinking and domestic use water. If such practice is not carried before the monsoon rain arrives, then each household will have to start fetching water from far-flung areas and may face acute water crisis.
Officials from Porompat water supply department reported that they are supplying water for drinking and domestic purpose from the Iril and Imphal river. About a total of 80 MLD water is being supplied to the public, security forces including CRPF, BRTF, and for VIPs by getting token from the officials with the payment of Rs 12 per 1,000 litres of water.
On a daily basis, Porompat water supply delivers about 7/8 Tata DI water tanker; 22 security water tanker trucks and five Tata trucks for the public.
The Porompat water supply official appealed to the general public residing near Imphal and Iril river to stop blocking of running river water and using of private water pump sets.
Private water tankers with the capacity ranging from 1000 litres to above has increased the charge of water. On normal days, a private water tanker with the capacity of 2,500 litres reportedly charge Rs 450 per trip. However, the charge has increased to Rs 900 per trip recently.
If the annual monsoon rainfall is delayed the state may face water crisis not only for drinking but also for domestic and irrigation purpose.
To prevent drinking water scarcity, there is need for cooperation and understanding among public and cooperation from the concerned department related to environment and climate change, Tombi asserted.
Meanwhile, Chief Minister N Biren Singh on Tuesday (March 23, 2021) chaired an emergency meeting called to review the present problem of water scarcity in urban areas of Imphal–Uripok, Thangmeiband, Keisamthong, Sagolband, Wangkhei, etc, due to the repairing works taken up in the Singda Dam and the drying up of other water sources.
According to T. Brajakumar, deputy director, directorate of Environment and Climate Change, experiencing shortage of water at this time of year is normal due to deficit in pre-monsoon rainfall. However, the severity has gradually increased over the past few years. This year too, he said, major catchment areas like Tamenglong, Churachandpur, Imphal West and East among others has witnessed over 90 percent pre-monsoon rainfall deficit.
During the meeting, it was decided that a Sub Committee would be constituted which would be headed by Administrative Secretary (Water Resources) with PCCF, Administrative Secretary (PHED), Engineer-in-Chief (Water Resources), Chief Engineer (Water Resources), Chief Engineer (PHED), Director (MAHUD) Executive Engineer (PHED-Maintenance Division-II) and DIG Range I as members.
The committee would conduct a survey of water scarcity areas and recommend and monitor steps for meeting the shortage.
It was also decided that Imphal Barrage would be shut down until water situation improves; water from Dolaithabi Barrage would be released to Iril River; dredging of riverbeds/dams would be taken up by Water Resources Department; PHED would deploy adequate number of water tankers by hiring from private agencies, etc.; commissioning of Chingkheiching Water Supply Project would be expedited; Water Resources Department would examine feasibility of constructing multiple low-level barrages on Imphal River, Iril River, Thoubal River and Kongba River; feasibility of conserving river water during the monsoon through more effective engineering mechanisms such as interlinking of rivers, etc. would be explored and scope for utilising the water of Barak River would also be explored. The chief minister further instructed all concerned to take up the matter on top priority.
ALSO READ:
First Published:
March 23, 2021, 10:23 p.m.