Manipur Education Minister S Rajen urges all to save water
During the observation of the World Water day, Rajen said that there will be no life without water.
---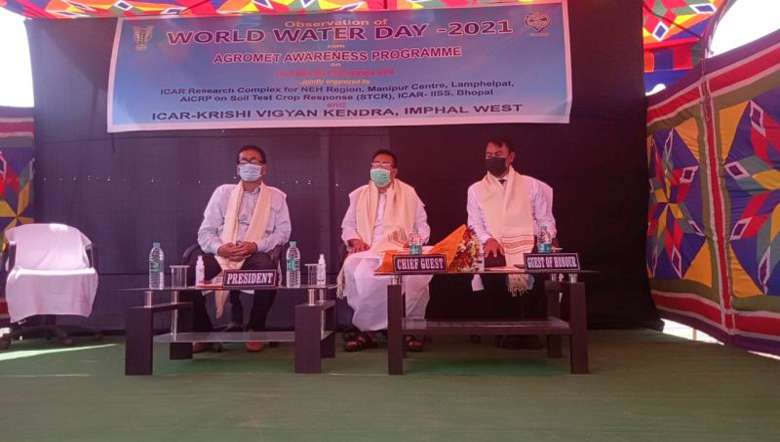 (PHOTO: IFP)
---
Manipur Education Minister S Rajen urged the public to realise the value of water and save it, while asserting that all living beings will disappear without water, during the observation of the World Water day cum Agromet awareness programme on Monday.
"There will be no life without water," he said at the observation organised by Indian Council for Agricultural Research, ICAR, Manipur at its centre at Lamphelpat.
He maintained that the world will be facing a water crisis soon if humans do not follow the law of nature. "We should know the value of water. Water is life and we should use water judiciously. Wasting water will give a serious impact on human beings in the future," he said.
He said that the concept of preservation of water should be fully adopted by all. Cultivation of food crops is possible only when there is water, he said. It is unfortunate that the law of nature has been violated by the people, he said while adding there has been a man-made ecological imbalance in the world. "We have to find out the reasons for the occurrence of uncertain floods and droughts during the last few decades," he added.
He mentioned that the forefathers of the state used to produce sufficient food that could be consumed throughout the entire year. The state was self-reliant in terms of agricultural and other products but the scenario has come to an unwanted change, he added.
He also suggested that the increase in global warming could be kept under control by planting of trees and stopping deforestation.
In order to provide water for agricultural activities up to some extent, the Minor Irrigation department has introduced the scheme of installing tube wells, he said. Command Area Development Authority, CADA is also constructing distributary channels, he added.
Director of Instruction and Research, Central Agricultural University, Imphal S Basanta Singh; joint director, ICAR I Meghachandra and officials and staffs of ICAR, Imphal, KVK, 1/W, and others attended the occasion.
A technical session was also held as a part of the observance.
First Published:
March 22, 2021, 9:15 p.m.