The leading women behind COVID-19 vaccines-2
The author profiles the amazing women who took pioneering roles in developing vaccines against the novel Coronavirus.
---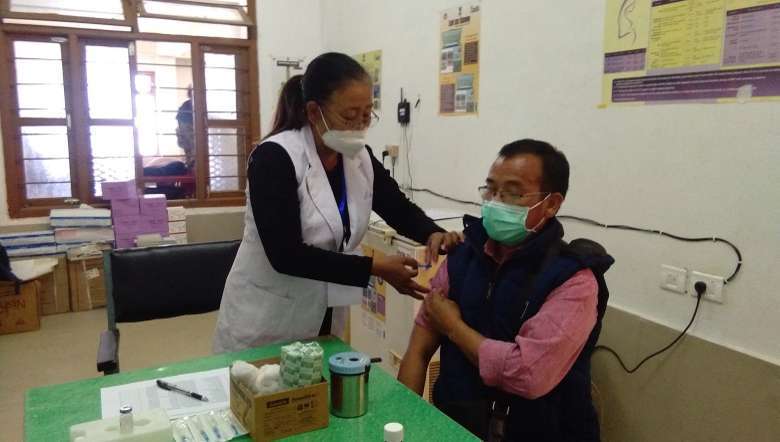 (Representational Image: IFP)
---
The early history of vaccines was fully dominated by males. The era of vaccines was launched by Dr Edward Jenner in 1796 when he inoculated James Phipps (8-year old boy) with cowpox to protect him from smallpox. He coined the term "vaccination" from Latin "vacca" (which means cow). It was recognized for many centuries that some diseases never reinfect a person after recovery. Smallpox was the first disease for which vaccination was used as a way of preventing the disease.
Nearly 80 years elapsed, before the legendary French scientist, Louis Pasteur,  developed the first live attenuated (= weakened) bacterial vaccine. Attenuation is a process that weakens the bacterial or viral pathogen contained in a vaccine so that it's less likely to cause a disease, but is still capable of triggering an immune response similar to that of natural infection. It took several more decades to develop basic and clinical virological research that helped develop vaccines to protect humans against viral diseases.
Two other pioneers who made breakthroughs in developing vaccines against viral diseases were Drs Jonas Salk and Albert Sabin, who developed killed and live attenuated polio vaccinesrespectively. Another pioneer of vial vaccine was Dr Maurice Hilleman, who worked for Merck & Co. during 1956 to 1984. He is credited with development of more than 40 vaccines!
Women in Vaccinology
It's indeed heartening to learn that modern vaccinology is increasingly led by female scientists. It is also proper to make full use of the latent talents of 50% of the human creativity that have not been properly exploited so far. It's amazing that women are taking frontline roles in the development of most of the cOVID-19 vaccines approved for use or in the pipeline for licensing!
Some women who developed vaccines in the modern times include Dr Anna W. Williams (1863-1954) who developed a diphtheria vaccine, Drs Pearl Kendrick (1890-1980) and Grace Eldering (1900-1988) who developed the whooping cough (pertussis) vaccine, Dr Margaret Pittman (1901-1995) HIB (Haemophilus influenzae B) vaccine, Dr Isabel Morgan (1911-1996) who played a key role in development of polio vaccine, Dr Anne Szarewski(1959-2014) who developed HPV (cervical cancer) vaccine and Dr Ruth Bishop (1933-) who helped develop a rotavirus vaccine.
Let's now profile some leading female heroes of the coronavirus vaccine story.
Ozlem Tureci (1967-)
She is a leading Turkish-German medical doctor, scientist and entrepreneur. Tureci was born on March 6, 1967 in Lastrup, Germany. She is the co-founder of the German biotechnology company, BioNTech (Est. 2008), which developed the first approved mRNA-based vaccine for COVID-19 in 2020. She has been serving as chief medical officer (CMO) of BioNTech since 2008. She is also a lecturer at Johannes Gutenberg University in Mainz, Germany.
Tureci and her husband, Ugur Sahin, became the first Turkish-Germans among Germany's top 100 richest people in 2020.
She is the daughter of a Turkish surgeon father and a Turkish biologist mother. Her father was working at Catholic Hospital St. Elisabeth-Stift, Lastrup.
In 2008, Tureci co-founded BioNTech, a firm dedicated to development of immunotherapeutic agents for treatment of cancer and other intractable diseases. BioNTech has been conducting research on a vaccine against COVID-19 since January 2020 under the leadership of Ozlem Tureci and Ugur Sahin, CEO of BioNTech and husband of Tureci.
Tureci is credited with more than 500 patents filed by BioNTech and its partners. She said "At BioNTech, women make up 54% of our total workforce and 45% of top management. We like to think that being a gender-balanced team has been critical to making the seemingly impossible possible-developing a Covid-19 vaccine within 11 months without shortcuts."
Gender Equity & Vaccine Development
Tureci says that the speed with which Pfizer-BioNTech vaccine was developed (in just 11 months) is attributable to the fact that more than 50% of the workforce at BioNTech is female.
The Eureka Moment
For the birth of their brainchild, Archimedes had his bathtub and Newton had his apple tree. For Dr Ozlem Tureci and her husband, Dr Ugur Sahin, the idea for the vaccine started with a breakfast-table conversation. Following the chat, Sahin started working on his computer, designing the template for 10 possible coronavirus vaccines. The couple code-named their project "Light Speed" and began collaborating with the US company Pfizer. It took just 11 months to develop the vaccine and obtain emergency use approval (EUA).
Tureci considered at one time to become a nun but instead chose to focus on science. The couple has a shared scientific curiosity and altruism. They are totally dedicated to science. In an interview with a German newspaper, she said that she and her husband began their wedding day, in 2002, wearing lab coats and resumed their research right after a brief run to the register office!
Sudden Surge in India
The number of Covid-19 cases in India has suddenly surged, with 23,285 cases reported on March 12, 2021, the highest in 78 days. The rise seems to be due to increase in infections in 8 states including Maharashtra, Tamil Nadu, Karnataka, Gujarat, Punjab, Delhi, Haryana and Kerala.
According to the Business Standard (March 1, 2021), the rise might be primarily due to 3 reasons: negligence, a spike in the rate of positivity, and the spread of new coronavirus variants in India. The rapid transmission in parts of India may be exacerbated by people's COVID-inappropriate behaviour. Brazil is currently facing the worst coronavirus crisis due to all these factors just mentioned. Unless we strictly adhere to SOPs, quickly enhance the speed of vaccination, and tighten the necessary monitoring by relevant public health authorities, there is every likelihood of a serious 2nd wave spreading across India including Manipur. All of us including the governmental agencies, public health authorities, common people and NGOs need to be extremely vigilant!
The pandemic won't end overnight
As an editorial in the prestigious medical journal, The Lancet Microbe (Jan. 1, 2021) says, "Vaccines will be instrumental in the control of COVID-19, but their global distribution will be challenging and their effect won't be immediate." Though the vaccine rollout has begun in several countries, many poor nations will still be out of the vaccine protection ring, till a global facility such as COVAX procures enough doses for distributing free or at low cost to low-income countries. It may probably take a few years to fully reign in the virus worldwide. Till then, non-pharmaceutical interventions to contain the tricky coronavirus must remain in place across the globe.
So, in the meantime, we must not let our guards down and we must still strictly observe the non-pharmaceutical interventions such as the major SOPs of the use of face masks, physical distancing, and hand hygiene and avoidance of 3 Cs: crowded places, close contact settings, and closed spaces (with poor ventilation).
There are many other female pioneers who contributed to the development of coronavirus vaccines. A few prominent ones include Sarah Gilbert (AstraZeneca vaccine), Lisa A. Jackson (Moderna vaccine), Nita Patel (Novavax vaccine), Kizzmekia Corbett (Moderna vaccine), Katherine Jensen (BioNTech/Pfizer vaccine), Elena Smolyarchuk (Sputnik-V vaccine), and K. Sumathy (Bharat Biotech vaccine) etc.
We shall profile some of these amazing women scientists in future columns
First Published:
March 13, 2021, 11:22 p.m.