Tamenglong district hospital on verge of shutting down
Due to acute shortage of manpower, the staff nurses are facing sleepless nights at home after working the whole day at the duty.
---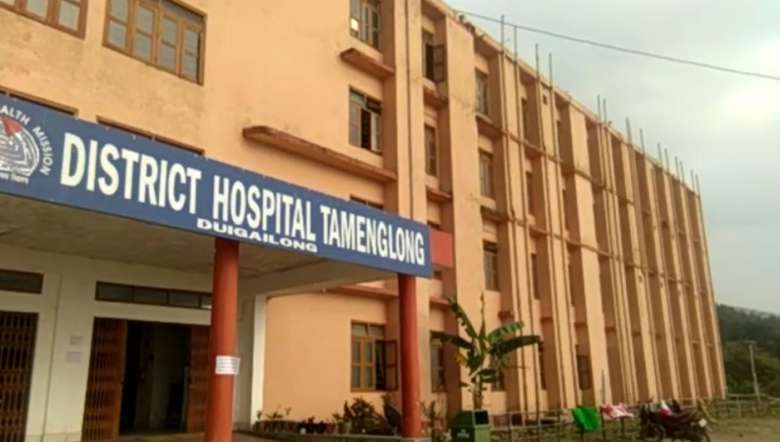 (Photo: IFP)
---
Tamenglong district hospital of Manipur located at Duigailong village is about to become defunct and on the verge of shutting down reportedly due to acute shortages of manpower.
A health worker from Tamenglong district hospital has been reportedly running from pillar to posts to work on the generator, repair the drinking water pipes, and sweep the floor or to help the nurse in the labour room.
As the district hospital is facing acute shortage of manpower, the staff nurses cannot look after all the patients properly. Due to acute shortage of manpower, the staff nurses are facing sleepless nights at home after working the whole day at the duty.
This was disclosed by one staff nurse and in charge, medical superintendent on the sidelines of the Health and Nutrition campaign held in the District Hospital Duigailong Tamenglong, organised by district health society Tamenglong.
They further disclosed that Tamenglong district has no fully fledged medical superintendent, matron, nursing sister in-charge, female health assistant, Radiographer/X Ray technician, steward, medical record officer/ data entry operator, MRT, audiometric/audiologist, CSRT, driver (heavy vehicle), UDC, LDC, chowkidar, cleaner, dhobi, peon, etc. and many more.  
Interestingly, the district hospital has only 17 trained staff nurses against a sanctioned post of 45. It has only seven ward attendants (male and female) against sanctioned posts of 25. Only one sweeper has been posted in the big hospital against the sanctioned post of five, etc.
They also pointed out that nowadays, more programmes are coming up and they need more manpower.
They expressed that Grade B, C, D staff are the main force in running the hospital. Specialist doctors come only when everything is prepared by grade- IV workers, they added.  
Apart from shortage of manpower in the district, the present workers are also facing acute shortage of drinking water.
They appealed to the authority concerned to immediately look into the matter and post the required man power in the district hospital before it shuts down.
Commemorating the fourth years of citizen centric governance, the government of Manipur led by CM Biren Singh, chief medical officer Tamenglong Dr Chambo Gonmei highlighted the achievements of the Health department in Tamenglong. 
He said the deputy commissioner Tamenglong Armstrong Pame himself is involved with unceasing support from medical staff and public to achieve such achievements. He also requested the public and all medical staffs to continue support and give cooperation. 
He also mentioned that many people have died during COVID-19 pandemic due to lack of blood banks and lack of service like dialysis centres for kidney failures.
Machines and equipment were procured under Hill Area Development Project fund and setting up of a blood bank and dialysis unit are in the process.
He also mentioned about various projects being taken up in the Health department. 
CDPO Tamenglong M Sobha Devi in her speech mentioned that a new scheme called Pradhan Mantri Matru Vandana Yojana PMMVY is being launched in Manipur for pregnant women and lactating mothers. 
A cash of Rs 5,000 is entitled for the first living child in three installments. Forms can be availed at Anganwadi workers, she said. 
District immunisation officer Tamenglong Dr Sunil Kamei said the people should thank the scientists of India for timely invention of COVID-19 vaccine. 
He informed that at least 1,931 persons in the first dose and 168 persons were vaccinated in 57 sessions.
He also appealed to all the citizens to maintain SOPs so that the state is 100 per cent COVID-19 free. Medical officers of district hospital also spoke on various health tips.  
Deputy commissioner Tamenglong Armstrong Pame, chief medical officer Tamenglong Dr Chambo Gonmei, assistant commissioner Tamenglong Rohit Anand, CDPO Tamenglong M Sobha Devi, medical officers of district hospital, supervisors of ICDS, Angangwadi workers, ASHAs took part in the health and nutrition campaign.
Free health check-up, providing of free medicines, free testing for HIV, free malaria test, blood group and sugar tests, enrolment of CMHT, PMJAY and advocacy on diet and nutrition etc. were part of the Health and Nitration campaign. 
First Published:
March 13, 2021, 3:25 a.m.