WAFA Wangoi beat KYVO by 2 goals, NESU, LYGSEDA share points in 1st AMFA Cup
There will be no matches on Thursday and Friday and will resume on Saturday.
---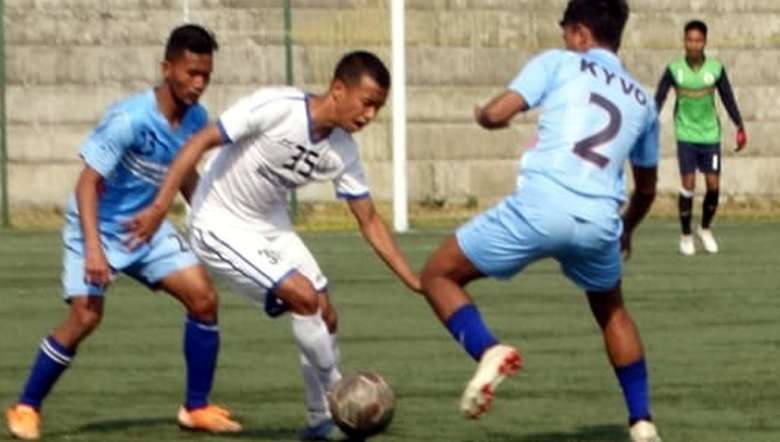 (PHOTO: IFP)
---
WAFA Wangoi downed KYVO Kwasiphai by 2-0 goals in the 1st AMFA Cup 2021, sponsored by Sheikh Babumacha Memorial Trust at Artificial Turf, Lamlong Thongkhong Imphal East.
Riding on its new wave of success, WAFA Wangoi controlled the game and got the lead in the 39 minute of play when Peter struck the opening goal.
KYVO also put up great pressure on its opponent, making frequent raids, but never really got an opening. Bringing further frustration to the KYVO team, WAFA Wangoi increased the lead with E Joykishan fetching the second goal in the 72 minute for the victory today.
KYVO player P Bikar, L Bishal and WAFA player N Radhakanta, Yarmi Woleng received a yellow card from referee T Premjit Singh.
In the other match, NESU Khurai held on to LYGSEDA Lonpi Area by 2-2 goals to share a point each. The first half proved to be a lacklustre game as neither team could ruffle the net.
However momentum picked up in the second half with NESU player Y Sobha changing the statistics of the game with his goal in the 63 minute. But LYGSEDA were quick to reply with Paolenlal fetching the equaliser in the 68 minute to level 1-1 goals.
Boosted by the goal, LYGSEDA put much effort and came up with the leading goal from Seiminthang in the 73 minute but their joy was short-lived when S Bikash drew parity for NESU team, bringing up the equaliser in the 83 minute to hold on till the final whistle.
LYGSEDA player Paolenlal, Letminthang and NESU player Y Sobha, L Thoising got a yellow card from referee Th Raghu Singh for dangerous play.
There will be no matches on Thursday and Friday and will resume on Saturday.
First Published:
Feb. 25, 2021, 3:10 p.m.