8th SHDVSM: Kanggui Veteran, Leikot Area Veteran, Leimakhong Area Veteran win
Kanggui Veteran had an easy 3-0 win over IB Area Veteran.
---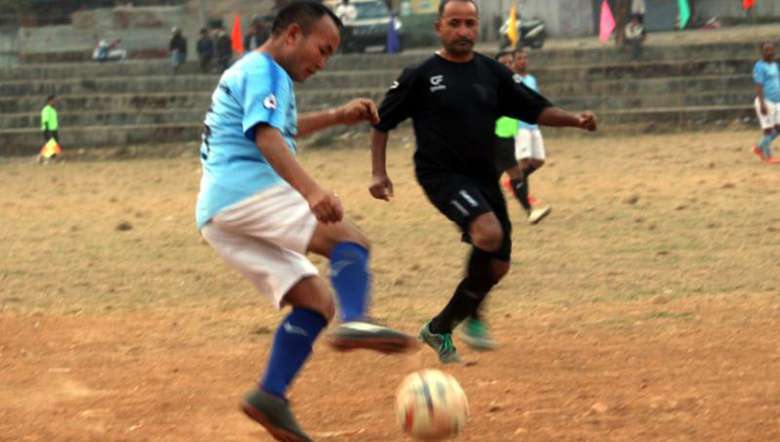 (PHOTO: IFP)
---
Len Lhouvum and Paaji Hangshing gave Kanggui Veteran a brilliant win in its campaign in the ongoing 8th Sadar Hills District Veteran Sport Meet 2021 at Brig M Thomas Ground, Kangpokpi district headquarters on Wednesday.
The defending champion Kanggui Veteran had an easy 3-0 win over IB Area Veteran through Len Lhouvum doubles in the 37th minutes and 59th minutes and Paaji goal's in the 55th minutes.
In the second match, Leikot Area Veteran had a similar 3-0 win over Phaijang Veteran. Kammang (14th) and Paolun (53rd, 58th) scored for Leikot Area Veteran.
In the third match, Motbung Veteran had a dramatic 1-4 loss to Leimakhong Area Veteran despite scoring earlier in the 24th minute through Haojakhup in the first half.
Leimakhong Area Veteran had a brilliant comeback in the second half to find an equaliser in the 56th minutes through Seikhohen before Thonglal's 65th minute goal and Letminlal doubled in the 80th minutes and 83rd minutes respectively.
On Thursday, LKLK Veteran will play Tujang Lhang Veteran (B) in the first match and Twilang Area Veteran will play Keithelmanbi Veteran in the second match while Kalapahar Veteran will play Twilongkun Area Veteran in the third match.
First Published:
Feb. 25, 2021, 12:45 a.m.