Demand for separate budget to preserve Tarao community
'In the UNESCO report of 2009, it was declared that the Tarao community is extinct, he said. However, five villages were found preserving its culture and language in two districts of Manipur in the 2011 census report.'
---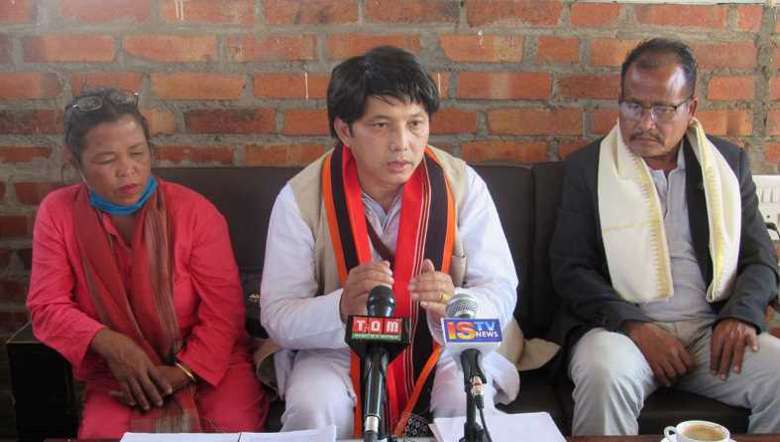 Media coordinator Thokchom Chandramani (C)
---
A separate budget needs to be reserved in the state budget to preserve the Tarao community, said media coordinator of the 5th general conference Tarao student union, Thokchom Chandramani on Friday.
Chandramani was speaking to the media during a press conference held at Singjamei, Imphal West.
If a separate budget is not reserved in the ongoing annual budget session, then the community has its trust on the present government that it will be surely included in the next state budget, he said.
In the UNESCO report of 2009, it was declared that the Tarao community is extinct, he said. However, five villages were found preserving its culture and language in two districts of Manipur in the 2011 census report, he added.
The villages are namely Tarao Laimanai (Bukthrol), Leishokching, Khuringmul and Heinkakpokpi in Chandel district and Sanakeithel in Ukhrul district, Chandramani said.
To protect the community, the Ministry of Human Resource has already reserved a sum of Rs 78,000 in the 2011-12 budget, he added.
He expressed his gratitude towards the chief minister for nominating K Leingam Tarao as an autonomous district council member.
If the chief minister nominates a candidate in the ADC election from the community, then it will be a good step to preserve the Tarao community, Chandramani said.
First Published:
Feb. 6, 2021, 10:48 a.m.