Strict rules must be regulated to protect forest areas, stop deforestation: CM Biren
Manipur to send Rs 1,340-crore proposal to World Bank to conserve Loktak Lake.
---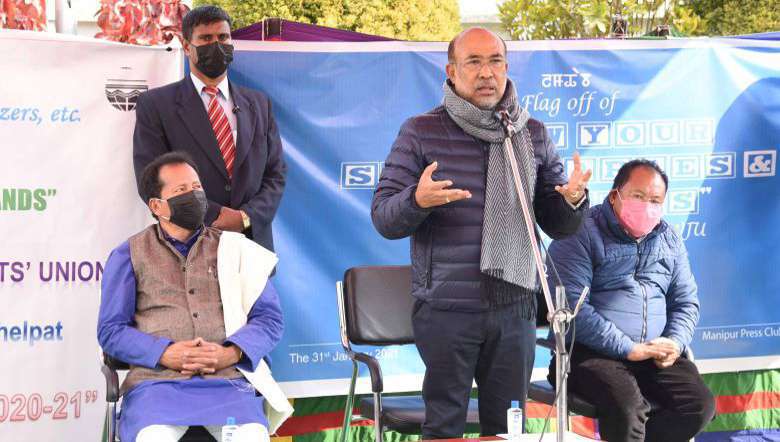 Manipur Chief Minister N Biren Singh on Sunday called for regulation of strict rules to protect forest areas and stop deforestation and said that the state is sending Rs 1,340-crore proposal to World Bank to conserve Loktak Lake.
"The state government is planning to conserve 473 acres of Lamphelpat and we are sending a proposal of around Rs 600 Crore to World Bank through NITI Aayog and we are also sending a proposal of Rs 1,340 crore to World Bank to conserve Loktak Lake," Biren said speaking as the chief guest at the flagging off ceremony of 'Know your sanctuaries and wetlands', a month-long media campaign, at Manipur Press Club, Imphal early Sunday.
The chief minister said that the state will not be favorable for human existence in the future if no concrete step is taken up to protect nature at present. People are fighting over land ownership; however, they have exploited nature and forgotten to think about the future generation, he added.
Mentioning about large-scale deforestation at Mount Koubru, he also urged the forest department officials to carry out spot visit and take up necessary steps to save the forest areas.
Expressing disappointment that land ownership documents were allotted for settlement in wetland and forest areas, Biren said some of the employees of the State Revenue department and Forest department are not sincere in their works.
The chief minister said development in the state should be taken up with a vision and not contract oriented. The state government will soon set up State Town Planning, he said, adding that it is a must to have a plan for another 100 years.
The then government in 2004 took up the initiatives to make alternative shelter for Sangai in Langol after seeing the deteriorating condition of Keibulamjao and in the same year, efforts were also started to clean the Nambul River in order to save the Loktak Lake, the chief minister said.   
Minister of Forest and Environment Awangbou Newmai also spoke on the occasion and said the preservation of the state and the world is in the hands of journalists to a large extent since the government makes plans based on the reports of the journalists.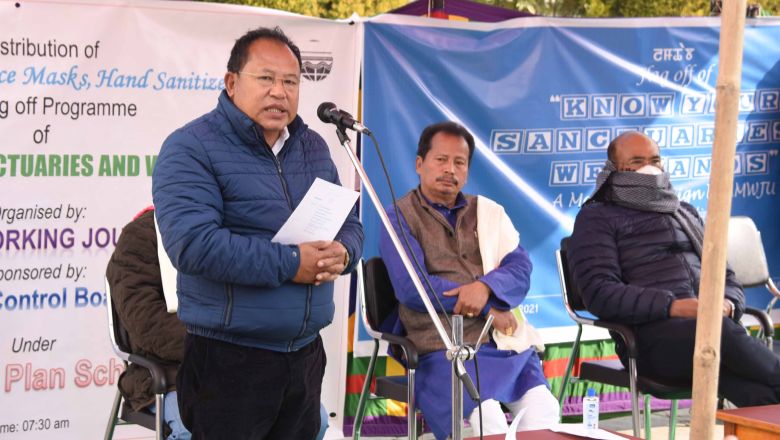 The minister added that the state government has much concern on the protection of forest and wildlife under the supervision of the chief minister.  
Maintaining that the state had shown considerable improvement in all aspects, he also sought support and coordination from media persons in taking the state towards further development.
During the programme, chairman, Manipur State Pollution Control Board L Radhakishore handed over track suits, caps, face masks and hand sanitizers to AMWJU president Bijoy Kakchingtabam for distribution to journalists taking part in the media campaign. The items were provided by Manipur Pollution Control Board under Swachhta Action Plan Scheme 2020-21.
In February, the campaign will cover other different places of the state, including Ithai Pat, Loktak Pat, Keibul Lamjao National Park and Thinungei Bird Sanctuary in Bishnupur district; Lokchao Wildlife Sanctuary in Tengnoupal district; Usoipokpi Pat, Waithou Pat, Utra Pat, Lousi Pat, Khoidum Pat, Kharam Pat and Ikop Pat in Thoubal district; Khayang Pat, Kachopung Pat in Kamjong district; Siroi National Park in Ukhrul district; Khamlang Pat, Yaral Pat, Poirou Pat, Heingang Pat in Imphal East; Zaimeng Lake in Kangpokpi district and Kailam Wildlife Sanctuary in Pherzawl district.
The campaign started with 22 journalists, including four women and two members of Manipur Mountaineering and Trekking Association (MMTA), heading for Bunning, Zeilad Wildlife Sanctuary, Jiri Makru in Tamenglong district for a four-day trip.
The team will also observe World Wetland Day on February 2 at Zeilad Lake. President, Editors' Guild Manipur Khogendra Khomdram, officials of the Forest department, Environment and Climate Change department and senior journalists of the state also attended the programme among others.
Later, the chief minister along with the minister of Forest, Environment and Climate Change and Chairman, Manipur Pollution Control Board inspected the condition of Nambul river. The campaign was organised by AMWJU under the sponsorship of the department of Forest and Directorate of Environment and Climate Change.
First Published:
Jan. 31, 2021, 10:40 p.m.