How Royal Riders hit the road less travelled and crossed several milestones with a mission
As RRM celebrated its foundation day at Langol on Saturday, founding member Tombisana shares with the 'Imphal Free Press' how it all began and the many milestones they have crossed in reaching out to the needy.
---
Royal Riders Manipur celebrates its 23rd foundation day at Langol on January 23, 2020 (PHOTO: RRM Facebook)
---
What started out as casual 'hellos' over broken pipes and gears at a quaint corner ignited great sparks among a few likeminded dirt road bikers and set them off rolling on a mission with adventure. It's been 14 years now since they came together as Royal Riders Manipur and hit the high road. Riding high on a purpose, the bikers have been "serving with adventure" and reaching out to thousands of people in remote areas across the hills and valley of Manipur.
RRM, formed with just 21 members riding Royal Enfield bikes, today has 200 members. As the Royal Riders celebrated its 14th foundation day at Langol in Imphal on January 23, founding member Tombisana shared with the Imphal Free Press how it all began and the many milestones they have crossed in reaching out to the needy.
It was in 2005-2006, the founding members met each other at a Royal Enfield repairing workshop in Imphal while frequenting the workshop to get their bikes repaired in 2005-2006, Tombisana recalled.
Sharing similar concerns and interest, 21 of them decided to form an adventure team with a purpose in 2007, he said.
Following its formation, the Royal Riders group organised a first of its kind medical camp at Ukhrul district and continued the same in other places. Later, they contributed whatever they could and extended help to orphanages and downtrodden people in far-flung areas of the state, he added.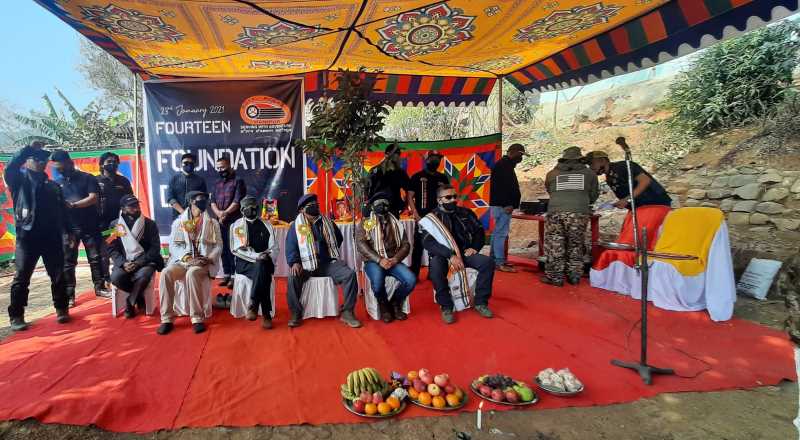 When asked about RRM's purpose or motto -Serving with Adventure- Tombisana said it means that the members serve the people wherever they visited even in remote areas and at the same time enjoy the adventure of the bike ride.
Recalling the initial days when they first started out on the purposeful journey together, Tombisana said, "Those days Royal Enfield also called 'bullet' bikes produced a loud sound while driving which caused inconvenience to many people".
People often look askance at a large group of male roadies wearing unique gears and a pair of clothes and riding big bikes. The sight of the bikers, wearing boots and leather jackets and riding in a group was not normal to the people then, he said, adding that people look at us as a group of men riding bikes without purpose or destination.
However, the riders have a collective aim and that is to change the perspective of how people look at bikers. "Apart from serving the people and creating awareness about the environment, changing the people's mindset was the main objective why RRM was set up," Tombisana said.
RRM working president Momo Laishram told theImphal Free Pressthat the present group members are following the footsteps of the founding members, helping needy people in remote areas and spreading awareness on forest conservation among the common people.
There are still villages and places in Manipur with no proper roads. It's difficult for people to travel and for four-wheeler vehicles to reach. Many of the existing roads, especially in remote hilly terrains, are in deplorable condition.
 "We ride our bikes to places where other vehicles could not enter and extended help to the people in whatever way we can," Momo said.
Claiming that RRM with its present members is the largest riders group in the entire country till date, Momo said that RRM has plans to invite national and international bikers' groups to the state so that the captivating tourist spots in the state can be made known worldwide.
The RRM operates on set rules and regulation, restricting members age, that they should be above 23 years and possess necessary valid documents. Any members working against the interest of RRM will be suspended, he said.
Momo said RRM also has plans to extend monetary support to children of the riders who have successfully cleared their respective examination and became toppers.
First Published:
Jan. 24, 2021, 4:27 p.m.