How local tradition is keeping several dying springs alive in Langol hills of Manipur
Over 100 households in Langol hill range are dependent on natural springs for water and food security.
---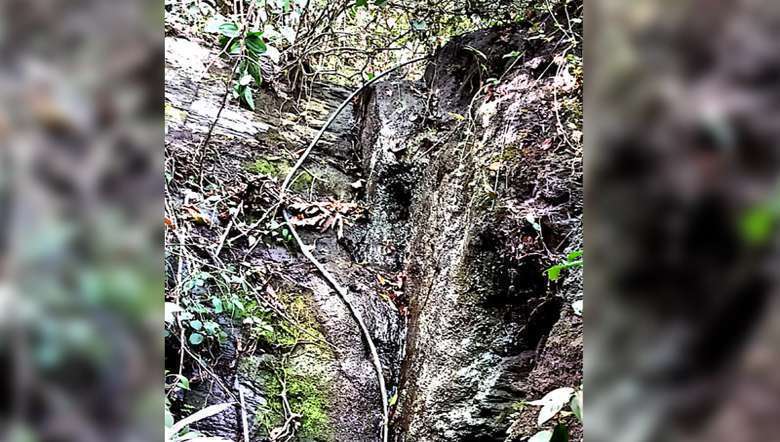 A spring in Langol Hills (Photo IFP)
---
Several natural springs found in Langol hills are the source of water for residents living at the foothills. However, unchecked growth in population, destruction of forest areas for house construction and other deforestation activities in the hills are leading to drying up of the springs. This adverse impact is also caused by ignorance as sources of water in Manipur are mostly referred to as rivers, ponds, lakes, borewells and wells. Seldom do people take note of the numerous natural springs found in the state.
Natural springs are spread over 30 per cent of India's Himalayan landscapes covering 11 Indian states, including Manipur. The springs meet the water needs of 200 million people and their livestock in the region. Both rural and urban communities in this vast region depend on springs for their livestock and for drinking, domestic, and agricultural water needs, according to NITI Aayog's August 2018 Report of Working Group 1: Inventory and Revival of Springs in the Himalayas for Water Security.
In Manipur, 54.4 per cent of the villages are dependent on spring water according to the Eastern Himalayan States Report 2019. An official of the state's environment directorate, Tourangbam Brajakumar informed that 1,384 villages out of 2,111 villages in the state's hill districts depend entirely on spring water for their domestic use and sustenance.
However, these springs are becoming 'uncertain' as the perennial spring has become a seasonal spring due to deforestation, increasing water demand, changing rainfall pattern and land use pattern. There are reports that 42 per cent of the natural springs in Manipur's hill areas have disappeared. Despite the loss of vital springs, there is no inventory on the total number of springs existing presently in the state, Brajakumar said.
When this Imphal Free Press reporter visited the Langol Hill range and interacted with the local people, it was learned that several springs have been drying up lately. For the past 10 years, springs like Aseilok, Langol Ningthoulok and few other smaller ones in the region have since dried up.
However, a few springs such as Warok, Lekmanlok, Agaanlok, Ayinglok, Leimalok, Amamsingamlok, Waikhulok and Punshilok continue to sustain as locals follow traditions to safeguard the forests areas surrounding the springs. These springs overflow during monsoons.
"Six months in a year, we get rainwater, but the remaining six months, it is the water supply that supports our needs," Mani Gangmei, chairman of Nagaching village located at Langol said, speaking to the Imphal Free Press.
During the rainy season, the local spring Laanchenlok feed water supply for the village, he said. However, since 1990 the spring water has started drying up even during the monsoon months, and sometimes it overflows during heavy rains, he said.
Decades ago, there were no families settled in the surrounding area. There were many small springs in the range, but these are seen only during rainy season now, he said, adding that his family purchase at least 5000-litre water from private operators per month and it is stored in water tanks. Private tankers come to supply only a large quantity of water. They do not want to drive uphill for a small quantity of water. He worries for other families who cannot afford to buy water from private operators.
One local resident Mercy Gangmei of Pantilong village, Langol range said that coming from a poor family her family cannot afford to purchase water. Their family depends on borewell (hand-pump) water that contains a high amount of iron. The utensil turns reddish because of the iron content but they have no option, she said. Mercy says to buy water from private operators she has to spend Rs 250 per 1000 litre container.
The tradition of forest conservation continues to keep alive Leimalok spring
"Yes, it is true that spring water in the Langol range does contain water throughout the years. Changes are seen. There is a lesser quantity of water in recent times," RK Tombisana, farm manager of horticulture and agricultural development agency which takes care of Leimalok spring observed.
However, some part of Langol range is being conserved by few individuals who attach value to traditions. "These individuals protect nearby forests by not allowing people to cut trees randomly. This involvement protects and conserves the forest area that nourishes the springs," he said.
Leimalok spring supplies water to more than 30 households in this foothills area of Langol range.
Drawing the attention of the concerned departments to support the local initiative in conserving the forest area in Langol hills, Tombisana said rainwater harvesting and spring rejuvenation work are important to rejuvenate the springs as since 1992 the amount of spring water recharge has become less.
Ayinglok spring supplies water to over 20 households in the forest area
Sunil Tongbram, a local enthusiast protecting Ayinglok spring, said his family does not purchase water as the local spring have enough water for their needs, adding that 20 other households also avail water from the spring. "I may not say that the entire Langol range is being preserved, as we continue to see parts of the forest area destroyed by locals who cut trees randomly," he said.
Sunil takes utmost care to stop deforestation and in checking of cutting of trees and hunting of birds and animals in the surrounding forest area of Ayinglok spring.
Nature worshippers protect Waroklok area of Langol range
Visiting the Langol range, this reporter observed that in Waroklok area of the Langol range, trees are being protected by worshippers belonging to the Meitei community. A worshipper identified as A Bimol informed that they take care of the Waroklok forest area as a "worship space in nature".
"The natural spring in the area is never dry and the worshippers had constructed a water tank to store water from the spring for use by the locals," he said.
When the Manipur government announced a drought-like situation in the state in 2019, the Waroklok spring had enough water content for their needs, he added.
The forest cover of around 3 to 4 hectares in the Waroklok spring area is rigorously protected and cutting of trees here is not allowed since several years ago, Bimol said. Any sort of construction and encroachment are not allowed, he added.
Conservation initiative at Punsilok
Punsilok is a popular reserve forest area in the Langol range, enthusiastically protected by few individuals led by Moirangthem Loya Ngamba since 2003. The forest here is thriving and home to animals like pangolin, barking deer, porcupine and several species of birds. Prior to the conservation initiative, Punsilok was a partially barren, rock-strewn patch of forest land with hardly anything growing there except for wild weeds and grass. The stream flowing through it had plenty of water, used mainly by herds of cattle and sheep. A large number of families avail water from the Punsilok spring.
Interacting with local people in the Langol range, it was found that many of them were not aware of the perceived impacts of changing climatic conditions. However, they were aware of the changes in the character of the springs in the past 20 years.
Factors leading to the drying up of springs and water scarcity
The 2018 NITI Aayog Report notes that "Half of the more than three million perennial springs in the Indian Himalayan Region states have either already dried up or have become seasonal, resulting in acute water shortages across thousands of Himalayan villages. There are also concerns about the quality of spring water".
The report also states that out of total 2581 villages in Manipur, 1405 villages have springs and 54.4 per cent villages have a report of having springs.
Manipur receives an annual rainfall of 1,467.5 mm, which is higher than the national average. The problem of water scarcity, however, persists due to lack of facilities for harvesting rainwater and from the destruction of the catchment areas, the report states.
Another official of the environment directorate project scientist- climate change cell, Asem Rahul said that the impact of losing of springs is not limited to the local communities alone. Springs contribute to the base flow of large rivers in the state. Numerous rivers have their origin in springs, and thus, any change in spring hydrology will impact the river hydrology, he said.
There are various factors — natural and anthropogenic — responsible for drying up of springs in Manipur. Erratic rainfall, climate change, seismic activity, infrastructure projects, destruction of forests, land use changes, etc. are accountable. The discharges from springs depend on the aquifer and local geology. Any disturbance of the aquifer can affect flows in the spring. For instance, infrastructure projects may lead to a fracturing of spring sheds, which, in turn, can affect spring discharges, Rahul informed.
Similarly, groundwater recharge is affected due to erratic rainfall, which is being recorded across the country due to climate change. This has direct implications on springs and water security. "The Indian Government is aware of the importance of springs for water security in the Indian Himalayan Region. That is why the government is working on a national programme on spring shed management," Rahul said.
First Published:
Jan. 17, 2021, 7:56 p.m.